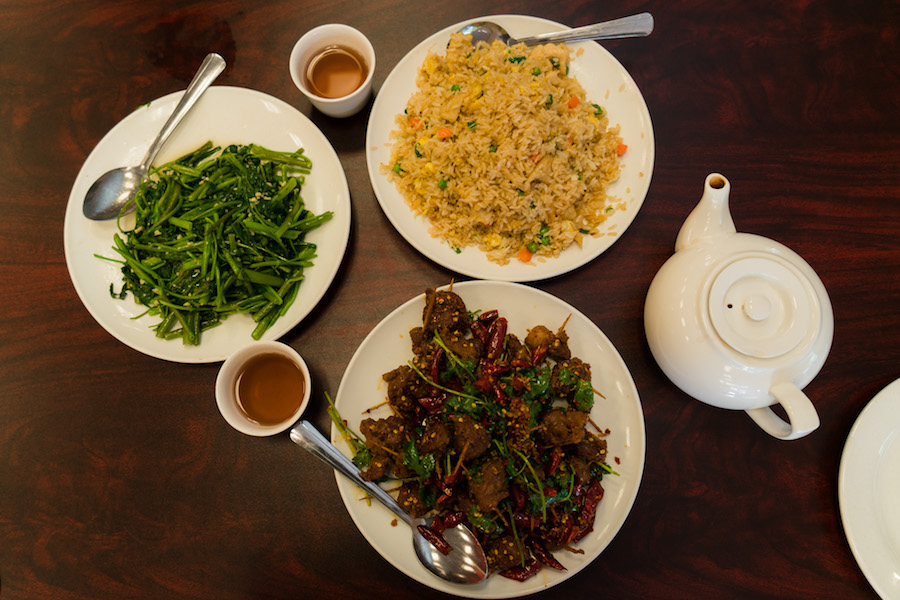 Beware of the toothpicks
When I walked into Chengdu Style, I was expecting to just order some crispy beef, egg rolls, rice and some kind of vegetable. However, the menu was much more complicated than that, and is probably better suited for people who know more about authentic Chinese food.
I wanted to try the best food from each section of the menu, so I asked our server for recommendations. Our server suggested three dishes: a lamb dish, a vegetable dish and a rice dish. At first, when we ordered the rice dish, we thought we were ordering noodles but our server misunderstood. In fact, our server misunderstood a lot of what we were saying. I cannot fathom the idea that the lamb dish he served us was one of their most popular dishes. The dish consisted of small, individual pieces of lamb on toothpicks with hot pepper sprinkled all over them, but a lot of the pieces were fatty and it was a little too spicy for my taste.
Nick, my adventurous eating companion, ended up eating most of it as my body could not handle all the different things happening in my mouth. The vegetable dish we ordered was water spinach with garlic, and I would recommend this dish because it was very light and a good balance to the heavy meat dishes. The last dish we had was fried rice with chicken, the most standard dish. It wasn't a particularly exciting dish but it was tasty nonetheless.
I would rate the service a B+ because they were not as attentive as I would have liked. When we first arrived, there weren't that many people inside, but at 6 p.m. it was packed. Our server was really helpful at first, bringing us tea immediately and helping us decide what to order. However, I noticed that as the restaurant became busier, it became harder to track the server down and we had to ask them to bring us water, which I feel like should have been provided as soon as we sat down.
Overall, I had an interesting experience at Chengdu Style. I feel that I would have enjoyed it more if I ordered different food, but generally it was good. If you're in the mood to try authentic Chinese cuisine, and are up for a bit of a culinary adventure, Chengdu Style promises to surprise you.
Chengdu Style is located on 737 Russell Blvd. in the University Mall. They are open from 11 a.m. to 10 p.m. For more information about the restaurant, visit their website and online menu.
Written by: CaraJoy Kleinrock – arts@theaggie.org