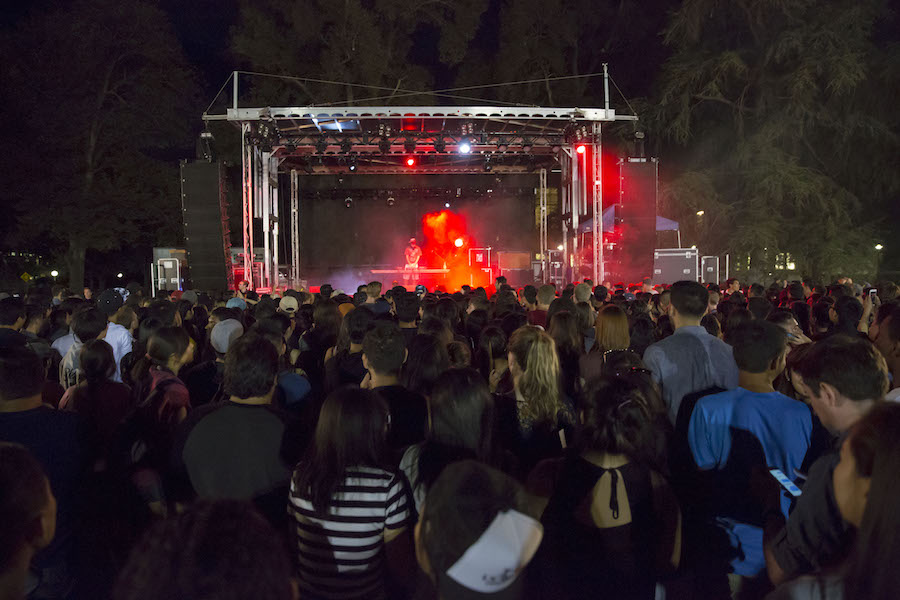 Kick off the new school year with bungee jumping, dance battles, jousting and much more
Every year, students come together on The Quad to socialize and celebrate the beginning of the new school year. This event, known as The Buzz, will be held Friday, Sept. 23 from 6:00 to 10:00 p.m. and is a great way for incoming first-year students to acclimate to life at Davis.
The Buzz is put on by various campus departments, including the Center for Student Involvement, Campus Recreation and Unions and Student Housing. Each department provides a host of dedicated volunteers who spend hours making the event the best it can possibly be.
The Buzz is well known as a lively event with a variety of activities including bungee jumping and live performances. In previous years, The Buzz has hosted famous acts like The Cataracts and Natural Roots. Though there are no such planned performances this year, the evening will still showcase student performances, plus food from Woodstock's and Open Rice Kitchen to keep attendees' hunger sated.
Second-year psychology major Jay Chan attended The Buzz as a first-year, but, this year, he plans to work as a volunteer.
"I think it's a cool event to go to because there are all these activities and free stuff," Chan said. "I also really enjoyed being able to socialize with my friends and others. It was a good way to get a feel for what UC Davis is about and I think a lot of freshmen will have fun."
Julie Rainier, a third-year community and regional development major, helped organize The Buzz in previous years, and will continue to do so this year.
"[Last year was] pretty stressful […] there are so many things happening and so many people to keep in touch with, but it's definitely a labor of love," Rainier said. "I just feel it is so important to get involved on campus early on. I know a lot of freshmen are a little reluctant to throw themselves into the fray, but once you do, you'll be able to meet so many people and you'll be glad that you took that step."
To incentivize student attendance, coordinators have planned the events based on feedback from last year's event; student volunteers have taken those critiques to heart.
"Some people wanted better food to be served and more lighting, among other things. So we intend on making [these] aspects of The Buzz even better," Chan said.
Second-year managerial economics major A.J. Patel said that he is looking forward to The Buzz, despite having been less engaged in school events in the past.
"I've never really liked going to stuff like that, but last year a ton of my friends went, while I stayed in the dorms twiddling my thumbs," Patel said. "So yeah, I'm going this year for sure."
Written by: Krishan Mithal – arts@theaggie.org