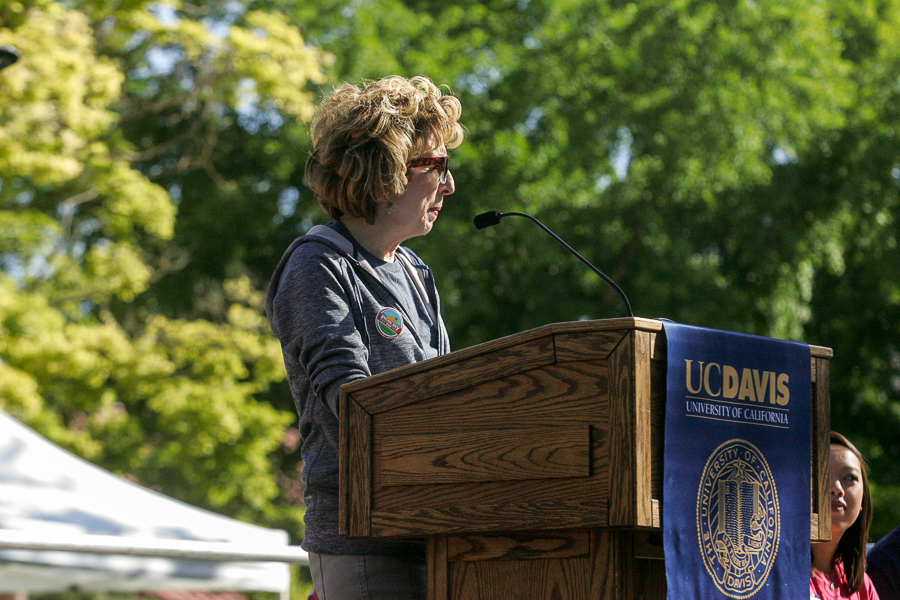 On August 9, 2016 Katehi resigned as UC Davis Chancellor
May 7, 2009 – Linda Katehi appointed Chancellor of University of California, Davis (UC Davis).
November 18, 2011 – Katehi requested Occupy movement protesters at UC Davis Quad to remove tents. Non-compliant protesters pepper-sprayed by campus police officers.
February, 2016

– Accepts board position with DeVry Education Group in Florida.

March 1, 2016

– Resigns from DeVry board position. DeVry board members earn $70,000 annually with stocks estimating $100,000 additionally.

March 3, 2016

–

Katehi found to have received $420,000 from John Wiley & Sons, a textbook publisher. Served on the board from 2012-2014.

March 4, 2016

– Katehi apologizes, pledges her $200,000 textbook stock to a UC Davis student scholarship fund.

March 9, 2016

– Napolitano steps in, says Katehi made mistakes but insists she should stay despite those mistakes.

March 11, 2016

– Mrak Hall sit-in begins. Protesters call for Katehi's resignation.

April 1, 2016

– Fire Katehi walkout occurs at the Quad, hundreds of UC Davis students, staff and faculty walk out of class in support of the university firing Katehi.

April 13, 2016

– The Sacramento Bee acquires documents establishing that UC Davis spent at least $175,000 to rid online references of November 2011 pepper-spray incident, to improve Katehi's and the university's reputations.

April 15, 2016

– Mrak sit-in ends peacefully.

April 25, 2016

– Napolitano requests Katehi's resignation.

April 27, 2016

– Katehi placed on paid investigative administrative leave.

April 27, 2016

– Ralph Hexter appointed Acting Chancellor of UC Davis.

April 27, 2016

– UC President Napolitano sends out Katehi's suspension letter. Details of the letter questions her daughter-in-law's employment and her misuse of public funds.

August 9, 2016

– Katehi resigns as UC Davis Chancellor.

August 10, 2016

– Katehi receives $424,360 with retirement and health benefits. Per her contract, she plans to be a UC Davis engineering professor after one year.
Compiled by: Yvonne Leong — campus@theaggie.org