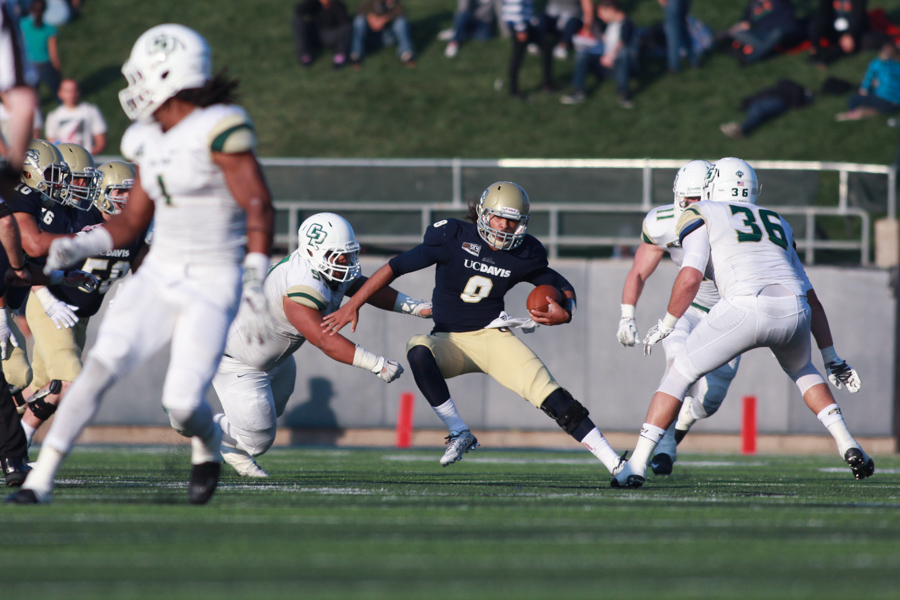 A preview of upcoming games
Women's soccer (Aggie Soccer Field)
Thursday, Oct. 13 at 3 p.m. vs. UC Irvine
Sunday, Oct. 16 at 1 p.m. vs. UC Riverside
Today's Oct. 13 game is the first of three back-to-back home games for the UC Davis women's soccer team. The last home matchup against CSU Fullerton a week ago was an exciting game played before a packed crowd, in which the Aggies came back from a two-goal deficit in the final moments to win 3-2. They traveled to Honolulu a few days later to face the University of Hawai'i, and despite the competitive nature of the game, UC Davis lost 2-0.
With UC Irvine, UC Davis will face a tough team. In more than a decade, the UC Davis women's soccer team has only defeated the Anteaters in 2015 and 2009. With the home field advantage and Fullerton's match fresh in their minds, this could lead to a thrilling showdown.
Field hockey (Aggie Field Hockey Facility)
Friday, Oct. 14 at 2 p.m. vs. Pacific
The last home game for the Aggies nearly two weeks ago ended in a close loss in double overtime to Stanford. This week, the UC Davis women's field hockey team returns to the Aggie Field Hockey Facility to play University of the Pacific, the first of four final conference matches.
Pacific is a dominant team — they lost the first three matches of the season and then came back to win nine straight games. But Stanford shut down Pacific 3-0 while the Aggies lost to them by a single goal; their comparable gameplay could lead to an interesting game.
Friday's game is the second-to-last home game at UC Davis, so check out a good match before the end of the season rolls around.
Softball (La Rue Field)
Saturday, Oct. 15 at 11 a.m. vs. Alumnae
Sunday, Oct. 16 at 12 p.m. vs. Academy of Art
The UC Davis softball team begins its fall season this weekend with a fun alumnae game on Saturday, right before starting its non-conference play against Academy of Art University on Sunday. The alumnae game will be a great place to see the newcomers, veterans and alums in a friendly match before the real competition commences.
There are some new additions to the coaching staff, so it will be interesting to see how that change reflects in the team's performance. The fall season continues through mid-November and is an opportunity for the Aggies to work out any kinks that may not be wholly apparent during preseason practice. This will give fans a taster on what team they can expect to see during the 2017 season.
Football (Aggie Stadium)
Saturday, Oct. 15 at 4 p.m. vs. Northern Colorado
It's Homecoming weekend, meaning the UC Davis football team will meet Northern Colorado in an effort to snap a four-game losing streak. The Aggies gave a good defensive game last week against Southern Utah and were able to sack the opposing quarterback five times, but it wasn't enough to stop a 24-3 loss.
To put these sacks in perspective, there were 14 sacks total last year, so this might mean a good omen for the defensive future of the team. Injuries, however, are beginning to plague the Aggies, with six starters not playing in the Southern Utah game.
It'll be an entertaining game this weekend with Homecoming day celebrations and a tailgate party before kickoff, and, if the Aggies are able to field some of their injured starters, they are well-positioned to deal out some serious competition against Northern Colorado.
Written by Bryan Sykes – sports@theaggie.org