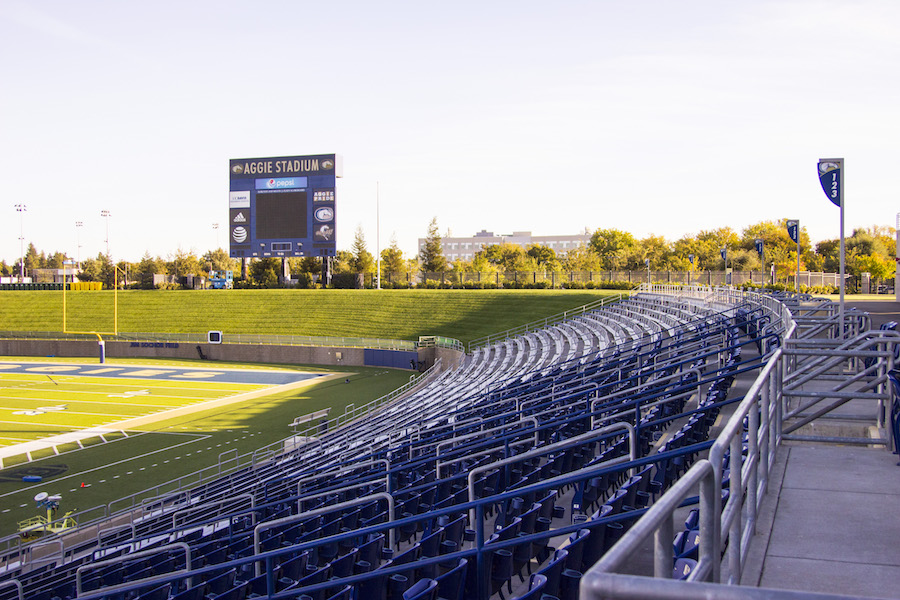 UC Davis revamps fan participation with tailgating, street parties
Attending a football game at Aggie Stadium and cheering on the team with the pep band while sporting blue and gold has long been an integral part of campus life.
With the recent installation of student tailgating and the Kickoff Street Party by UC Davis Athletics Marketing, Aggie Pride game days have become an accessible means of showing school pride. UC Davis has added these new events to welcome a more active and exciting atmosphere to Davis athletics.
The Kickoff Street Party occurs approximately three hours before a home football game starts, on a blocked off portion of La Rue Road directly in front of the stadium. The street party incorporates food vendors, music, games, as well as a display of vehicles on the road.
"Our fans have reacted very positively to this event, and we expect it to be a big part of our game day experience moving forward," said Domenic Noto, UC Davis fan experience coordinator for UC Davis athletics. "We want to make sure that there is a way for all of our fans to have fun, whether they are students, alumni or families. We hope that creating this type of experience for every fan will keep them coming back to Aggie Stadium for years to come."
The recent addition of the Kickoff Street Party is not the only place to show Aggie Pride — Aggie Pride Fridays take place the day before game days and allow students to showcase their "Aggie Blue," win free prizes and get pumped for Saturday's game.
"If you see Gunrock on Fridays […] you can get things [from him]," said Ishita Singh, fourth-year economics and international relations double major and intern for UC Davis Athletic Marketing. "We [also] do promotions on bike circles […] by the Silo trying to [get people to] cheer and get excited for the games."
The biggest change in football games this year, however, would be the installation of another tailgate section to promote student tailgating. The normal tailgating spots near the stadium have sold out, which led for the opening of Lot 56, located behind the Aggie Stadium scoreboard.
The spots are available for any fans, but most people who have expressed interest in them have been students. The positive feedback from students regarding these spots leave the Aggie Pack hopeful for increased student participation and overall fan experience.
"In my time here I have seen that we have a very dedicated season ticket holder and donor base that is very passionate about Aggie football," Noto said. "One of things they enjoy most about Aggie football games is seeing the students attending our games and being active participants in helping create a great game-day environment. The student attendance at the Weber State game was great and they certainly helped create a surge in energy our team fought back to tie up the game late."
Fan attendance for Aggie football has fluctuated quite a bit over the years in regard to the student population. However, UC Davis Athletics Marketing hopes that students' Aggie Pride will solidify with the institution of tailgating into the game-day experience.
"We're trying to create a more college sports type atmosphere the way bigger schools do it," Singh said. "Davis has always been known as a smaller [sports] school, but we have so much potential — we want to get students more involved with our athletics because we have great teams and we want everyone to show off […] their pride."
With great teams comes a great fan base, and it seems as if a more student-orientated tailgate will highlight this Aggie Pride.
"Students in the past used to say, 'you know, we would tailgate if we had a section,'" Singh said. "So we decided [to] have a section for just students where they can go out, have a good time, and then they can be super pumped and ready for the game."
These pre-game events have led to an increase in fan attendance — the biggest impact of which has been on none other than the football team itself.
Last month, when the team came home from playing against University of Oregon, where Saturdays are dedicated to the team's football games and fan participation is off the charts, the Aggies felt what it was like to play at a bigger sports school. Nonetheless, recent fan participation has enhanced the football experience and led to many pre-game events, all part of the college game-day experience.
"With tailgating incorporated [into the pre-game], it really gave a college game day environment, and I think it's great all around," said Quincy Bennett, a second-year political science major and linebacker on the UC Davis football team. "When we get a lot of people to the games, it definitely has that Aggie Pride stadium feel."
Find more information about purchasing a tailgating spot and how to show off your Aggie Pride on the UC Davis Aggies website.
Written by: Austin Carroll – features@theaggie.org