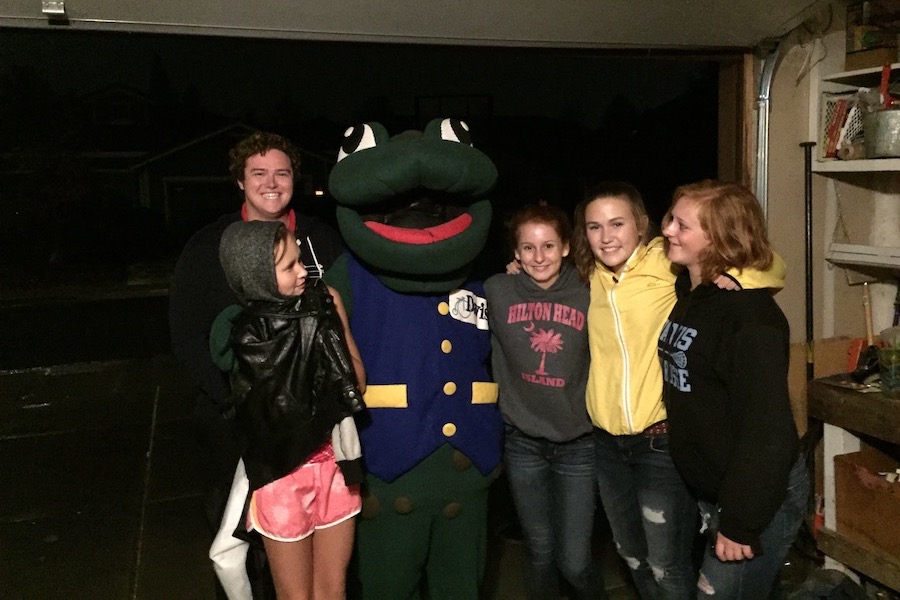 Gunrock, double decker bus join Davis residents in festivities
The City of Davis participated in its annual Neighbors' Night Out on Oct. 16. The event, which first started in 2006, aims to help community members get to know each other better by encouraging residents to host parties for their neighbors.
Stacey Winton, media and communications officer at the city manager's office, who created the event, emphasized that one of the main goals of the event is that long-term Davis residents and UC Davis students get to know each other.
"It's funny, a lot of it had to do with [concerns over students not] bringing out their garbage cans," Winton said. "It just kind of came out of conversations of [how] it [would] be nice if [students and long-term residents] just met each other at the beginning of the school year and felt comfortable with each other to talk about little things in the neighborhoods. It grew out of this grassroots idea of bettering communication in neighbors."
Carrie Dyer, who is in charge of community engagement and cultural services at the city manager's office, also helped plan the event. She highlighted that the city plays an important role in getting residents to host parties in their neighborhoods by helping send out invitations and providing balloons and glow sticks.
People who signed up to a host an early party were entered in a raffle to get Gunrock, the Fire Department, the Police Department or a Davis-famous double-decker bus to show up at their event.
All of this work on the part of the city manager's office has been successful in past years in getting more people to participate. According to Dyer, this year was no exception, with record numbers of participants at each party.
"This year we had 130 parties, which is more than last year, but less than the year before; however, our projected number of participants went up to about 6,000 this year," Dyer said.
While the event was not heavily advertised on the UC Davis campus, the city manager's office encourages more students to participate in future Davis Neighbors' Night Out events.
Although Munir Sayani, a third-year computer science major, hasn't participated in an official Neighbors Night Out event, he said that he participated in community get-togethers at the beginning of the quarter.
"I think a Neighbor's Night Out is a good idea for people to meet each other and make new friends. I went to a similar event in [my apartment complex] to meet the some of my neighbors," said Sayani. "It was great making new friends and meeting new contacts that I know from the Davis area and even my own classes."
Written By: Juno Bhardwaj-Shah – city@theaggie.org