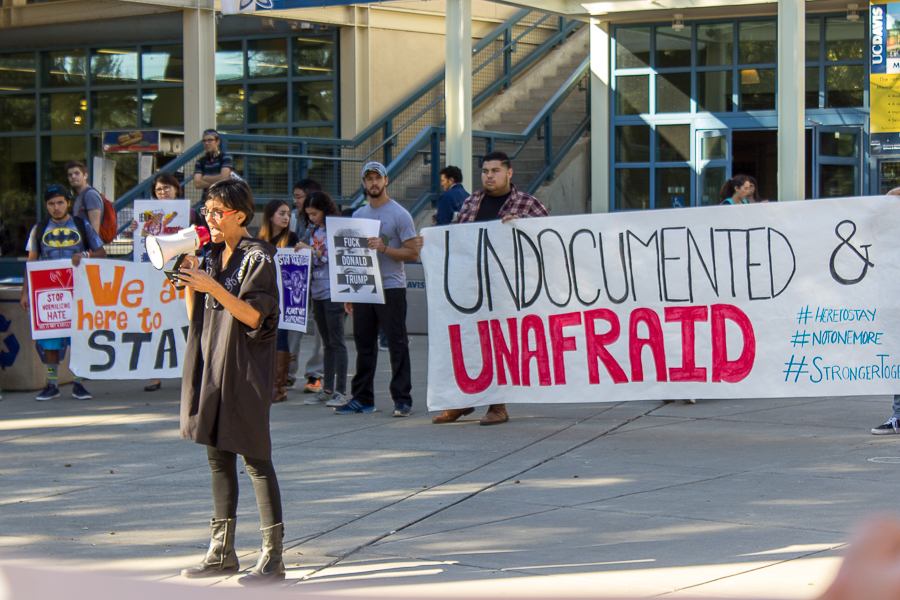 Students against Trump's goal of deporting undocumented individuals
On Nov. 14, the Scholars Promoting Education Awareness and Knowledge (S.P.E.A.K.) community held a demonstration on the Quad to protest the election of Donald Trump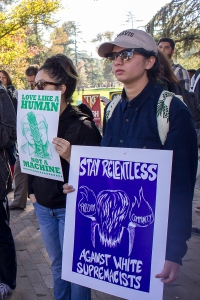 and the subsequent threats of the deportation of undocumented students. S.P.E.A.K. held the demonstration in order to bring its community and its allies together to promote love, strength and resilience.
Students gathered in a circle around the Memorial Union flagpole at 1 p.m., holding signs that read "F*ck Donald Trump," "children of immigrants grab back!" and "Amerikkkan Revolution." Students in the circle as well as surrounding bystanders recited chants that reflected solidarity among undocumented students and their allies as well as chants that vehemently protested Trump's anti-immigrant stance. Some of the chants included: "What does community look like? THIS is what community looks like," and "Undocumented…Unafraid."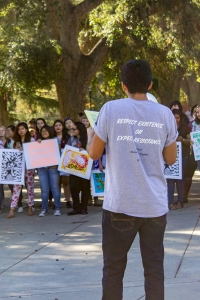 Speakers took turns using a megaphone to express their feelings regarding Trump's stances on immigrant deportation.
According to one student who wished to remain anonymous, the protest came at an important time for the community to band together and demonstrate resistance.
"Historically, [S.P.E.A.K.] has provided undocumented students with a support system with resources that previous to the organization the institution nor other organizations had been able to provide," the anonymous student said. " We just want to make a clear statement that we are here to stay, we're uniting and we're looking to improve our conditions. We are going to fight. It's cliche but the only thing we have is resistance at this point."
Written by: Lindsay Floyd  — campus@theaggie.org