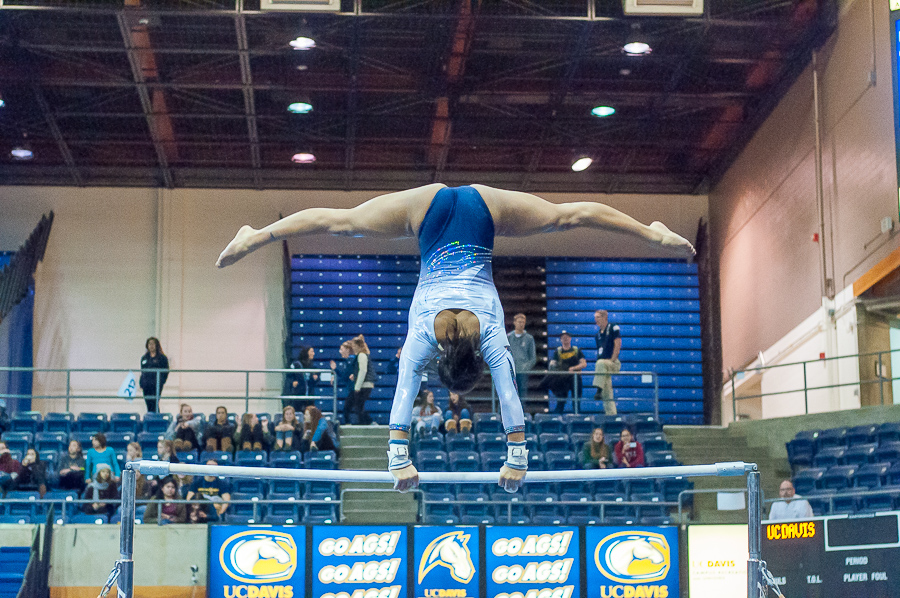 Basics on scoring and rules
Ever wondered how gymnasts win or lose an event, or what the deciding factors are that ultimately constitute one victory over the other?
Women's collegiate gymnastics has its own point system that differs from that of the men's collegiate or men's and women's elite level.
Women's collegiate Code of Points, also known as the "perfect 10" scoring system, is used for scoring UC Davis women's gymnastics. A "perfect 10" is the score that each performer starts out with, which is then marked down for any mistakes — if athletes manage to keep their 10 score, their performance is "perfect." Before 2005, most levels of competitive gymnastics were scored with this system, but, after an overhaul at the elite level, only the women's collegiate and junior levels continue to keep score this way.
There are two schools of thought for which point system is preferable. There are those who believe that the 10.0 system is too demanding of perfection because any unplanned movement could be the difference between a win and a loss, whereas the elite point system gives the gymnasts the opportunity to attempt riskier routines that can result in more serious injuries.
UC Davis women's gymnastics team competes in four events — vault, uneven bars, balance beam and floor exercise — all of which have a detailed grading rubric that determines the overall score of each event.
Here are the basics for each event, pulled straight from the high volume of rules in the NCAA 2016-2017 Women's Gymnastics Rules Modifications and Meet Procedures. This is only a small sample of what collegiate gymnasts are graded on.
For the vault, gymnasts are allowed three attempts towards one vault that will be scored. 1.00 deductions from each judge if a gymnast fails to land on the soles of her feet, or if they fail to touch or only get one hand on the vault table.

In the uneven bars, .05 will be deducted from the overall score for lack of variety in choice of elements, like the release move and/or connections. There must be at least two bar changes, and two flight elements.

If the level of difficulty is not sustained throughout the routine, .05 will be taken off on the balance beam.

If a gymnast is not using a sufficient amount of the of the floor area during a floor exercise, .05 will be taken away from their score, and the same amount could be deducted if the level of difficulty is not sustained throughout.
Almost halfway through their 2016-2017 season, the Aggies have averaged a score of 194.019 and have placed first in three of their five matches. Their next matchup is on the road against the U.S. Air Force Academy in Colorado Springs, Colorado on Feb. 11, and they will return home to The Pavilion on Friday, Feb. 17 to compete against the University of Alaska Anchorage.
Written by: David Flores — sports@theaggie.org