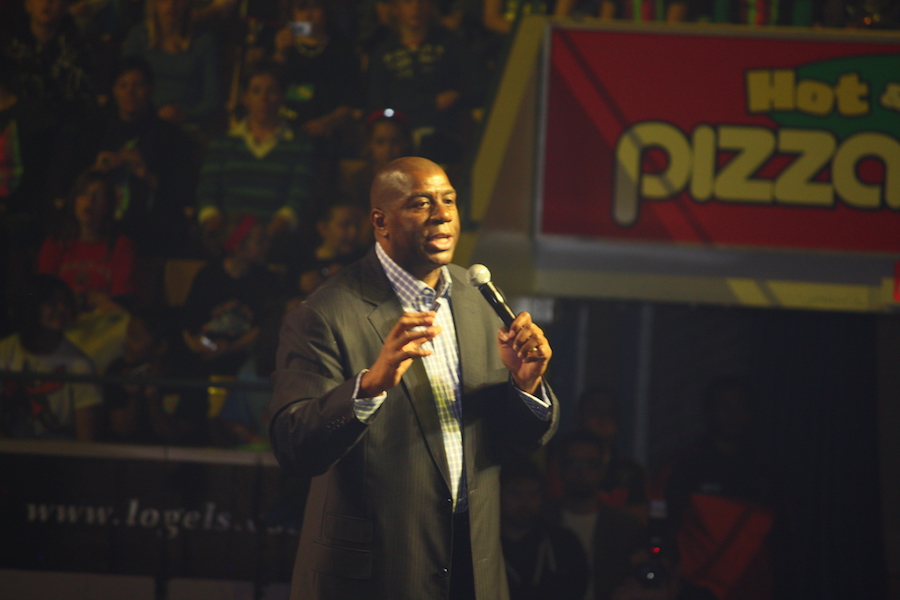 Cautiously (very cautiously) optimistic about hiring of Magic Johnson to President of Basketball Operations
Growing up as a diehard Los Angeles Lakers fan, I've been accustomed to a certain standard of success that not many other basketball fans have had the luxury of grasping. My very first memories as a fan of the purple and gold began during the absolute peak of a twenty-seven year old Shaquille O'Neal.
The 7'1", 325-pound freight train ate the Indiana Pacers for breakfast during the 2000 NBA Finals in which he averaged 38 points, 16.7 rebounds and 2.7 blocks in six games to bring the Larry O'Brien trophy back to Los Angeles for the first time in twelve years. That would be the beginning of a three-peat for the Lakeshow, and, seven years after the trifecta, they repeated again. I had the luxury of watching five championships by the time I was fifteen years old.
For this generation of Lakers fans, this is a form of affluenza of sorts. Championships have become the expectation, and anything less is unacceptable. We whine and complain when the Lakers falter, and in the last six or seven years, they have pretty much only faltered. It has been the worst rough pitch in the history of our franchise. David Stern nixing the Chris Paul trade "for basketball reasons" in 2011 still makes the fanbase livid. The acquisitions of Steve Nash and Dwight Howard during the summer of 2012 turned out to be an utter disaster. The death of longtime owner Jerry Buss broke our hearts. The erosion of Kobe Bryant following his ruptured achilles was not only hard to watch, but definitely set our progress back a few years. The Lakers' brass has had made a slew of horrible decisions during this window, and when they haven't been downright wrong, misfortune has instead lent a hand.
Jim Buss, the son of the late and legendary Jerry Buss, has long had his fingerprints all over the team despite a low profile, but when his father passed away, all eyes were directly on him.
"[I]f this doesn't work in three to four years, if we're not back on the top — and the definition of top means contending for the Western Conference, contending for a championship — then I will step down because that means I have failed," Buss told the Los Angeles Times in April 2014.
The last thing you want to do when you're being scapegoated by a notoriously impatient fan base is give yourself a self-imposed deadline. Not a single member of Laker nation ever forgot about this declaration.
On Tuesday, Feb. 21, the clock expired, and Jeanie Buss, the President, ousted her brother, Jim, and let longtime GM Mitch Kupchak go as well. In their place, Jeanie has decided to give the reigns to Magic Johnson as President of Basketball Operations; he has now hired Kobe Bryant's former agent, Rob Pelinka, to be his general manager. Many Laker fans have rejoiced and feel rejuvenated by the regime change: "Magic is going to bring showtime back!" "I'm glad that idiot Jim is gone!" "Bring Kobe into management too!"
To call myself cautiously optimistic about the return of Magic would be an overstatement. The fan base is viewing his return like he is going to be a savior of the franchise, but I find myself skeptical. I love Magic, just as any other Laker fan loves him and appreciates him for all that he accomplished during his time as a player, but a gigantic factor in the Lakers' failures has been the lack of forward thinking. They have yet to catch up to the modern-day NBA characterized by analytics, and Magic will not solve this. I worry that with Magic on board, the front office will eagerly try to expedite the development of the core of the team while mortgaging the Lakers' future in the process, though they avoided this at the trade deadline.
I only hope that Magic surrounds himself with the right people that have a better understanding of the modern NBA than both he and his predecessors have, and take the right steps to build a sustainable foundation for the future.  
Written by: Michael Wexler — sports@theaggie.org