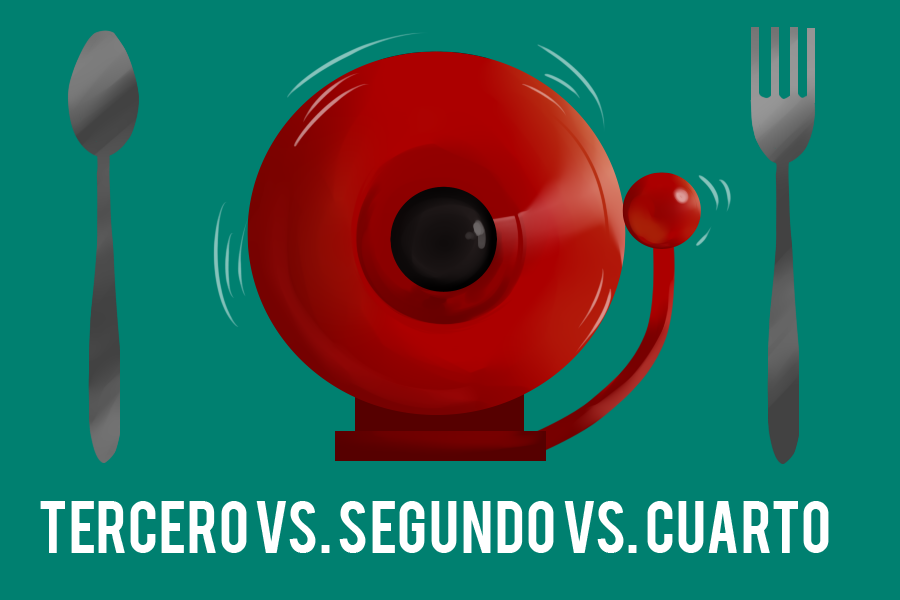 Taking a look at the similarities, differences among UC Davis dining commons
Almost every student who has lived in the residence halls at UC Davis has participated in the time-old debate: which dining commons (DC) is the best? The classic rivalry between Tercero, Segundo and Cuarto is a fun outlet for playful competition among students.
"As a resident of Segundo, I have a little bit of a bias toward the Segundo DC," said Leanne Taylor, a first-year mathematics major. "If I'm drawing comparisons straight off the bat, the Segundo DC is the only DC that doesn't have stairs as part of its design. So when you go to the Tercero DC you have to climb up stairs, and then when you're in the Cuarto DC and you want to sit on the top level, then you have to climb stairs. I don't want to be climbing stairs when I'm about to go eat."
Each DC has its own unique characteristics. The tall ceilings and large glass windows of Segundo make for a light atmosphere, opening the space and creating a less chaotic dining experience.
"I like [the layout of the Segundo DC] a lot better because it's spread out and open, it has high ceilings," Taylor said. "If I'm going 'HGTV' with this, I like the open design and the flow of the DC. There's also a bunch of different seating areas depending on where you want to sit. I have to say I like the amount of windows because one entire wall at Segundo is just windows, so you can sit there and enjoy the weather outside while being inside."
Tercero has a similar layout and design features, such as large windows along the walls. However, one notable downfall of the Tercero DC, according to third-year political science major and resident advisor Nkem Anene, is the lack of space.
"I personally like Segundo just because my freshman year I lived in Segundo, and it's not busy like the Tercero DC," Anene said. "At certain times you can't go [to the Tercero DC] because it's like 50,000 people [in there]. It's annoying to have to stand in line for 30 minutes. There are certain times you literally can't be there."
For Anene, going to eat a meal isn't about working around a school schedule, but rather the schedules of all the other students that use the Tercero DC. Despite this year's addition of the downstairs seating area in what used to be the main study lounge, Anene still believes the space issue is the biggest nuisance for residents.
"I went [downstairs] once," Anene said. "I thought it was fine, it can be a cool spot to go, but it's still out of the way. You still have to come up and down the stairs […] if you want something else [to eat].
Anene attributes this problem to the growing population in the Tercero residential area, as new dorm buildings will house this fall's incoming freshman class.
"[They] clearly don't have enough space to house all these people,"  Anene said. "[They're] accepting more and more students, so [there needs to be] a second DC at this point. Adding a second additional level isn't going to make the lines any shorter; it's not going to help with the crowded issue."
In contrast to Segundo and Tercero, though, is the Cuarto DC. This dining commons comes with a number of different advantages, the first being that it is off campus. This, coupled with the fact that there are fewer residents that live there than in either Segundo or Tercero, means there are not as many problems with overcrowding.
"I like the Cuarto DC because […] it's really small, so you always see the same people and it's much easier to find your friends," said Emma Voit, a first-year undeclared social science major and Cuarto resident. "It feels less like you're in a dining hall and more like you're in a family-style dining [establishment] because we don't have the big 12 to 13 person tables. The biggest table you can get is an eight-person table, and there's two-person tables too."
Voit often eats lunch at one of the DC's on campus because it's not as far as going back to Cuarto, but, overall, Cuarto is a more positive experience for her due to the fact that there's never a lonely moment.
"Almost always if you go by yourself, chances are you're not going to end up eating by yourself because there's someone that you know," Voit said. "Because people from campus don't come to Cuarto, it's nice and small and not crowded, and there's never really any lines, which is nice."
Not only does Cuarto DC offer a homier vibe for many students, but the smaller amount of people means more opportunity for different kinds of foods, including hand-scooped ice cream and, on occasion, sushi. Although Cuarto faces limitations in terms of equipment availability, it makes up for the lack of stations with a robust offer of local, fresh foods.
"Cuarto is mainly set up with the goal of serving as much local product and sustainable food as possible within the operation," said Felipe Becerra, the assistant director of residential dining. "Cuarto's ability to do that is a lot easier because of the volumes that they serve. Everything from the way that the building is designed to what we're serving on the plate is the same mentality and goal, and we're trying to translate that on with the other locations as well as much as possible."
Despite these differences, the DC staff make every effort to make the food and dining experiences the same across all DC's. Whether it's a themed night or a regular school night, the meals students can find in one DC will be no different than a meal found in another.
"We have a goal," said Kue Her, senior executive chef at UC Davis. "We have a vision of having consistency with what we serve. We want it to be fair for all the students. If they live in Tercero, they should be able to come over to Cuarto and still have the same food and same environment and same feel. If someone lived at Cuarto and they have class near Tercero, there shouldn't be any difference quality-wise."
Written by Marlys Jeane — features@theaggie.org