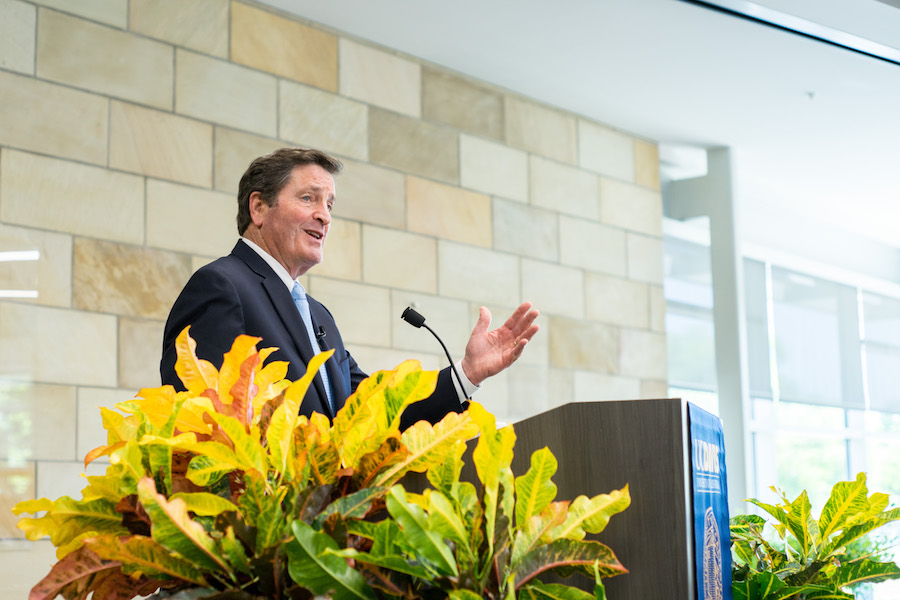 Center aims to expand UC Davis, foster globally engaged scholars
The UC Davis International Center Grand Opening Celebration took place on on April 21, featuring an introductory reception, an open house and several international activities.
The reception began with a performance by AfroVibes, a student led African dance group at UC Davis. Following that, several presenters spoke about the center and its mission. The formal program of speakers consisted of Paul McNeil, the dean of UC Davis Extension; Joanna Regulska, the Global Affairs vice provost and associate chancellor; Clayton Halliday, campus architect and associate vice chancellor; Interim Chancellor Ralph J. Hexter; Congressman John Garamendi and Daisy He, the student assistant to the Chancellor.
Regulska began with encouraging the attendants to explore and experience the planned activities in order to foster feedback on what variety of programs the center should offer.
"[The center's goals are to] develop collaborative research, register more international students and scholars but also develop partnerships around the world," Regulska said.
McNeil spoke next and one by one thanked several of the individuals who were involved in the establishment and construction of the center. He countered the notion that, "the world is getting smaller."
"The world is getting closer, while some people are still coming to terms with this the reality is that now more than ever our futures are interconnected," McNeil said.
Mcneil emphasized that the International Center represents an opportunity for diverse people, culture and ideas.
"The more we strive to appreciate our differences, and learn from one another and to work collaboratively, the brighter our future will be," McNeil said.
According to McNeil, the International Center is a game changer since it provides needed space for international endeavors.
"[This center will] develop […] [and provide] the space, technology and atmosphere to expand UC Davis's reach as a global university," McNeil said.
Hexter spoke about students around the world looking to UC Davis as a place of world class education and interaction with researchers at the top of their fields.
"We need to provide [international students] with the resources and support they need to succeed," Hexter said.
Hexter went on to address President Donald Trump's executive orders on immigration and their effects on the campus community.
"This is another reason why this international center is so important, so our growing number of international [students and faculty] come together under an international banner that we are so proud to be flying here at UC Davis," Hexter said.
According to Hexter, 15 percent of the current UC Davis population consists of international students and scholars. This statistic equates to 5,500 individuals, in comparison to 1999 when the international population of the university consisted of just 900 people.
"[These individuals] bring us different ideas, perspectives, and values," Hexter said. "All of these help broaden our thinking, and spur creativity and discovery."
Congressman Garamendi was introduced next and spoke about immigration.
"The way our government is going and is treating immigrants and visitors in our country — deserves all of our attention, deserves our push back — there's no way this great nation will be great in the future if it divorces itself from the world," Garamendi said.
Garamendi then highlighted what he believes is important for international students.
"[International students need a] welcoming atmosphere as they find [colleagues] who want to know them and draw from their intellectual capacity and the wisdom they brought," Garamendi said.
He went on to speak about what international students bring with them to the United States.
"We will prosper perhaps financially, but far far more important […] we will become a far better society [through students and scholars who] bring hope for themselves and for their communities for which they have come," Garamendi said.
Following the introduction, participants were invited to tour the building. The organized activities for the open house included UC Davis International "Human" Library modeled after the Danish Human Book Project, a short film festival hosted by the Center for International Education which is a branch of the International Center, intercultural communication roleplay and ESL Teaching labs among many other eclectic cultural activities.
According to Tyler Babcock, the architect for the building, his team was chosen through a highly competitive design process which is evaluated by the University. Babcock stated that the design took 8 to 10 months to complete, and the construction of the building lasted 18 months.
"I [had] this vision that it is going to fulfill it's mission [and] the users of the building are going to appreciate all the effort that went into [it]," Babcock said. "[…] [the project focused on] embracing the mature trees […] and then the clever arrangement of all the different parts and pieces from the administrative offices to classrooms to social spaces, which are the most important spaces where that exchange of community can take place."
Saki Inoue, a third-year Japanese exchange student majoring in English, has already taken some classes offered at the center such as grammar, reading and composition. She hopes that the international center will enable her to participate in American cultural and conversational activities.
"I want more opportunity to communicate with native english speaking students and connect," Inoue said.
The International Center includes a variety of outlets to facilitate international engagement. Some of these include the Confucius Institute, BCBCB Middle Eastern Universities Consortium, Chile Life Sciences Innovation Center, Services for International Students and Scholars and UC Davis Study Abroad office in addition to several Global Affairs offices.
According to Regulska, the establishment of the International Center has prompted UC Davis to take on "a big idea challenge" entitled "global education for all" in hopes to involve 100 percent of its students in an international experience by the time they graduate.
"[We hope] that student can actually engage with their community and learn what it means to be globally engaged." Regulska said.
Written by Kimia Akbari — campus@theaggie.org