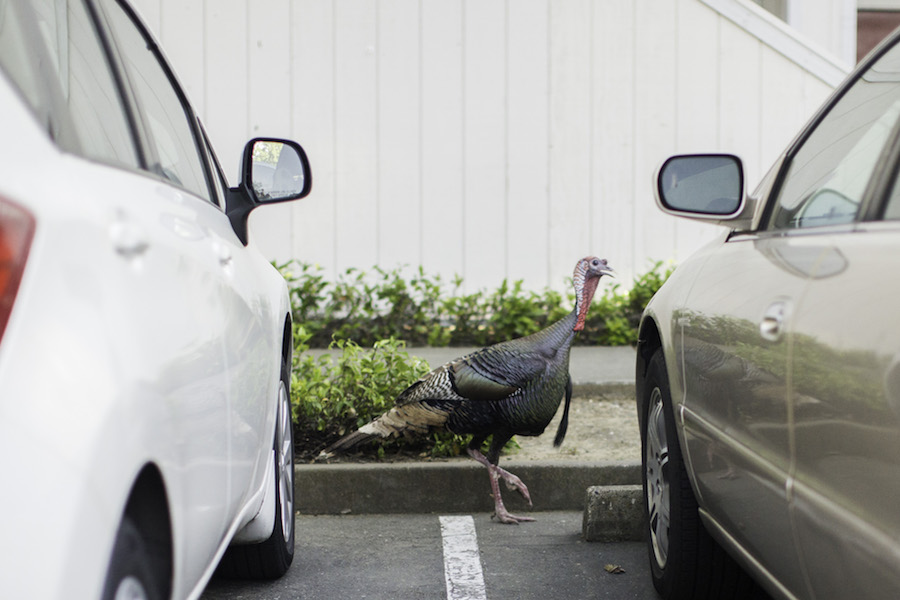 It can be quite hard to define what a "meme" is in this age of internet culture and recreational self deprecation.
"There's a lot of symbolic meaning and there's a lot of hidden meaning in memes that — if you're outside of that kind of subculture niche, you're really going to be frazzled if you come in contact with memes for the first time," said Kevin M. Dousa, a fourth-year English and philosophy major.
This year, the UC Davis population has decided that out of some of the campus' most popular images to share — from former chancellor Linda P.B. Katehi's tortured facial expressions to the infamous Occupy Wall Street protest's pepper-spraying cop — the most iconic meme of 2017 is that of the Davis turkeys.
The turkeys that flood the City of Davis in the fall and spring by blocking bike lanes and settling themselves of cars near the Colleges at La Rue are well-known for their irresistible lack of giving a care. Dousa, who has worked with courses focused on meme reception over summer 2016 as a writing tutor at the Student Academic Success Center, explained that these turkeys are prolific due to their incredibly loyal audience. This following can be found on Facebook pages like "UC Davis Memes for Edgy Teens" and "UC Davis Memes Page," liking and tagging friends in posts to laugh at the idea of a Davis citizen requesting police backup due to an especially aggressive bird.
"If you're a UC Davis student, and you come across turkeys like walking across town, […] it's going to ring a bell with you and it's going to resonate more than if you went to some other university," Dousa said. "Memes really do pick up on the small, everyday experiences that people share and don't even realize they share it."
Memes, like that of the campus turkeys, can unite a group of people under the shared appreciation for a certain iconic image or representation of a collective experience. For the 2016-2017 school year — and most likely for many years to come — these turkeys will stay in the hearts and minds of UC Davis students.
"It's language, it's art, it's culture," Dousa said. "Don't be afraid of it — it's awesome. I want people to openly embrace memes."
Written by: Ariel Robbins and Emilie DeFazio —  features@theaggie.org