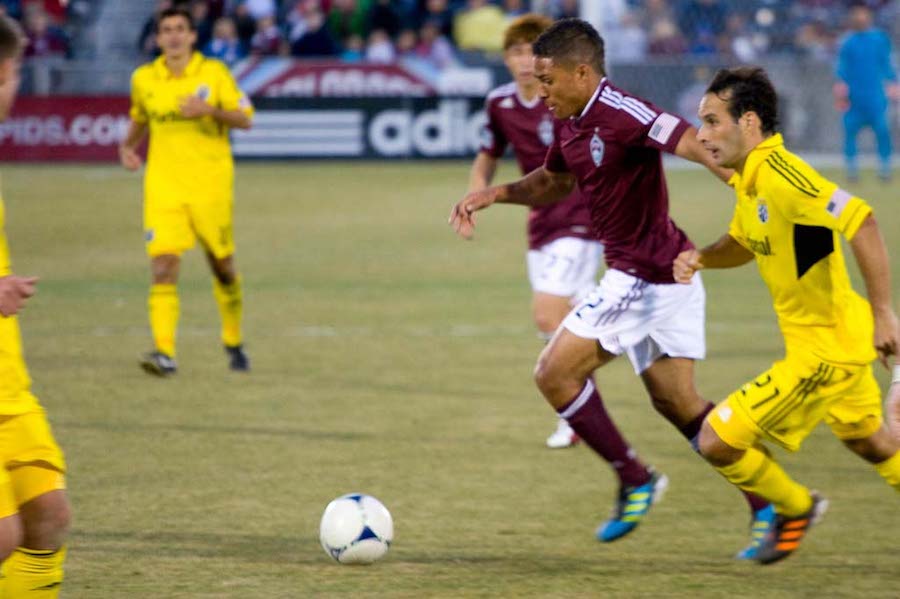 Former UC Davis men's soccer player leads successful double life
It's a spring evening in San Diego. UC Davis men's soccer head coach Dwayne Shaffer sits in the stands overlooking the fields of the 2005 San Diego Nomads soccer club showcase tournament. The tournament is hosted by the Nomads, a powerhouse soccer club in Southern California. Shaffer is at the tournament to see a coveted prospect play, but on another field across the way, an unknown striker by the name of Quincy Amarikwa is putting on a show.
"I kept hearing the roars from the crowd," Shaffer said."Eventually I just started watching from afar and I noticed [Amarikwa] right away."
At that time, Amarikwa was a 17-year-old high school senior with no realistic aspirations for Division I soccer. Coming from a small club team known as the Bakersfield Alliance, Amarikwa had always played the sport with a competitive edge and fiery work ethic, but he had never received the recruiting exposure that bigger clubs provide.
"I watched for literally 30 seconds before I was like 'Wow, who is that?'" Shaffer said. "It took me about a minute before I was already setting up an official visit."
Amarikwa's skills during the San Diego Nomads showcase tournament carried over to UC Davis. During his time as an Aggie, Amarikwa was honored as an All-Big West second team selection and he took UC Davis men's soccer to its first ever NCAA tournament. But perhaps his most memorable accomplishment took place against perennial Big West contender UC Santa Barbara.
"He drew a bicycle [kick], a special goal of a lifetime, but that's what the special strikers and attacking players do," Shaffer said. "They do something different than anybody else, and Quincy had the confidence in himself to take that opportunity."
The goal eventually earned Amarikwa the Big West Conference Goal of the Year. After the NCAA tournament, Amarikwa completed his degree in biological sciences at UC Davis, graduating in only three years. Much like his high school days, Amarikwa had no intention of moving onto the next level of soccer, but during his final year at UC Davis, Amarikwa attended the Major League Soccer (MLS) Combine, where his performance was strong enough to warrant a third round pick by the San Jose Earthquakes in the 2009 MLS Superdraft.
Today Amarikwa is in his ninth full year as a professional, and, after bouncing around with other MLS teams, he is back with the Earthquakes. In his second stint with San Jose, Amarikwa sustained the first major injury of his career.
"It was a really bad knee injury," Amarikwa said. "I tore my IT Band, my ACL, my LCL, my bicep femoris, so I tore my hamstring muscle from the bone as well as my patellar tendon."
While this would devastate most professional athletes, Amarikwa accepts the injury as a new challenge.
"The second it happened, I kind of chuckled to myself," Amarikwa said. "When I felt what happened to my knee I knew I had messed it up really badly, but I laughed to myself because I knew this was a great opportunity for me to overcome adversity."
Amarikwa has been recovering for upwards of eight months now and while he has yet to return to the field, the other side of Amarikwa's passion has greatly benefited from his time off from the soccer field.
"This is an opportunity for me to really triple down on the things that I've been working on outside of soccer," Amarikwa said. "And really get an understanding of what will be possible for me post-career."
While soccer is a significant part of Amarikwa's life, he has ties to the business world as well.
"My real-life aspirations or goals is that I am a serial entrepreneur, I love starting businesses, marketing, and online advertising," Amarikwa said. "Since my injury my businesses have really, really grown in a great capacity."
Amarikwa co-authored his first book in 2015, increased his fan outreach and invested in real estate throughout the San Jose area.
"My plan is to play soccer as long as they're willing to pay me and I always know business opportunities, ventures and entrepreneurship is always going to be there," Amarikwa said. "I can do both which I have been doing the entire time I have been playing, so I don't see any reason to change that up now."
Amarikwa expects to return to the field this season, where he'll be joining an Earthquakes squad that currently sits at fourth place in the Western Conference table of the MLS. Regardless of when he returns to the soccer pitch, however, Amarikwa is on a successful path that will have significant implications for any area that he decides to focus his time and energy.
Written by: Rowan O'Connell-Gates — sports@theaggie.org