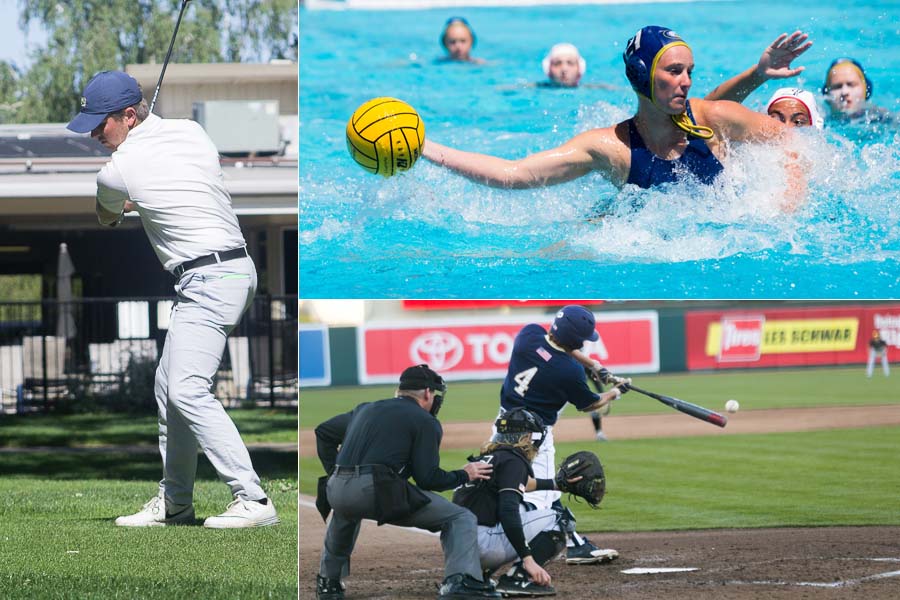 Wrapping up another busy year of Aggie athletics
As the impending doom of Spring Quarter finals is fast approaching, so is the end to another year of UC Davis athletics. This year in Aggie sports was marked by tremendous feats both on the team and individual level, as well as some less-than-stellar performances. With several different programs starting in the winter and competing well into the warmer months of May and June, the final quarter before summer break has been filled with intriguing ends to seasons as well as a host of NCAA playoff appearances.
Both the UC Davis men's and women's tennis teams put on impressive performances this season. The men's team finished with a 14-8 record and managed to climb its way into the Big West conference tournament semifinals. Six members of the men's team received all-conference honors, including freshman David Goulak, who was named Big West Conference Freshman of the Year, and senior Alec Adamson, who was named to the All-Big West first team in singles for the fourth year in a row. The women's team finished 15-10 overall only to fall in the quarterfinals of the Big West tournament. Junior Kristy Jorgensen and sophomore Kelsie Bryant were honored with All-Big West second team for their doubles play, where the tandem collected 10 wins over the course of the season — more than any other women's doubles duo.
The UC Davis men's and women's golf teams also ended their seasons this May, with the men finishing fifth and the women placing fourth in their respective Big West championship tournaments. Senior Ben Corfee was the men's standout this season, earning himself a spot on the All-Big West second team. For the women's team, it was yet another superb year for senior Paige Lee, who has not slowed down since being named Big West Conference Player of the Year back in 2015. Lee appeared in her fourth straight NCAA postseason and collected her fourth All-Big West first team honors to cap off her final season as an Aggie.  
"[Lee] has been a solid player for us, for sure, for the last four years," said UC Davis athletic director Kevin Blue. "Obviously I've only been around her this year, but those are the type of players that have helped us be successful in women's golf in recent years and our expectation is that we'll continue to attract those type of players to come here."
Speaking of success, both the UC Davis men's and women's club rugby teams experienced another season of high achievement. The teams traveled to Life University in Georgia, where the women's team won its second straight national title, defeating Notre Dame College 27-19. The men's team appeared in its third straight national championship game, but in the end failed to claim the three-peat D1-AA title, losing to the men from the same school by a score of 40-20.
In track and field, two Aggies, senior middle distance runner Rianna Goins and sophomore high jumper Erinn Beattie, qualified for the NCAA Outdoor Track and Field Championships held in Eugene, Oregon on June 7-10. Goins will be competing in the 800-meter, an event in which she ran a personal-best 2:05:42 in qualifying. In her high jump qualifiers, Beattie was one of only 10 jumpers to clear 1.79 meters, making her the highest jumper in Aggie women's history.
"We're excited for both of our students that are competing in the NCAAs," Blue said. "Those are the type of results that we want to shoot for and we want to continue growing the number of teams and athletes that are competing at the national level in NCAA competition. Our focus is on doing the things required to continue building this program and we expect the results will follow."
Finishing its season with a one-goal loss in the Big West championship third-place game back in late April, the UC Davis women's water polo team battled through a daunting schedule to end with a 16-18 overall record. For their performances this season, juniors Greta Kohlmoos and Paige Virgil earned All-Big West Conference first team and second team honors, respectively. Kohlmoos led the Aggies with 66 goals.
The UC Davis baseball team wrapped up its sub-.500 season this May. The team finished 21-30 on the season, but still managed to pick up double-digit conference wins. Junior outfielder Ryan Hooper was named to the All-Big West conference second team for his stellar season. Hooper sported a .310 batting average, 52 hits, six homers, 29 RBIs and led the Aggie starters in on base percentage.
Closing out a losing season of its own was the UC Davis softball team, which ended with a record of 22-32. Despite the lack of wins, six of the team's players received all-conference honors, including senior centerfielder Brianna Warner, who was named to the All-Big West first team.
This spring brought some excitement for Aggie athletics off the playing field as well.  Warner, along with several of her fellow Aggie athletes — gymnastics' Yonni Michovska, baseball's Elijah Ontiveros and basketball's Brynton Lemar and Darius Graham — were all selected to attend the NCAA Career in Sports Forum, a four-day enrichment program designed to give collegiate athletes from across the country the opportunity to explore careers in the sporting world.
"[The fact that these five players were all selected to attend] is a highly positive reflection on the commitment that our student athletes have to not only their academic work, but their careers after they finish competing," Blue said. "We're excited about the fact that five-sixths of the representation in the Big West comes from UC Davis. We take pride in that and we anticipate those students having a very good experience at that event."
Early in its offseason, the UC Davis men's basketball program has received solid transfer players — such as guard Stefan Gonzales from Saint Mary's College and forward Matt Neufeld from Saint Louis University — to supplement an already exciting high school recruiting class.
"There's no question that the quality of the program at the moment and the steps that it has taken over the last number of years — culminating in last year's NCAA tournament appearance and victory in the first four — has helped our ability to attract top-level student athletes," Blue said. "With recruiting, obviously you have confidence in the people you recruit, it's a little difficult to compare from year-to-year but nonetheless we're confident in the group that's coming in."
And who can forget the UC Davis football team? Head coach Dan Hawkins has been busy at the helm of his team this offseason, as the new coaching staff works to reinstate a winning culture.
"I think that everybody is very excited about the prospects of the football program," Blue said. "I can confidently say that [the fans are] going to see an exciting brand of football. We feel really good about our team, while also understanding that the building process takes place over a number of years."
Exciting is the word that best describes the atmosphere surrounding the football program these days. Fans are anxious for the team to return to its winning ways, and it seems like Hawkins' history as an Aggie alum is only adding the hype.
"Members of the UC Davis community and students should come out because it's going to be a lot of fun next year," Blue said. "On the field, as well as tailgating and some of the things that are going on around the games — it will be a pretty fun and entertaining experience."
Written by: Dominic Faria — sports@theaggie.org