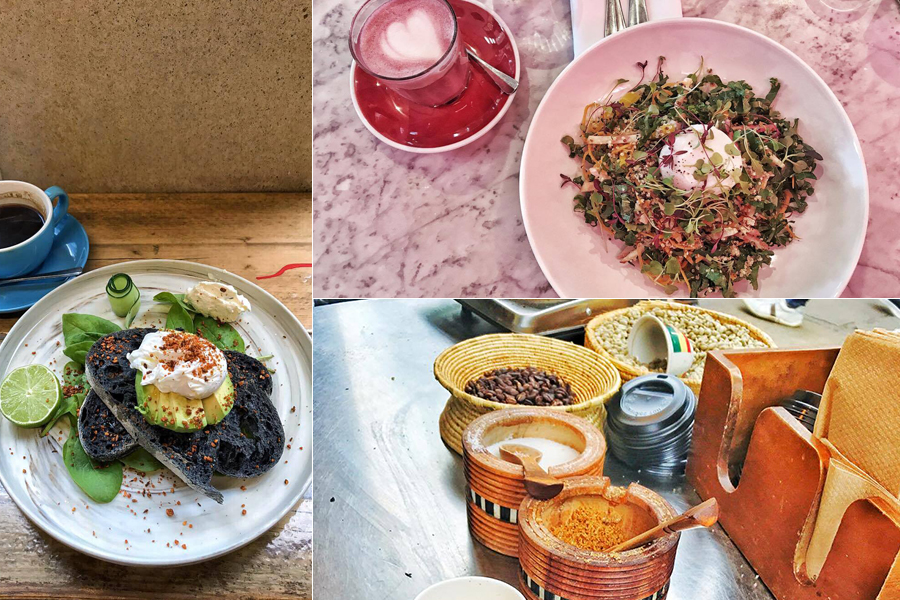 From grocery stores to the finest restaurants, there's something to eat for everyone — and every budget
There is a wide variety of food places to explore in London, to say the least. This summer I had the amazing opportunity to study gender and communication with a group of students from UC Davis and other UC campuses. With only a complimentary breakfast included, we were on our own to find food throughout the busy city. It can be incredibly overwhelming, not to mention expensive, to pick a restaurant along the streets. In fact, an average meal costs around £10, about the equivalent of $13. Buying meals of this price two to three times a day, in addition to coffee and alcohol, can add up very quickly. However, through lots of trial and error, I managed to find several ways to eat good food and not go (too) over budget. There are so many great places to eat in London, however, that I had to treat myself on occasion. And with that, here's a list of great eateries in London for a variety of budgets.
Budget Food Places
Grocery Stores:

Stores such as Tesco, Sainsburry's and Waitrose are located on almost every corner. Depending on your kitchen situation, I recommend preparing as many meals yourself as possible. There are also tons of pre-packaged foods that are perfect to take on the go or on your way to class. Plus, it's super fun to try brands made outside the U.S. Tesco and Sainsbury's also offer "meal deals" with their prepared foods, where four items cost only £10.

Street/Market Food:

You can find markets all throughout London. Some of my favorites include Borough, Brick Lane, Camden, Portobello and Exmouth markets. There are tons of options for everyone, including vegan, gluten-free and dairy-free options. I like to try a little of everything — from the seafood paella at Borough to the pork sandwiches at Brick Lane. Prices usually range from £5-£12 for a dish, depending on what you are looking for.

Leon:

This was one of my favorite places to pop in and get a quick, cheap meal. They have tons on healthy fast food options like salads, curries, smoothies, rice dishes, wraps and much more. Costs can vary, but are usually within the £5 to £8 range.
Mid-Priced Food Places
Nando's:

I was told (many times) I had to get a "cheeky Nandos" while I was in London. Nando's has great chicken and a variety of delicious sauces to put on top. There are also plenty of delicious side options like sweet potato fries, mint-pea salad and Portuguese rice. Dishes range from £10 to £15.

Dishoom:

While there is always about an hour wait, it is definitely worth it. Grab a friend and get in line to experience the ambiance and rich flavors of this modern Indian restaurant. This is a family-style restaurant, where there are no main entrees and instead you order several small dishes.

The Real Greek:

If you want great food accompanied by a great view, check this place out. Located on the River Thames, near Shakespeare's Globe Theatre, this is another tasty, sharing-style restaurant. A friend and I split a tower filled with hummus, dolmades, chicken, tiropitakia and grilled octopus­­, costing us around £15 each.
Expensive Food Places
The Princess of Whales: Accompanied by low lighting and a full bar, this place had a very cool, yet elegant, atmosphere, not to mention delicious food. If you are looking treat yourself to a nice dinner, this is the place to go. I ordered beef carpaccio, followed by lamb rump and dessert. This sort of meal will run around £30 to £50 per plate.

Levant:

Naturally, I saved the very best for last. Levant is the best food I've eaten in my life, so of course, it's also the most expensive. Between belly dancers, an entire lamb with sparkling candles and copious amounts of food, it was a night to remember. The restaurant offers an array of shareable starters and main dishes. The entire class shared hummus, salads, vegetables, samosas, lamb, chicken, seafood,  rosewater-soaked fruit, Turkish desserts, tea and more. If you are going to shell out for one night, this is definitely the place to go.
London is an expensive city in general, and the food is certainly no exception. While it would be lovely to have dining commons in the traditional, all-you-can-eat style buffet, that's not the reality for a study abroad trip. Plus, trying all sorts of different food in a foreign place is an experience worth the cost. Try to save a few extra dollars before you study abroad, but still try to savor all the delicious foods from across the sea.
Written by: Myah Daniels — arts@theaggie.org