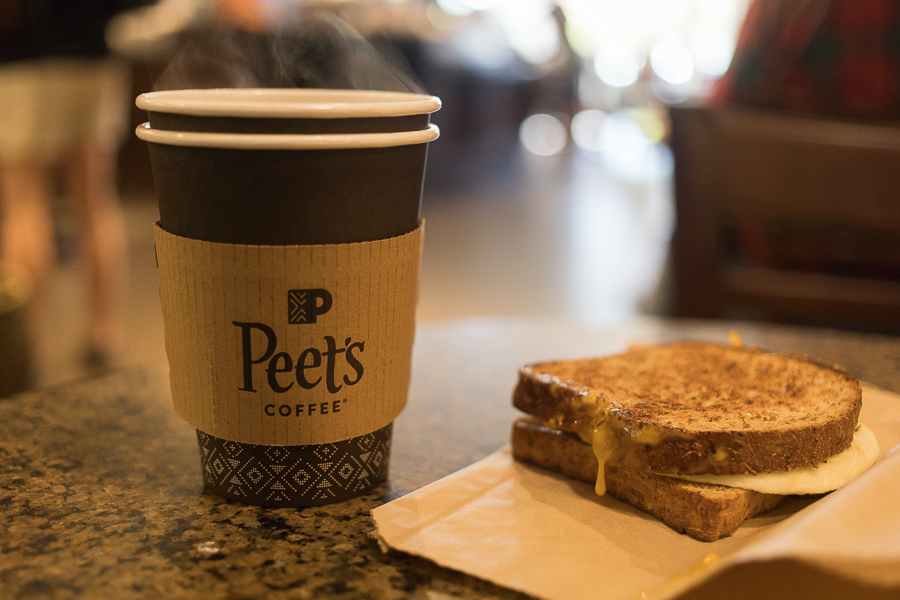 Deciding between Davis' premier coffee chains
Change is uncomfortable. As creatures of habit, students can easily grow dependent on their daily on-campus coffee fix before class. For some, the routine can be almost therapeutic. Although the Davis community is no stranger to Peet's Coffee and Tea (a few exist in downtown and North Davis), Peet's has now replaced the ARC and Silo Starbucks locations. For those who have grown to love and rely on Starbucks' presence on the UC Davis campus, The California Aggie takes a deeper look at the differences between this beloved coffee chain and its replacement.
Coffee
The debate over whether Peet's coffee is better than Starbucks coffee could probably go on for hours. At the end of the day, it comes down to personal taste. However, Peet's tends to have a more consistent reputation than Starbucks, as the latter harbors a burnt and bitter taste at times.
Each store provides a coffee lover's selection of lattes, espresso, macchiatos, cappuccinos, cold brew and more. Both stores also advertise seasonal drinks — pumpkin in the fall and peppermint in the winter. Starbucks drinks, however, tend to contain more caffeine than Peet's.
"I'm never disappointed with Peet's coffee. It's always really fresh and has a super intense flavor. In comparison to Starbucks, I feel like Peet's has a more authentic taste," said third-year cognitive science major Reed Weingard.
Blended Drinks
Two years ago, Peet's introduced the "javiva," its newest blended drink. Counter to the beloved Starbucks frappuccino, Peet's marketed the javiva as a blended drink made with real coffee rather than the syrups, powders and extracts used by other stores.
"I feel like a frappucino is way sweeter than a javiva, but the javiva definitely has a more authentic coffee taste," said second-year political science major Emily Whitehead. "It definitely depends on your own personal preference."
Similarly to the frappucino, the javiva comes in a variety of flavors such as coffee, caramel, matcha, mocha, vanilla and chai.
Tea
From an outside perspective, it would seem as if Peet's puts a larger emphasis on tea than Starbucks does. While Peet's provides an impressive tea selection from the brand Mighty Leaf, Starbucks exclusively offers the brand Teavana. Teavana itself provides an extensive assortment of tea flavors, but Starbucks only offers a select few in stores.
Food
When it comes to meals on-the-go, there isn't much competition — Starbuck's wins this category by far. Two years ago, Starbucks revamped its food selection by acquiring San Francisco bakery chain La Boulange. With this new addition came a fresh selection of delicious sweets, pastries and hot sandwiches. Starbucks also sells protein boxes, which are pre-packaged meals reminiscent of a lunch box. By comparison, Peet's has a smaller selection of food and meal items. However, the new on-campus Peet's locations will provide breakfast sandwiches, fresh baked goods and Grab & Go meals.
Second-year human development major Adeline Newman expressed her longing to have La Boulange products back on campus.
"As much as I love Peet's drinks, I'm really going to miss the food selection at Starbucks," Newman said. "In my freshman year, I used so many swipes on Starbucks sandwiches and pastries. It's just not the same."
Written By: Sydney Odman — arts@theaggie.org