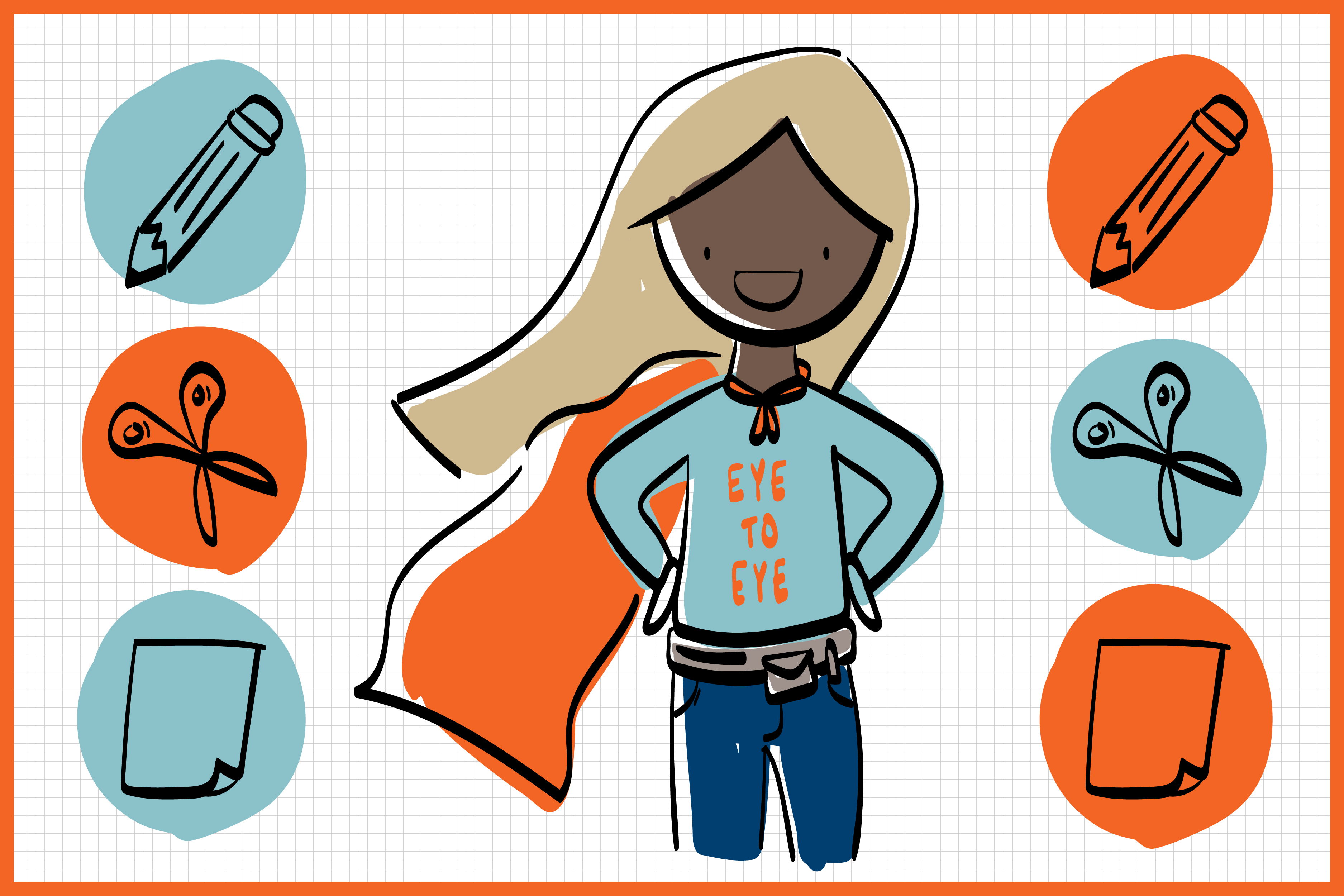 New student organization seeks to empower students with learning disabilities
Sitting in her chemistry class this past summer, Isabella Johnson was casually browsing through her emails when she saw one from the Student Disabilities Center. After scanning the message she practically jumped out of her seat in excitement — it was a notification for a new student organization called Eye-to-Eye that addressed something close to her.
"Eye-to-Eye is a national movement for students with learning differences who focus on empowering each other with the one in five who learn differently," said Shellan Saling, a fourth-year international relations major and a UC Davis Eye-to-Eye chapter coordinator. "It's a national organization; we have over 60 chapters across the whole entire United States."
Eye-to-Eye is an art-based mentorship program run by students for local elementary and middle school children who have learning disabilities. Johnson, a second-year neurobiology, physiology and behavior major, is one of fifteen or so mentors the chapter has already recruited since the beginning of Fall Quarter. However, this wasn't Johnson's first time getting involved with Eye-to-Eye.
"My high school already had an established chapter," Johnson said. "So when the time came around as sophomores [my high school] started recruiting people, and so I was recruited then as a mentor. Then from there, I was chosen to be a coordinator […] and I was chapter leader for my junior and senior years."
Students who become mentors for Eye-to-Eye have learning differences themselves. These can be neurological-based learning disabilities, including dyslexia, dysgraphia, dyscalculia, auditory processing disorders, nonverbal learning disabilities and ADHD.
In fact, one out of every five people in the world has a learning disability. According to Saling, of the students who start college with a learning disability, only about 50 percent graduate. This is one of the influencing factors for why Ben Gurewitz founded the UC Davis chapter of Eye-to-Eye.
"I felt very isolated by my education experience," said Gurewitz, a second-year political science major and a chapter coordinator. "I felt that my education system wasn't built for me, that it was working against me. It was very challenging. I realized that no one should have to endure these challenges, because in reality we all learn differently. We all have different traits, hair color, eye color, skin complexion, whatever, but our education system is designed to assume we all learn the same and that's actually a very false assumption."
It wasn't long after Gurewitz came to UC Davis that he connected with Saling via a mutual friend who faced similar challenges growing up and wanted to get involved with the project. Together, they want to help erase the stigma against students with learning disabilities and also empower these students.
"I still think there's a lot of stigma on campus, and having people in Eye-to-Eye will release that stigma," Gurewitz said. "It will help students understand in their own selves, and [help] the community […] understand that students with learning disabilities are some of the smartest, strongest people in the world."
Johnson recounted one of her most memorable personal experiences concerning her learning disabilities. Coming from the Bay Area, she was required to take entrance exams in order to enroll in certain high schools. While she was touring one of the more prestigious schools in her area, she was deeply turned off by a counselor who made her opinion clear that Johnson would not belong there due to her learning disability.
"I went on to actually smoke the entrance exams and get accepted there, but I didn't want to be at a place that didn't value me for who I was […] and [would have] to shove my learning disability under the desk," Johnson said. "That's something I want to change on campus. I don't want learning disabilities to be something that is just a disadvantage. I want people to recognize that with learning disabilities, it has made me into who I am today. I am incredibly determined, strong and rather stubborn and part of that is because I had to push so hard to learn how to read."
Every chapter of Eye-to-Eye uses the same curriculum, which is focused on using art projects to help the students it serves. One such project is a "utility belt," in which students can put on their figurative tools that help them learn and feel empowered in the classroom. Another project is the "superpower costume," where the students can dress up in a costume showcasing whichever superpower or strength they possess.
"With Eye-to-Eye, it's focusing on empowerment," Saling said. "I notice there's this constant theme with disabilities. There's almost this pity party here, in a way, of victimization, and that's the opposite of what Eye-to-Eye is. It's something to celebrate your learning difference, something to celebrate how you think differently."
Saling, Gurewitz and Johnson are excited for the bright future of the program and encourage other students to get involved. As a student group that reaches all facets of campus, it's a great leadership opportunity for those who want to empower others and themselves and get connected with fellow students.
"There's been statistics from Eye-to-Eye that show that the mentor is also equally as empowered as the mentee," Saling said. "Just to have this wonderful, close-knit community [is] really special and we can share our own struggles [and] accomplishments. Having this community and reminding you that you're not alone with your own struggles can lift you up when you need to be lifted up and help you push through when you're having a hard time. I think that's really meaningful."
Written by: Marlys Jeane — features@theaggie.org