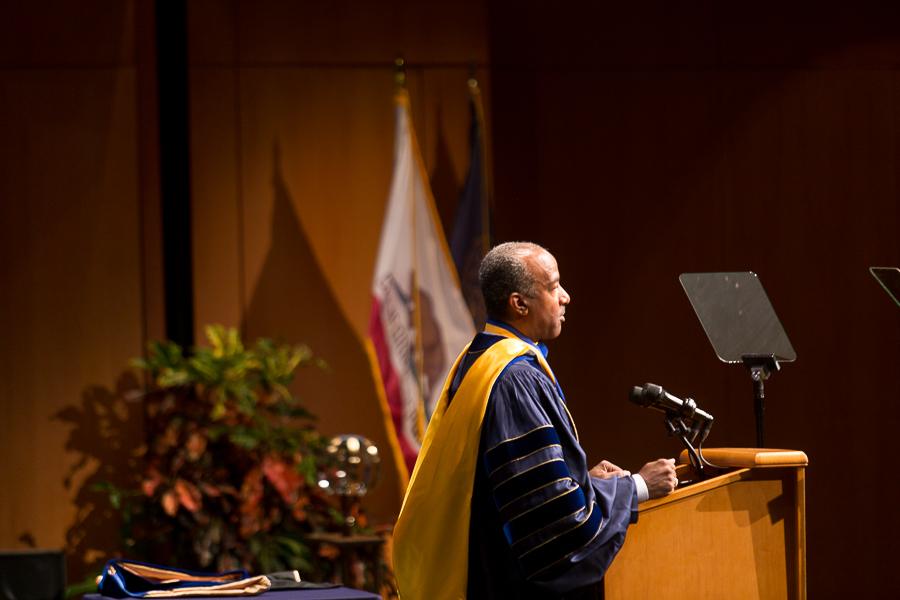 Gary May confirmed as UC Davis chancellor at formal ceremony on Oct. 27
The Investiture of Gary May as the seventh chancellor of UC Davis took place on Oct. 27 in the Mondavi Center, the first event in UC Davis' annual Homecoming weekend. The ceremony consisted of musical performances, speeches by UC community members and the presentation of the Chancellor's Medal by UC President Janet Napolitano, officially inaugurating May into his new position. Speakers repeatedly mentioned May's community and academic spirit, desire to promote diversity, sense of humor and, of course, his love of Star Trek.
Guests were welcomed into Jackson Hall by a musical prelude from the UC Davis Concert Band, which was followed by an academic procession of UC chancellors, regents, faculty representatives and other senior leaders. Andy Jones, a UC Davis writing professor and a two-time Davis poet laureate, was the master of ceremonies and presented opening remarks after the procession and national anthem.
"The investiture is a public recognition, an acknowledgement of the faith and confidence we have in a leader," Jones said. "It bestows on that leader the official mantle and trust of the university. It instills as well our confidence and belief in the Office of the Chancellor, most specifically in Gary S. May as the new chancellor of UC Davis."
George Kieffer, the Chair of the UC Regents, followed Jones' remarks with a welcome speech that discussed the unofficial founding of UC Davis in 1906 and recognized how the university has become "the world's preeminent university for agriculture, veterinary science and environmental sustainability." He also emphasized May's reputation for fostering diversity and advocating for the success of all students, which has the potential to influence the future of UC Davis and California as a whole.
A video presentation then reflected on May's childhood, his background as an electrical engineer and former dean and his appreciation for his family. It also showcased May's accomplishments at UC Davis thus far and highlighted his goals for the future, including plans to develop Aggie Square — a technology and innovation hub in Sacramento.
Next, UC Davis students, staff, faculty, alumni and other community members delivered remarks, wishing May well in his future as UC Davis chancellor. Speakers included ASUCD President Josh Dalavai, GSA President Roy Taggueg, UC Davis Staff Assembly Chair Kate Shasky, UC Davis Academic Senate Chair Rachael Goodhue and Cal Aggie Alumni Association President Debby Stegura. Each speaker expressed their confidence in May's ability to work with their respective branches of the UC system and to help UC Davis grow.
"Chancellor May has already been a great partner to the Academic Senate," Goodhue said. "His energy, his enthusiasm and his ambitions for UC Davis match the faculty's own. He has brought to his first months an eagerness to learn and engage, which is essential to understanding the complexity and the depth of UC Davis and its impact on California and the world. In addition, Chancellor May recognizes that the story of UC Davis remains, in many ways, unwritten."
Audience members also heard from May's family — his wife LaShelle and daughters Simone and Jordan. LaShelle delivered a heartfelt letter to her husband in which she said "the bottom line is [that in] my very short time here at Davis I have realized this is a family community, and in my eyes, UC Davis is getting a remarkable family man."
During the event, Fred Taverner, a board director of the Cal Aggie Alumni Association and a UC Davis alumnus, commented on his impression of May thus far.
"I met [May] yesterday and spoke with him about his projects during a meet-and-greet session," Taverner said. "[May] is from Georgia Tech and turned around their College of Engineering there. I found him to be very personable [and] very intelligent, and I think he will be a good addition to this campus."
G. Wayne Clough, May's longtime friend and colleague from Georgia Tech, presented after the May family. Clough, the President Emeritus of Georgia Tech and former secretary of the Smithsonian Institution, said that May's experiences in Georgia will help the him adapt to "opportunities and challenges" that UC Davis will face going forward.
Napolitano gave a short address before presenting May with the Chancellor's Medal: "We are indeed fortunate to gain a chancellor whose accomplishments, breadth of academic and administrative experience and distinguished record of public service [will contribute] to the role of UC Davis chancellor."
May's inaugural address came directly after the presentation of the Chancellor's Medal. He spent time thanking friends, family and colleagues from UC Davis and Georgia Tech for standing by him in his career. To recognize the support he has received throughout his life, May referenced a Southern saying that reads, "If you see a turtle on a fence post, it didn't get there on its own." The new chancellor also talked about his belief in a strong work ethic, the power of education and the importance of diversity.
"With diversity comes a wider and more interesting range of experiences, ideas, opinions and perceptions," May said. "The greater the mix, the more likely we will make discoveries and solve problems — the hallmark of academic excellence."
The address continued with May's recognition of UC Davis' world-renowned reputation and its potential for continued worldwide impact.
"I have heard many alumni and others describe Davis as kind of a 'sleeping giant,' a powerful institution that is yet to show the full extent of its power," May said. "Well I'm here to tell you it's time for this giant to wake up. Whether it's our record fundraising, our record research expenditures, our athletics teams making campus history, our noteworthy achievements in scholarships or our overall ranking as a top-10 public research university, UC Davis is unmistakably on the rise."
In closing, May delivered his slogan: "I am ready to help UC Davis go boldly, as no university has gone before."
After May's speech, attendees stood for the performance of the UC Alma Mater "Hail to California," which was followed by the recession of the UC deans, chancellors, regents and senior leaders. Guests were then invited to a reception outside of Jackson Hall, where they could meet other attendees and UC Davis community members.
Jones' words from the beginning of the ceremony summed up the Investiture's common theme — "Chancellor May has made an immediate impact on our campus and on our region. His openness, his candor and his sense of humor have appealed to everyone he's met."
Written by: Olivia Rockeman — copy@theaggie.org