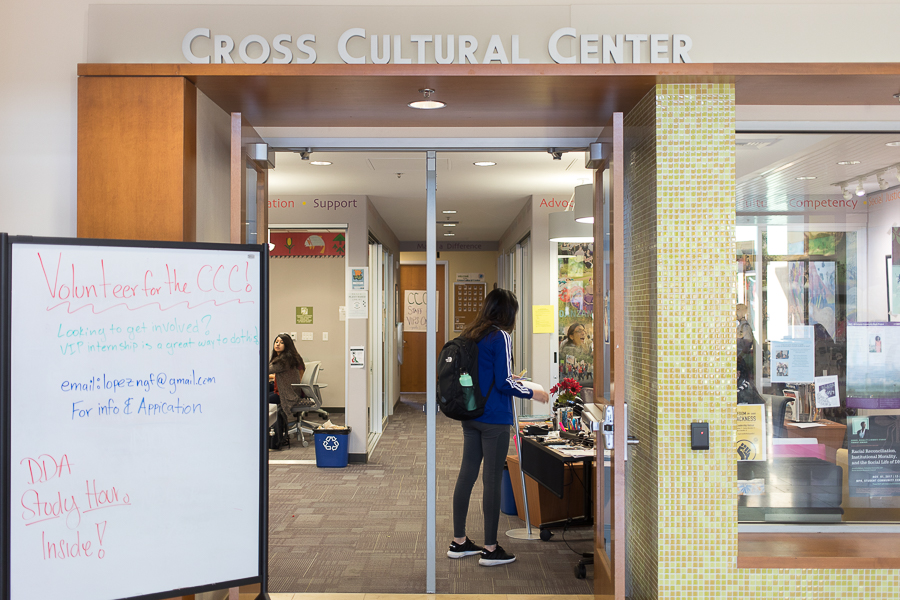 CCC, SRRC, AB540, URC, other resources found in Student Community Center
The Student Community Center is a vibrant, colorful building on the UC Davis campus. From serving as a study spot to housing the South Coho, the SCC has a multitude of resources to cater to the needs of the diverse groups of students in the UC Davis community.  
The Cross Cultural Center was the fruit of a hunger strike "born out of student activism and political struggle, [and it] provides a culturally relevant community space where student voices can be expressed and respected," states the CCC's mission statement.
The CCC's goals are centered around social justice, and it relies on student activism to innovate and spur change. It is "committed to providing programs and experiences that allow each individual to freely explore, discover and understand their identity." It also believes in the "fluidity of human diversity," and like the rest of the resource centers, has many programs available for students, such as PEACE, REACH, SoDA, and provides various resources including the Art Lounge, the Provost Fellowship and a newsletter.
The AB540 and Undocumented Student Center is geared toward AB540 and undocumented students, but provides a safe space for all students.
"This center is open for everyone," said Edith Ruiz, a third-year animal science major. "I think overall it's a good space to just hang out and meet new people. That's one of the reasons why I came here too. My freshman year I didn't really find myself because I'm not from the area so I came here and I made a lot of new friends."
From providing legal assistance to a place to eat lunch and refrigerate food, this center strives to achieve holistic care.
"There's also legal assistance for free for students that have any questions," Ruiz said. "[It] is also just a safe space for people to come in do homework. We also have a refrigerator [and microwave] that's open if you want to use."
The AB540 center also has a lending library with books that are available for students to borrow free of charge. Students can check the availability of books online. The DREAM Committee has opened a forum where AB540 and undocumented students can request books they need, and the committee will try to use its funds to purchase these books for them. They also have iClickers, calculators and lab coats as free resources to borrow.
"We deal with a lot of different programs," said Hector Gamero, a Ph.D. candidate in mechanical and aerospace engineering who works as the education and training coordinator at the AB540 center. "I like to think of it as three separate sections. One section is folks coming into the university. We create programs that help [high school and transfer students] make the [application] process a little bit easier, because it's very specific for undocumented or AB540 students to be able to apply [and] also be able to [fund themselves]."
Continuing to support students in the next step of the journey — the second component of the program is to help current students have successful college careers.
"We work a lot on retention and awareness," Gamero said. "One of the greatest things that we were able to see come up from this space is a source of community. We've been able to see students come together [and] feel safe in this space and connect with other community members. It wasn't until we had this space where they were able to connect and be able to disclose themselves."
The third aspect of the AB540 and Undocumented Student Center works to help students secure their futures after their undergraduate career at UC Davis.
"We also help them with afterwards," Gamero said. "If they're thinking of pursuing a higher degree in grad school [and] they identify as being AB540 or undocumented, that's also a very unique path, so we have allies and mentors who know that journey and can help our students."
Also working toward student retention is the Student Recruitment and Retention Center. The SRRC has many programs, with each one focusing on a different community within the context of retention and recruitment. They provide things like scantrons and blue books on every odd week of the month while also having a professional counselor, Tracy Thomas, available at the center a few times a week to support students.
"We have study space hours […], a test bank, which is available here if folks want to see a test that was previously given to a class, [and] we also give out scantrons and blue books on every odd week," said Alejandra Araya, fourth-year international relations and Spanish double major. "We have a lot of retention initiatives in the sense where we want to make this space a resource for people for anything that they need. If they just want to study or if they want to hang out with their friends […] we're here to serve the students."
In addition, the Undergraduate Research Center, as its name implies, helps students navigate research opportunities and the pathways to finding a research position that is a best fit for them.
"URC provides undergraduates with the resources they need to start getting involved with research," said Chioma Okoyeigwe, a third-year human development major. "Students will come in and make an appointment to speak with one of our advisors and [essentially] during the meeting, the advisor goes over the whole spiel on how to talk to professors, how to figure out what particular type of research you want to do. There's so much variety and I feel like a lot of students think it's just lab but it's really more than that. There's research in history research in the arts too."
This just scratches the surface of all the resources that are offered to students in the SCC, and the SCC is most definitely not the only center that houses resources such as these. All these centers share the underlying passion to serve the diverse campus communities, meeting them where they are. And most importantly, many of these centers were formed from student activism and efforts, and the continue to evolve as students respond to the needs of other students.
Written by: Sahiti Vemula — features@theaggie.org