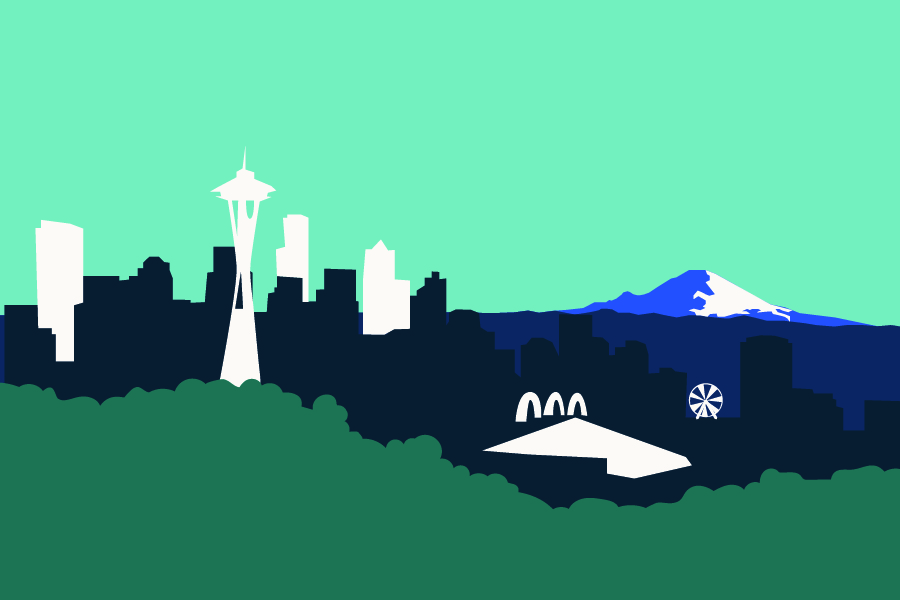 What makes Seattle the number one location outside of California for former Aggies?
Many Californians who have never visited Seattle may think of it as a dark, rainy place with too many Starbucks locations. While this may technically be the case, its hub of innovation has given the greater Seattle area the largest concentration of UC Davis alumni outside of California.
"There's no absence of alumni doing interesting things in the area," said Lani Chan, a UC Davis class of 2005 alum and a leader of the UC Davis Seattle Alumni Network. "Seattle is quickly finding its way as the Silicon Valley of the Pacific Northwest — we have a ton of alumni at Microsoft and Amazon, for instance."
According to Thomas Whitcher, the director of Out of State and Special Interest Programs for the Cal Aggie Alumni Association, there are over 5,000 alumni in the Puget Sound Area, followed by Portland, New York City and Washington, D.C..
Many factors have drawn former Aggies to the region, like the desire to pursue postgraduate studies or employment opportunities at the University of Washington, the chance to work at one of Seattle's high profile companies including Amazon, Microsoft and Boeing or simply the allure of the city's innovative atmosphere.
"I decided to go back to school to get my MBA," said Lisa Meyr, who graduated in 2000 with a B.S. in chemistry. "[My husband and I] wanted to go somewhere we could see ourselves living long term and both really loved Seattle when we visited, so I decided to go to University of Washington."
Now, Meyr is the Associate Director of Research and Development Operations at Seattle Genetics. Meyr says that having an MBA and a background in chemistry helps her to bring together the organization's business and scientific aspects.
"Seattle Genetics is the largest biotech company in the Seattle area," Meyr said. "[It focuses] on the development of transformational therapies in oncology, primarily through Antibody Drug Conjugates. Biotech has had a consistent presence in the Seattle market for decades."
Seattle is one of the foremost cities in the nation for biotechnology and medical research, meaning there is a wide variety of potential careers for students who have earned degrees in STEM fields from UC Davis.
"There is a strong academic research presence through the University of Washington, Fred Hutch Cancer Center and many others that continues to help attract and support great research which in turn feeds the biotech industry," Meyr said.
Meyr and her husband are both pleased with everything Seattle has to offer with regard to work and lifestyle.
"With my husband in high tech and me in biotech we have been able to both continually find great professional opportunities in the Seattle area while maintaining a fantastic lifestyle," Meyr said. "Seattle has grown considerably in the 10 years we have lived here but it still maintains much of what attracted us here — great professional opportunities, unparalleled natural beauty that is easily and quickly accessible, less congestion/density compared with the Bay Area, lower cost of living, and a great young energetic and vibrant community."
Candice Cox Blann, who earned a B.A. in bacteriology in 1975, has also enjoyed being part of Seattle's large community for biological sciences in her job at the Seattle Laboratory for Quest Diagnostics. She also takes great pleasure in the natural beauty and cultural diversity the region has to offer.
"I work as a Clinical Microbiologist for a large reference laboratory, where I can look out at the Seahawks stadium to the water and if it is clear enough the Olympic [Mountains]," Blann said. "I fell in love with the Mountains and the water, the bays, islands […] Where I live and work I can look out onto the water and the Olympics and turn around and see the Cascades and Mt Rainier […] I love the cultural mix of people, arts, science and technology."
In addition to finding careers in medicine, healthcare and biotechnology, Seattle also offers many ways for Aggies to apply their knowledge in environmental and agricultural science, two more of the school's signature fields.
Peter Kelly earned a B.S. at UC Davis in international agricultural development in 2002 and a Ph.D. at UC Berkeley in agricultural and resource economics in 2010. Kelly, who is originally from upstate New York, lived in Seattle during breaks while studying in California and while working as a professor in Beijing but has now settled in Seattle permanently.
"I came to recognize that Seattle was at the center of innovative international models of philanthropy and social enterprise," Kelly said. "The area is filled with post-tech-career social visionaries like Bill Gates, Paul Shoemaker, Paul Brainerd, Will Poole and Luni Libes, who have founded and nurtured world-class organizations like the Gates Foundation, Social Venture Partners and PATH."
The city's philanthropic spirit is well suited to the work Kelly is currently doing: establishing a nonprofit of his own.
"I'm now living in the Seattle area year-round, applying my UC Davis degree in international agricultural development to founding a nonprofit organization, Grow Further, which aims to build agricultural research in developing countries into a new charitable category for individual donors parallel to global health," Kelly said.
Nicole Tanner, now at Global Geophysics, LLC, graduated in 2013, double majoring in geology and music performance for trombone and voice. Tanner then earned a master's degree in geology and geophysics at the University of Leeds in England.
"After completing my master's, I decided to pursue a Ph.D. back at UC Davis, but decided I would like to travel a bit first and have a break from academia," Tanner said. "I traveled within 6 months to 19 countries in Southeast Asia and Europe."
The seed for the idea of moving to Seattle was initially planted while reading a book that she received during this trip from her work exchange family in Mosjøen, Norway. The book, "Morning Glory" by Sarah Jio, takes place on the houseboats on Seattle's Lake Union.
"I had seen and heard of Seattle in movies, shows, and news, but had never before felt so intoxicated by this place," Tanner said. "During my Ph.D. at Davis, I visited a friend from my undergraduate years who lives in Seattle and fell even further in love. When I decided to discontinue my Ph.D. and find a job, Seattle is the first place I thought of. I quickly found a job as a project geophysicist for a small consulting firm in Redmond, Wash. and packed my bags."
Andrew Glass Hastings and his wife, Cassady, both graduated from UC Davis in 2003 with degrees in community and regional development and human development, respectively. Like Lisa Meyr, they moved to the region because of University of Washington.
"We attended USC for our masters, and then moved to Seattle so Cassady could pursue her Ph.D. at UW," Hastings said. "We have been here in Seattle ever since. Seattle has so much to offer and still has all the best of the West Coast. Cassady is a professor in the College of Education at UW, having just started a new undergraduate degree — Education, Communities and Organizations. And I am the Director of Transit & Mobility for the City of Seattle. Seattle has presented a wealth of opportunity for what Cassady and I love and do, and the foundation was provided by our experiences at UC Davis."
In Seattle, former Aggies have found many thriving industries where they can apply a wide range of skills, all while getting to know a growing, diverse city that is unique from what can be found in California.
"I feel that Seattle combines urban and social life with love for nature and the outdoors in a way that I haven't seen in other places," Tanner said. "No matter what one's expertise, there seems to be a little bit of everything here."
Written by: Benjamin Porter — features@theaggie.org