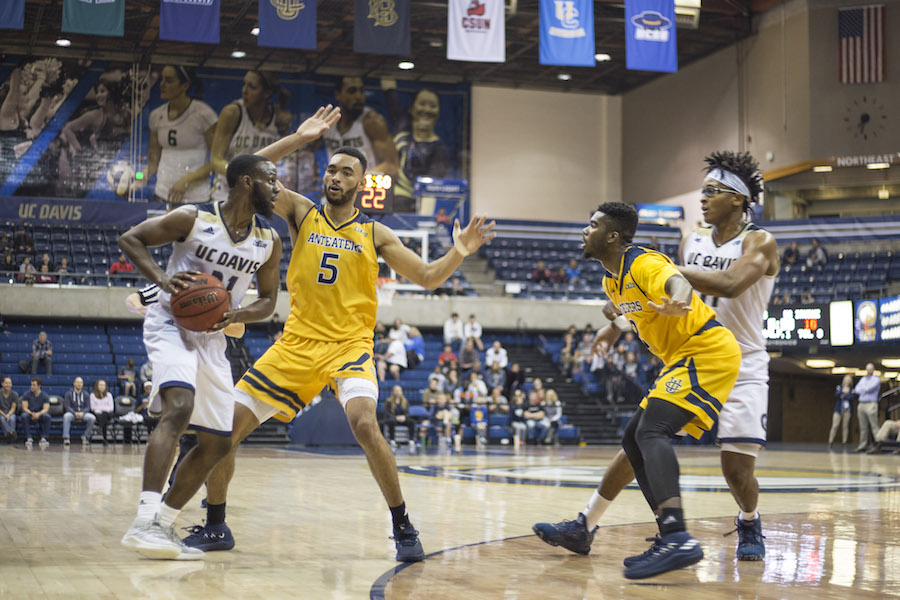 Men's basketball wins first conference battle of season, keeps home win streak alive
After two months of battling it out with non-conference opponents, the UC Davis men's basketball team opened Big West conference play last Thursday night with a 64-53 win over the UC Irvine Anteaters. This victory, in a contest that featured a rematch of last season's conference championship game, marked the program's 16th straight home win.
The game's first half was a tightly contested one, as the teams began the evening trading scores. Usually a sharpshooter from behind the three-point line, junior guard Siler Schneider instead found his shots falling from inside the paint. Schneider's six first half points all came within the game's opening 10 minutes, as he slashed his way inside the Irvine defense for three tough baskets.
In an effort to tighten their interior defense, the Anteaters briefly switched from a man-to-man scheme to a zone. This change freed up the Aggie backcourt, where junior guard TJ Shorts took advantage. Shorts knocked down UC Davis' first three of the game, putting the Aggies in front for the first time of the contest.
The Aggies benefitted from inside scoring, but outside of Shorts they uncharacteristically struggled from beyond the arc and fell behind early. The team missed seven of its nine first half three-point shots, with Schneider failing to connect on all three of his attempts. This lack of outside firepower, however, did not seem to bother head coach Jim Les.
"We know both teams are going to defend," Les said. "I thought early, and especially in the first half, we had some really good looks. Good shots for us, the right guys taking them, they just didn't go down. What I liked about our team was just staying with it. The defense didn't suffer because shots weren't going in."
UC Davis proceeded to clamp down on the Anteaters, forcing 11 first half turnovers, off of which the Aggies scored ten points. Both its swarming defense and ability to get to the foul line helped UC Davis build on its lead. A flurry of points from Shorts, who led the Aggies with 15 in the first half, pushed the UC Davis lead to nine.
UC Irvine, however, closed out the period with a strong showing. The Anteaters intensified their defense and responded with a 12-4 run. As a result, the Aggies saw their lead shrink back to just one point, leading 31-30 at the break.
UC Irvine opened the second half with the same energy as it had closing out the first. The Anteaters made it a priority to get the ball in the hands of its very capable sophomore guard Eyassu Worku, who scored eight of his team's first 10 points of the half. UC Irvine reclaimed the lead, and went ahead by as much as four before the Aggies came storming back.
Already in foul trouble and behind by four, UC Davis needed to get things going again offensively. The team found its scoring spark in Shorts, whose craftiness around the hoop and ability to finish ignited an ensuing Aggie run with a gliding, and-one layup in traffic. Shorts would finish the night with a team high 22 points –– just the third game of his career with 20 or more.
"Can't say enough about [Shorts]," Les remarked. "His ability to get the basket, get to the paint and make plays; finish at the rim, drop-offs for layups –- he's playing at a high level."
After a relatively quiet first half, senior forward Chima Moneke took his turn providing some offensive fuel. Moneke scored seven of the Aggies' next eight points, including scores on back-to-back possessions; his smooth up-and-under layup was immediately followed by his only three-point field goal of the evening. Despite Moneke's six second-half turnovers, Les was still impressed with Moneke's patience throughout the game, pleased with his ability to "pick and choose his opportunities" and find open teammates when he was doubled.
Sophomore guard Joe Mooney –– who recorded a game-high and career-high four steals in 19 minutes off the bench –– added another three to extend the Aggie run that eventually climaxed at 15 to 1. Mooney's extended minutes and productivity on the defensive side was something that did not surprise his head coach.
"Some of the rotations we had worked extensively on the last couple days, we talked about those guards," Les explained. "They were going to be in the hole guarding those bigs when we doubled […] [Mooney's] ability to be in the right place and make a play on the ball, I thought that was huge."
With seven minutes remaining, UC Davis had a 51-41 lead, which was more than enough for the Aggies to cruise to yet another home victory. The 11-point win did not come easily, however, as UC Davis had to adjust its offense to focus on getting good looks closer to the basket. UC Davis is generally a steady three-point shooting team, making around 39 percent of its shots from deep. Against UC Irvine, however, the Aggies shot just 23.5 percent from three, but outscored the Anteaters 34-20 inside the paint.
While the offense had its ups and downs, the Aggie defense rarely broke down in this matchup. UC Davis was plus eight in points off turnovers, as they forced UC Irvine to lose the ball 22 times while recording 12 steals. The Aggies did not allow UC Irvine to record an offensive rebound in the first half and held the Anteaters to just 23 percent shooting the second half.
"I think that was the first time we brought it to [UC Irvine]," said Moneke. "We were ready for it, we anticipated it […] the rebounding thing has been a big issue for us, so for us to hold them to [no offensive rebounds] in the first half is huge."
Outside of Shorts' 22 points, two other Aggies recorded double digit scoring figures. Moneke finished with 20 points (13 in the second half) and 13 rebounds en route to his ninth double-double of the season in just his 14th game. Schneider added in 10 points and a game-high four assists –– and no turnovers.
After another sharp performance at home, UC Davis is now 10-5 overall and will be on the road for the next two games. Both of these away contests will be aired on ESPN 3, meaning that UC Davis fans will be able to watch the Aggies battle with UC Riverside and Cal State Fullerton via national broadcast. The Aggies will not be returning to the Pavilion again until Jan. 17 to host Long Beach State.
Written by: Dominic Faria — sports@theaggie.org