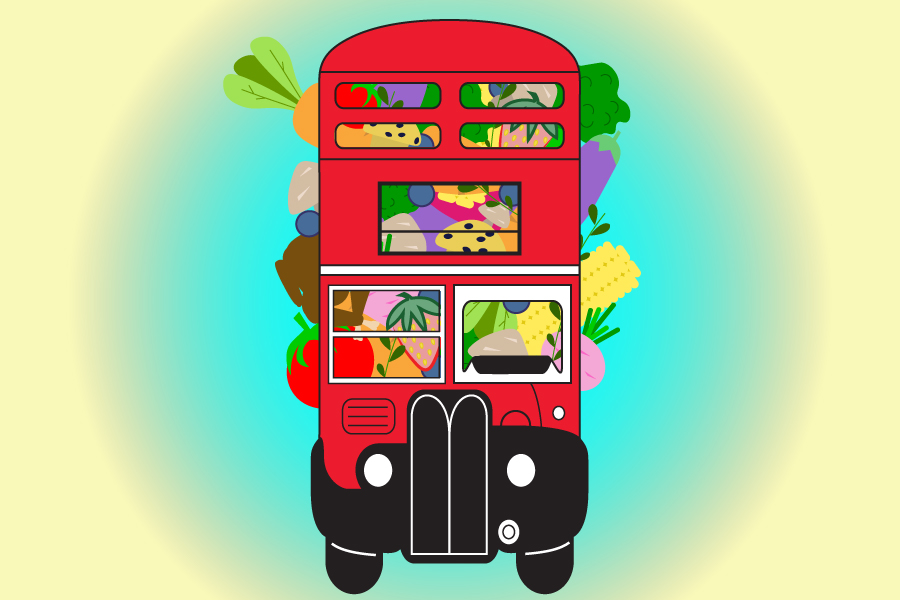 Unitrans teams with Nugget to stuff double-decker bus full of food
On Dec. 9, a Unitrans double-decker bus sat parked in the square outside of Nugget Market. Unitrans employees passed out free tote bags and customers spun a prize wheel. Boxes of donated food were piled high inside bench seats, waiting to be delivered to Davis residents in need. Unitrans and Nugget Market partnered this holiday season to literally "stuff a bus" with food, an event organized by Unitrans General Manager Jeff Flynn. The publicity helps both Unitrans and Nugget provide holiday meals and promote an environmentally friendly way to travel while addressing the growing need for food donations.
"It's spreading good word for Unitrans," said Inna Nytochka, a volunteer organizer and the route supervisor for Unitrans. According to Nytochka, half of the donated goods go to Yolo County Food Bank, the other half to the Davis Pantry. "It's a win-win everywhere."
Leah Guerrero, a volunteer at the drive and a Unitrans employee, commented on working for Unitrans.
"It's like being part of Greek life without the fees — it's a nice environment, most of my friends are Unitrans people," Guerrero said.
The Davis Food Pantry is a self-defining support system for UC Davis students. In 2010, 50 percent of students said they had skipped meals occasionally. Since its opening, the Pantry has served as a resource for students in need. Donations go directly toward students, who need only show a student ID to get three free food items or toiletries per day. It was created in part as a response to the growing costs of college tuition, which can make balancing meals difficult for students.
"The mission of The Pantry is to aid UC Davis students in their pursuit of higher education by ensuring that no student ever has to miss a meal or go without basic necessities due to financial reasons," according to The Pantry's website. According to the Yolo Food Bank's website, over 31,000 people in Yolo County are food insecure, meaning that they cannot regularly procure quality food. This can be influenced by a variety of factors, including low income and student loans. A study in 2014 led by UC San Diego found that 35 percent of students had skipped meals in order to make ends meet. This prompted many universities to open food pantries and promote local food banks.
The Yolo Food Bank helps residents across the county with regular deliveries of both fresh and canned produce. Their rural food delivery program ships over 500 food boxes to nine different locations each month. These shipments help supply necessary goods to individuals in harder to reach areas, even those outside of Yolo County, via a combination of donors who support their operations. In addition to the deliveries, the food drive was available from 9 a.m. to 3 p.m.
The bus drive was stationed directly outside of Nugget and provided incentives, such as reusable water bottles for anyone giving a donation. The bulk of donations were received early in the day and filled the lower cabin of the double decker.
"It's been pretty successful," Guerrero said. "I'm surprised at how generous everyone has been."
Written by: Genevieve Murphy-Skilling — city@theaggie.org