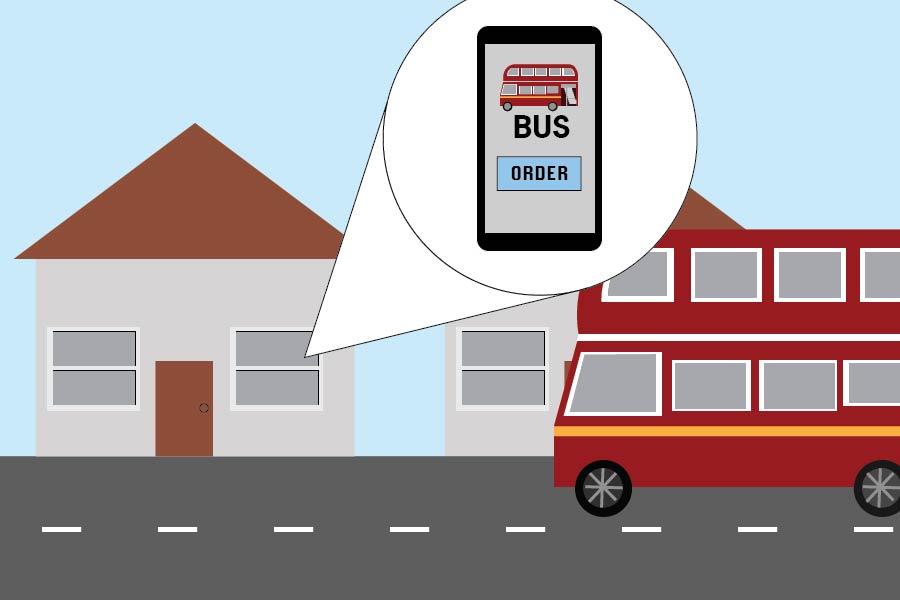 Buses could soon be ordered to your front door
Starting this month, Sacramento Regional Transit will experiment with microtransit shuttles and vans in Citrus Heights.
Riders will be able to download an app onto their smartphone and call a ride directly to their front door, similar to rideshare services such as Uber and Lyft. Riders will also be able to book rides in advance and call SacRT's dispatch to order a ride if they don't have a smartphone.
Microtransit buses and shuttles will carry multiple riders at a time. SacRT plans to keep ride costs to $2.75 per ride, which is the same fare as Sacramento's transit buses and light rail.
"This has a huge, huge potential to be a real game changer in communities where traditional fixed route [transit] hasn't cut the mustard," said Mark Lonergan, SacRT's chief operating officer. "We will be able to look at this as a tool and see, can we expand elsewhere in the SacRT region?"
With this project, SacRT is aiming to help determine the feasibility of utilizing microtransit technology, improve services on existing routes, develop new services, improve connections to local bus and light rail service and increase ridership.
SacRT is partnering with TransLoc, a transit technology company, for the project. Transloc is partnered with many other cities throughout the U.S., helping them administer their own microtransit projects.
Citrus Heights Mayor Jeff Slowey sees potential in what microtransit can do for his city and other suburban cities.
"Suburbia is one of the biggest challenges for mass transit," Slowey said. "I think we found something here."
SacRT is spending $25,000 on software for the project and isn't currently hiring any additional drivers or adding new vehicles. SacRT chose Citrus Heights due to its City Ride program that it currently runs in the city.
Giovanni Circella, a part-time researcher at the Institute of Transportation Studies at UC Davis, thinks SacRT's microtransit project has a chance to be successful.
"If this experiment can prove that with microtransit you can increase ridership in transportation at an acceptable cost, it could potentially be a win-win for society," Circella said. "Microtransit might prove to be too expensive with current technology. In the future, when driverless vehicles will become available, microtransit services could become an efficient way to expand the catchment area of public transit and increase ridership."
Kevin Ebi, the managing editor at Smart Cities Council North America, thinks microtransit can have more accessibility and affordability compared to transit.
"Why do what the private sector is already doing," Ebi wrote in an article for Smart Cities Council. "The answer is equity. Microtransit is useful for a wide range of people."
Central Contra Costa Transit Authority, Los Angeles County Metropolitan Authority, Orange County Transit Authority and San Joaquin Regional Transit District have all recently experimented with microtransit programs of their own.
Recently, microtransit experiments in Kansas City and San Francisco have been unsuccessful due to a lack of ridership in Kansas City and a failure to comply with safety requirements in San Francisco. Both projects were based on private-public partnerships, similar to the partnership TransLoc and SacRT just agreed on.
SacRT's ridership is down over 37 percent since 2009 and down 9.37 percent since last fiscal year. Despite the loss in ridership, average fare per rider has gone up from $1.10 in 2015 to $1.38 in 2017.
According to Lonergan, the six-month pilot program is scheduled to run through August — with the potential to run longer — depending on the success of the project.
Written by: Dylan Svoboda — city@theaggie.org