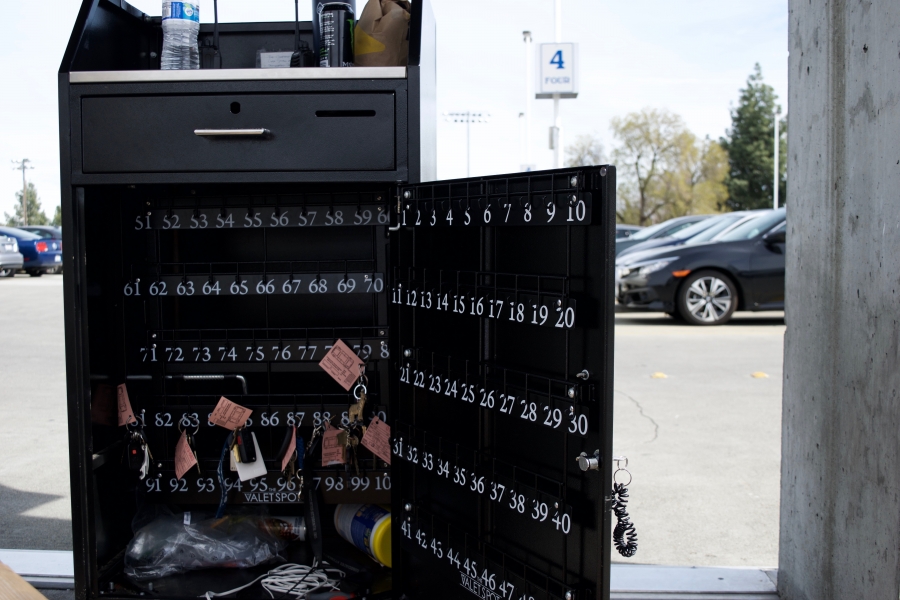 Students upset with parking inconvenience, TAPS input
Student parking spaces, or lack thereof, have been an issue of contention in recent years at UC Davis. Students who drive to campus from their off-campus housing and those who commute from neighboring cities such as Woodland have voiced their complaints of a lack of parking spaces, and some are concerned that this will be exacerbated by an expanding student body.
Clifford Contreras, the director of the Transportation and Parking Services on campus, shared some statistics on various facets of the issue, and offered explanations of some of the questions students have had regarding the rationale behind permits and their prices. He began by sharing the total inventory of C permit spaces available throughout regular business hours on campus: 7,502. If the L permit spaces are included as well, then the total comes to 8,529. However, these spaces are not exclusive to the C permit. In the first number presented, A/C/Visitor share the spaces, and in the additional 1,027, A/C/L/Visitor permits share the space.
"The reason we put A there is because As can park in any C spot," Contreras said. "They typically park in every A spot that's available [and] they usually don't park in C spots, but because they can, we put that letter there. Every C permit [space] is also available to anybody that buys a daily permit. We can't separate that out because we know how many dailies are sold, but we don't know how long they're there."
The revenue gained from selling parking permits and parking citations is used to run TAPS, an entirely self-supported entity. As Contreras expressed, TAPS must generate an independent source of revenue in order to maintain operations and pay for the construction and maintenance of facilities, since it is not a university-funded program.
During the 2016-2017 school year, 29,300 parking citations were issued and 9,844 citations were appealed, with 65.6 percent of the appeals being granted. Citations that seem to fall under the arbitrary notion of a "simple parking violation" category have a decent chance of being forgiven.
However, citations are not appealed for rationales such as lack of space to park in a valid C permit area. According to the numbers, there are enough spaces for all C permits. 5,254  variations of C permits were sold during the Fall 2017 and there are 7,502 C permit parking spaces available, meaning there was no numerical requirement to cap the number of permits sold.
"We do quarterly utilization surveys, including the summer," Contreras said. "We count every vehicle in every parking space, and we do it three times a day, three days within a week, at 10 a.m., 2 p.m. and 8 p.m. We keep track of what those utilization numbers are, and if they're starting to get over 90 percent, we start thinking that we might have to do something as it relates to building additional facilities. Iin the 31 years that I've been here, we've never capped the number of permits that we sell because we've always had a sufficient number of spaces"
As Contreras suggested, although there are enough physical spaces in total throughout campus for C permits, student unrest typically surrounds the idea that people are no longer able to park where they used to, in part due to a greater campus population. The main hotspots for students are the Quad and Pavillion parking structures, which aren't able to meet the high student demand. Contreras and other officers have noticed that students will stay double parked in their cars, for instance in the Quad structure, waiting for a space that they can occupy as people may clear spaces during class breaks.
"They stay in the car, and they'll sit there listening to the radio or doing their homework and the car is turned on, unfortunately, so you got emissions going into the air," Contreras said.
The main source of contention, according to Contreras, is that students prefer to park in the "hotspot" areas close to classes, such as the main parking structures, but those two areas simply cannot meet student demands. Students who want drive to campus must be prepared to park in less convenient locations that may be further away from their classes.
"What happens is this lodged complaint that there isn't enough parking to accommodate [student] needs, which isn't really true, because our statistics bare out that there is," Contreras said. "It's just not where they want it to be — it's further away."
Jyotsna Natarajan, a third-year genetics and genomics major, shared her experiences with driving to campus.
"I've been driving for a year and a half or so, and definitely I've realized you have to come before a certain time, and it depends on if you're going to [the] Pavillion Structure or the Quad Structure," Natarajan said. "I have a mental timetable. If I drive to campus, I won't move my car after 9 a.m. or before 4 p.m., [otherwise] I won't get parking once again."
Mounika Bhaskara, a fourth-year neurobiology, physiology and behavior major, voiced similar frustrations with her campus parking experiences, especially since she commutes from her home near Folsom — a 45-minute commute without traffic.
"Campus parking sucks, to put it in one sentence," Bhaskara said. "I have such a hard time finding parking every single day, because I commute from home now. It's honestly a competition, because there are so many cars trying to take one spot. It's so unfair because right next to it, you see the A parking, which is absolutely empty. Sometimes I've had to either risk parking in the A permit to go for my midterm, or luckily, if I have quarters, I put them in the meter. I've gotten tickets because sometimes you have to park in the A and just go."
As a commuter, Bhaskara has no other option but to drive to campus. She cannot utilize services such as Unitrans that Davis resident students can. She expressed that this issue has significantly affected her stress levels, and she has found it to be a systemic reason for her self-acknowledged parking violations. She would like to see certain changes made, such as a change in the ratio of A to C permit spaces, along with a potential dynamic display of the number of spots available in a given lot, so that students can save time from circling around the lot looking for availability.
"[The parking issue] is important because it causes so much of an inconvenience," Bhaskara said. "You get delayed for everything. If it's midterms, what am I going to do? It's not like I can just leave my car somewhere, and parking tickets are expensive, who wants to risk that? I think physically the space needs to be expanded, because we are a huge campus and you can't expect somebody to park in one [area] and walk all the way across. We should open up some of the A parking to C parking. Particular places like the arboretum […]  there's two huge A parking [lots] right across from each other and there's one tiny C parking there, and it's always full. We obviously have a lot more students than faculty."
TAPS has launched some initiatives in order to address student concerns such as those voiced by Bhaskara and Natarajan. One such initiative that has been in place since this Fall 2017 is the stacked parking service available in Lots 25, 47 and the Quad Structure. This service has increased the number of parking available in each of the lots by approximately 20 percent.
Out of the 304 additional spaces cumulatively created by stacked parking in the three Lots, 236 spaces are currently being utilized by students, with the most underused spaces being in Lot 25 east of the ARC. The outside vendors that provide this service are insured, and they are professionals, meaning that risk for students handing their keys to them should be relatively low.
"It's an expensive service that we outsource," Contreras said. "We contract out to an outside vendor […] but right now, if we didn't have it, there'd be almost three hundred people that wouldnt be able to find a place to park sort of in the immediate area, and we felt it's important to be able to accommodate their access needs."
However, counterbalancing the notion of increasing campus parking space is the UC campus-wide initiative stipulated in the UC Policy on sustainable practices. The initiative states that "By 2025, each location shall strive to reduce its percentage of employees and students commuting by SOV [single occupancy vehicles] by 10% relative to its 2015 SOV commute rates."
With this, and the fact the UC Davis is the most sustainable campus in the world, there is an inherent contradiction to increasing parking space. But nonetheless, there is still immediate student necessity to address. To walk that tightrope, TAPS has been working with Alta Planning and Design, an outside consulting firm that is supposed to help their Transportation and Demand Management program.
"They're helping us put together a suite of options that expand our existing TDM program that says we need to create an incentive that encourages and rewards people who choose an alternative to driving alone," Contreras said. "Right now we provide subsidies to people for taking the train. But maybe that isn't enough […] maybe we ought to reduce the cost of carpools to even lower rates so that more people choose to carpool."
When TAPS started this program 30 years ago, it decided to base the permit prices on access, meaning those with the greatest access to the parking inventory would be paying the highest prices. In this case, the most expensive would be A permit, and next would be C.
However, this doesn't take into account the convenience factor. A permit spaces are rarely full, whereas C permit spaces are rarely empty. C permits often have to find spaces farther from their most desired location, and they don't have the flexibility of leaving campus and returning without running the risk of losing an option to park again.
"Now people are saying we ought to consider a different approach to pricing," Contreras said. "That's what we're working with Alta on. One of the approaches they want us to consider is the convenience factor."
Currently, TAPS is working on a three-year plan that is meant to address these issues and set into motion the potential changes, such as building new parking facilities and pricing to accommodate generating that revenue. This plan should be ready to share with the campus by the end of this fiscal year.
"I know it's not just me, because everybody complains about parking all the time," Bhaskara said. "I feel like that's something that the campus needs to address before they try to make other changes."
Written by: Sahiti Vemula — features@theaggie.org