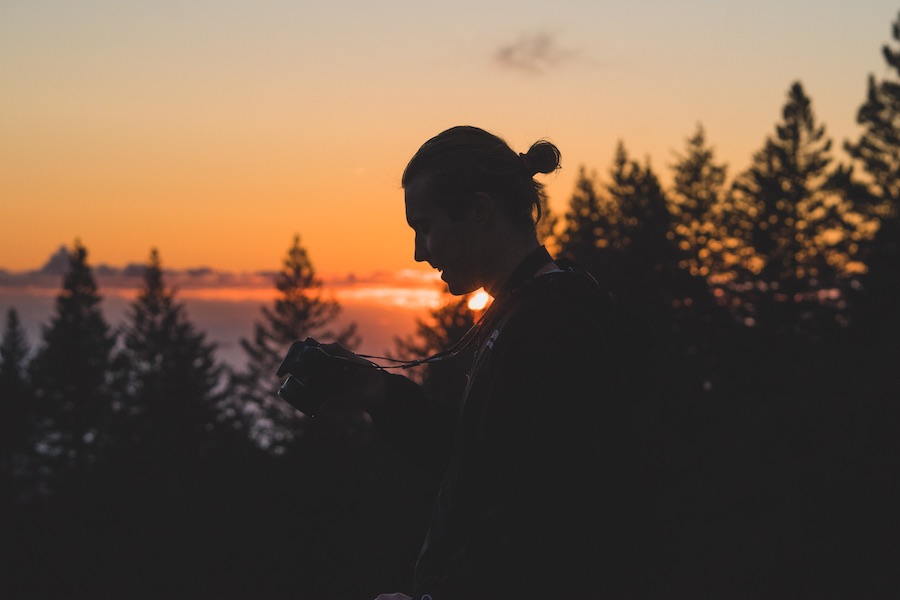 Northern California art collective supports environment, nonprofits
Located in Marin, Mountain Made Life is more than a website that sells unique, nature-focused T-shirts. The art collective is an oasis for artistic expression of all forms that simultaneously supports the environment.
"When I first started Mountain Made Life, I was trying to develop a platform for my art, which then became a platform for others' art," said Josh Morris, the founder of Mountain Made Life. "The goal is to try and help people. It went from a place to sell prints to making shirts and giving back to the environment."
Helping people comes in a variety of forms and destinations.The tees for sale on their website, for example, not only kickstarted the company but also stand for a level of craftsmanship and care by each designer.
"In today's age, with fashion, it is about cheap products that you get rid of immediately," said Leo Cooperband, a designer for Mountain Made Life. "This is more about making fashion a sustainable industry and also making connections with artists. It is us hand-printing our shirts with our own personal designs."  
Mountain Made Life has expanded in the art that it hosts since its inception. Now, there is music through Tiny-Desk–esque videos filmed in scenic locations, adventure blogs and photography to tie it all together.
"Everyone I know is artistic in different ways, and I wanted to create something for everyone, not just me as a photographer and graphic designer," Morris said.
The many mediums align in their dedication to the outdoors, its appreciation and its conservation.
"Through all the mediums that we use, it shows that nature is inspiration for any form of creation," Cooperband said. "Nature can be such an inspiring starting point and getting people outside to express themselves creatively."
For Mountain Made Life, nature is at the center of art and expression.
"I designed the pinecone T-shirt and the patches," Cooperband said. "I take inspiration from a certain biome or environment. Whatever gave me inspiration, I try to give back to the nonprofit that directly helps that biome — it just feels right."
Each tee purchased from Mountain Made Life donates 5 percent of the proceeds to an environmental nonprofit of the designer's choosing — usually the environment the product is based off of.
"I wanted to be more diverse and have more choice in where the money we donate is going to," Morris said.  "We wanted to see if we could give to another place and give people a reason to look at more shirts. If someone resonates with the desert, they could not only have a T-shirt with a desert scene but also give back to the desert."
This environmental, philanthropic mindset of the company does not only fiscally support conservation, but also hopes to help others develop a similar love for the outdoors.
"I think for the most part [the nonprofits] are focused on the environment, not just environmental issues," Cooperband said. "One of the nonprofits we support is the Outdoor Alliance for Kids. Their goal is to help get kids and families out in nature and get a sense of appreciation for it. That could help them get into some form of environmental protection, but it's not the main goal. Our goal is to get people stoked on the outdoors, and I think we can use that to help protect the world."
For Ricky Olivares, a photographer for Mountain Made Life, the larger purpose of the art collective is in the work he produces.
"If you can create images that pull people in, like the music and the clothing, those things can influence and give back," Olivares said. "There is no better goal as a photographer [than] to make things better — to show things as they are but work toward making them better than they currently are."
Mountain Made Life represents something greater, impacting not just those directly involved and those who buy and interact with the content. A community arises from the soul of the company.
"What makes Mountain Made Life different is that it's not just photographing a person at a place," Olivares said. "It's a person you care about, or someone you just met and are having a good time with. It is different from the average adventure photography that is often detached and the photographer just witnessing what is happening. For me, when I am photographing for Mountain Made Life, I feel connected more, and that makes for more intimate imagery."
With goals, interactions and products so genuine, the future of Mountain Made Life appears promising.
"In the future we hope we can still get people stoked on the outdoors and art," Morris said. "We're excited to tell more stories and to expand to what it means to do art — whether it is painting or forms of physical expression. We are going to start something called 'Mountain Made Movement,' which is how people relate their actual physical movement to artistic expression. We're excited to keep expanding on things we want to represent."
Mountain Made Life products and more information can be found on its website.
Written by: Caroline Rutten — arts@theaggie.org