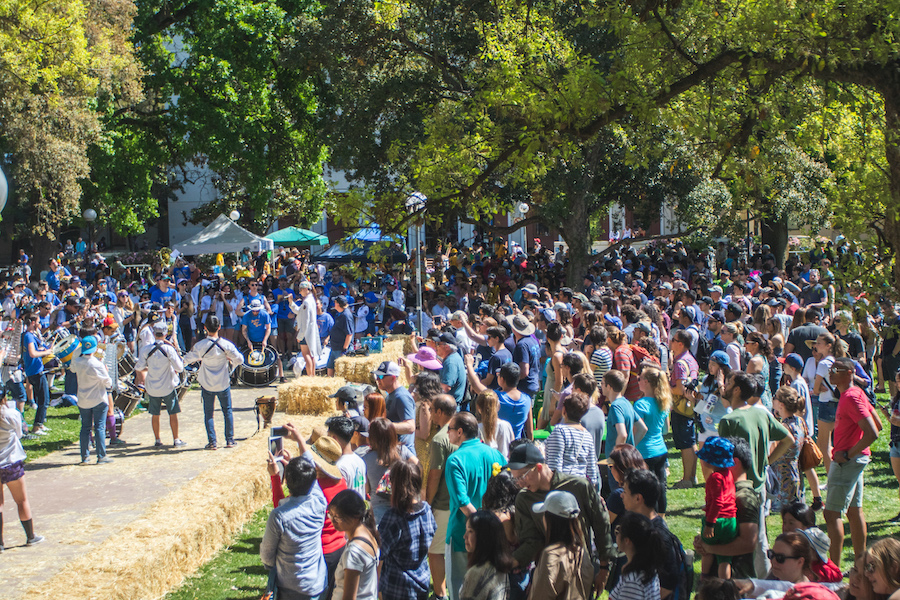 Event featured parades, science shows, animals
Picnic Day 2018 once again drew large crowds and great excitement with a wide range of activities from cow milking to parades and science shows.
The Band-uh! kicked off the parade with its lively music and marching. Floats and processions from more than 80 different organizations in the school and the community followed.
Among the notable processions were the Animal Horse Barn, which featured individuals riding horses, while the Entomology Club showed off a giant replica of a black spider. The International House sent flags from dozens of countries, and KDVS featured a live band performing on its float. And, of course, one float featured a giant cow head.
There were also plenty of events hosted all over the campus.
The Department of Entomology and Nematology offered a variety of insect-related activities in Briggs Hall. Visitors had the opportunity to taste an assortment of honey and create "maggot art" by having maggots dipped in paint crawl around their paper.
"I really like when the Entomology Department puts on events like this, because normally I don't like insects, but this gives me a different insight into the insects without being afraid," said third-year biochemistry and molecular biology major Jordan Keys.
Meanwhile, Hutchinson Field hosted booths from various animal rescue and adoption centers where visitors could view and interact with all sorts of animals, including kittens, doves and parrots.
At the center of the field was a frisbee dog competition hosted by the Canine Medicine Club at the UC Davis School of Veterinary Medicine. Some of the competing canines were elderly or had disabilities, but this didn't stop them from leaping into the air and catching their frisbees.
"We weren't expecting it, but the dog show was awesome," said fourth-year mechanical engineering major Michael Lyons.
Among the many highlights of Picnic Day, the science shows are always popular with students, and this year was no exception.
The Material Advantage Student Chapter hosted a Harry Potter-themed magic show centered on a muggle who used his knowledge of science to perform feats that resembled magic, such as standing on a wine glass, moving books with magnets and popping balloons with lasers. The Chemistry Show also drew large audiences, with a series of exciting experiments involving fireballs, explosions and liquid nitrogen.  
"I thought it [the Chemistry Show] was really cool and interesting to watch, and it also shows how chemistry does not always go as planned," said second-year aerospace and mechanical engineering major Christine Anderson.
As the day stretched into late afternoon and most of the events came to a close, the Battle of the Bands was still going strong. Bands from all across California competed against the Band-uh! to be the last school standing without repeating any songs.
"I love seeing the bands from different campuses," said third-year biomedical engineering major and Band-uh! Member Jotera Conway. "Even though it's a competition, I still get the feeling that they like music and I like music too, and it's all really friendly competition."
Written by: Clara Zhao — campus@theaggie.org