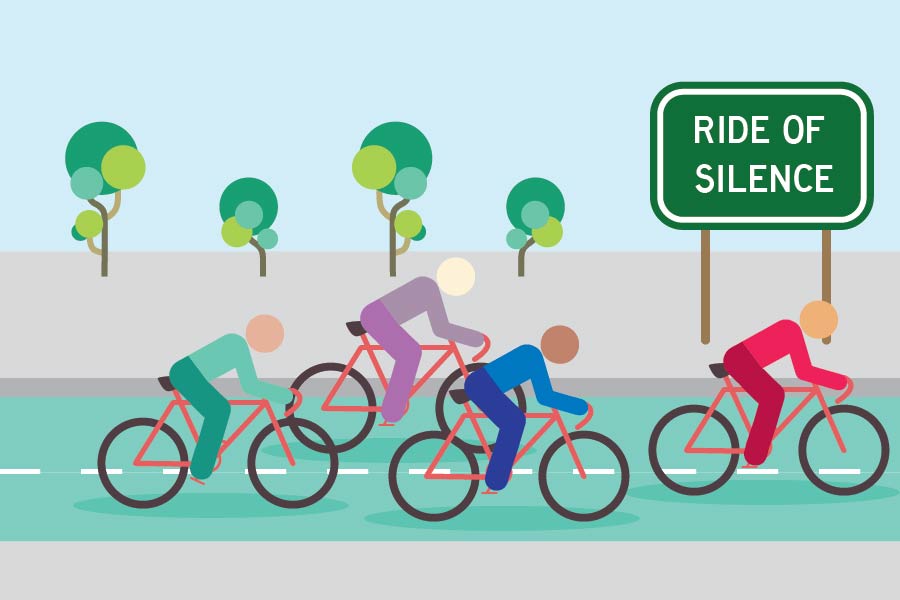 Davis bikers remember those lost, show how vulnerable they are to cars
On May 16, bicyclists rode for nine miles through Davis together without saying a word. Their journey was part of an international bicycling event called the Ride of Silence, which happens every year on the third Wednesday of May. The Ride of Silence originally began in 2003 after a man riding a bicycle in Texas was struck by a school bus. Now, the event has spread all across the world.
The Davis Ride of Silence started its journey at Ken's Bike-Ski Board shop at 7 p.m. A crowd of around 50 gathered around the Davis Bike Club organizers, Ellen Winder and Andre Hamel. Many in attendance were part of the Davis Bike Club. Others came along to ride and remember their friends and family who died while biking.
Ellen Winder, one of those who organized the event, asked if anyone wanted to mention any of those people's names. One by one, people called out names of those that have died or have been injured by cars.
Brandon Wiers, standing all the way in the back called out, "Cristobal Heitmann," with several in the audience nodding as they recognized the name. Patricia and Brandon Wiers were not riding in the event themselves, but they had come to offer their support and remind people of how painful it can be to lose someone just so recently.
"We have a granddaughter whose fiance [Heitmann] was in a head-on collision," Wiers said.
Heitmann had just attained his master's degree from the Department of Plant Sciences at UC Davis. He was killed on April 17 while riding his bicycle in an accident involving a motorcycle in Redding.
As the police escort arrived, everyone got ready to go. Cyclists wore red and black bands to show that they were thinking about those that have been hurt.
"Please remember to ride in silence," Winder said.
With signs marking their procession, they biked slowly at under 12 miles an hour, culminating their nine-mile journey at the Davis Bicycling Hall of Fame. Wil Uecker, treasurer of the Davis Bike Club, thought the ride through Davis went well. Uecker started attending the Ride of Silence three years ago.
"It was well attended," Uecker said. "Everybody stayed together. The police escort was essential for people to stay together. The [Davis] Bike Club paid for the police escort."
To Winder, the ride serves a two-fold purpose. It allowed for attendees to both pay their respects to friends and family as well as remind drivers how bicyclists are very vulnerable.
"I hope people who see our procession are more attentive when around bicycles," Winder said.
Like Winder, Miller has found biking to have a significant impact on the community.
"It was really wonderful," Miller said. "Usually I just listen to music. It's really quiet in total silence. It's nice exercise. It does bring awareness and attention to how vulnerable bikes are."
Miller is no stranger to how dangerous drivers are toward bicycles. He attended to honor a friend of his parents' who was struck by a car right before retirement. Miller wants a bigger sign for the procession in future years. For example, he suggested that they use a trailer or something big so that drivers in particular can actually see what their procession is for.
Written by: Justin Chau — city@theaggie.org