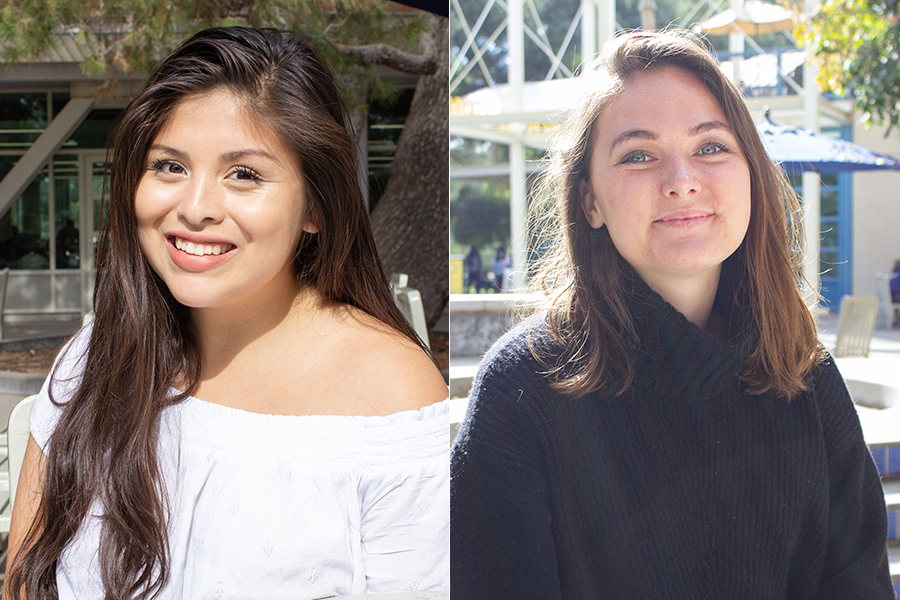 Sydney Hack, Maria Martinez confirmed to Senate
Two interim senators were recently confirmed following resignations by Gaven Kaur and Jake Sedgley. Kaur and Sedgley, in addition to Danny Halawi and Andreas Godderis, are four of six student senators elected in the uncontested Fall Elections who ultimately resigned from their positions.
Kaur, a third-year psychology and communication double major, resigned from her position in an email obtained by The California Aggie.
"This summer I interned for an education policy firm in Sacramento and was offered a position for the school year," Kaur wrote. "I have decided to accept that position since education is a field that I am interested in working in post-grad. […] It wouldn't be possible for me to give ASUCD the amount of attention and time that it deserves along with holding this other porisiton."
Halawi and Godderis' positions were filled by Daniella Aloni and Devo Leichter, who currently sit on the table in interim positions. Kaur and Sedgley's vacancies were recently filled after the confirmation of two interim senators.
Sydney Hack, a third-year international relations major, replaced Kaur. Maria Martinez, a first-year political science major, replaced Sedgley.
As a former member of the Judicial Council, Hack said that she applied to fill the interim senator position because she saw a lot of legislation that she "was not a fan of". She also observed that certain aspects of the Bylaws, which she believed were unconstitutional, remained unchallenged and wanted to address that.
"When you get [on the Judicial Council], it's not about if the policy is a good idea or a bad idea or well-written, it's just about if it's constitutional," Hack said. "I decided to leave Judicial Council, come to Senate and work on the Bylaws, making sure the ones going through are constitutional and well-written, and changing anything in the actual existing Bylaws that would be challengeable."
Martinez said that she's always wanted to get involved with ASUCD because of her involvement in student government and other leadership positions at her high school.
"I always wanted to do Senate because I just wanted to be more of a liason for the students and ASUCD," Martinez said. "Especially being a first year, I think there's a lot of disconnect, because we've barely got here. I think I'm able to connect with other students too, because I'm first-gen. I wanted to join ASUCD, so I can do more advocacy work for the students."
Hack mentioned personal characteristics she believes will make her successful as a senator.
"I'm a pretty good multitasker, so I'm really organized and on top of everything […] which is really important for Senate, because you have meetings, you have to go to commissions, you have to write bills, and see bills and offer your thoughts on things," Hack said. "I also think my internal knowledge of the association [and] my internal capabilities are really aligned with one specific goal of combing through the bylaws and making sure everything is constitutional."
Martinez said her enthusiasm for the position of ASUCD senator will serve as an asset to her during this period.
"I'm very enthusiastic to learn about the Bylaws and interact with students and just get started," Martinez said. "I know some people have a negative connotation with ASUCD, but I'm more enthusiastic to work and create projects. I don't see this as a job, I see it as an opportunity to do tangible change and help people."
Addressing student concerns about ASUCD, Hack commented on the way partisanship and bureaucratic red tape can delay attempts to improve student life.
"Most of the bills that are passing are so much lower stake that it shouldn't be so polarized, and that's just a matter of senators becoming friends with each other and not seeing it as an us-versus-them kind of thing," Hack said. "From an internal side of it, some of the policies within the association make it difficult for things to get passed. You have so many hoops to jump through for certain types of legislation or for people outside the association to write legislation, so that's just a matter of cleaning up and simplifying internal runnings."
Martinez said she hopes UC Davis students can trust her to achieve her goals as interim senator.
"I feel like I could connect with a lot of different minority groups on campus and they should feel assured that I'm not here just to build my resume," Martinez said. "I actually want to help the community … They might not trust other people in ASUCD, but I hope people from marginalized communities and other communities can find comfort from me sitting on the table."
Martinez's main goal is to increase ASUCD's transparency.
"I want to make people realize that it's more than just a student government," she said. "There's programs that are actually implemented to help students."
In order to accomplish her goal, Martinez plans on expanding ASUCD outreach and promoting the association through tabling.
Hack also linked the lack of expansive ASUCD outreach to the resignations of four of the six senators elected during the uncontested Fall 2017 election.
"I think the danger of uncontested elections is that people don't have skin in the game, and I think we are seeing so many of the uncontested senators resigning because they didn't have to appeal to communities and fight like the Winter senators did," Hack said. "That's just a matter of ASUCD expanding outreach, and getting people who were interested in the position, and having enough people run that [they] feel the need to stay."
By increasing transparency, Martinez hopes that students will get more involved and better understand ASUCD.
Meanwhile, Hack's main goal is to streamline processes within the association.
"I just want the association to be running as well as it can, because if that's happening, then senators who were elected by communities can better serve them," Hack said. "Then, hopefully if it's simplified, the students will understand it better and can feel like they can come to a Senate meeting and know what's happening."
Neither Hack nor Martinez plan to run for a senatorial position in the upcoming Fall Elections, though neither have ruled out running for student government positions in the future.
Written by: Sabrina Habchi — campus@theaggie.org