If you're like me and spend at least an hour every day on Pinterest, you know that spaghetti squash is a huge trend right now, as it's an excellent low-carb, low-calorie alternative to pasta. I've been seeing recipes using this winter fruit all over Pinterest for some time and finally decided to see what all the fuss is about.
Bombarded by an abundance of recipes featuring various ways to prepare spaghetti squash, I decided to put my trust in a culinary master — Martha Stewart. This recipe seemed simple and not too pricey, and it also offered an intriguing flavor combination.
I bought all of the ingredients at the Davis Food Co-op. I highly encourage everyone to shop here; while it's a little on the expensive side for a supermarket, it's really fun to explore and find interesting, fresh products — most of which are from local companies. Since the majority of the ingredients for this recipe can be found in the produce section, you won't be spending too much money regardless (I spent around $20 total).
This dish really a treat — between the brown sugar and the cilantro, it's extremely fragrant throughout the cooking process. It also tastes heavenly while still being healthy, a combination that I find rare to come across. I've been loyal to pasta my entire life, but after this, I think I might start letting spaghetti squash sneak its way into my regular diet.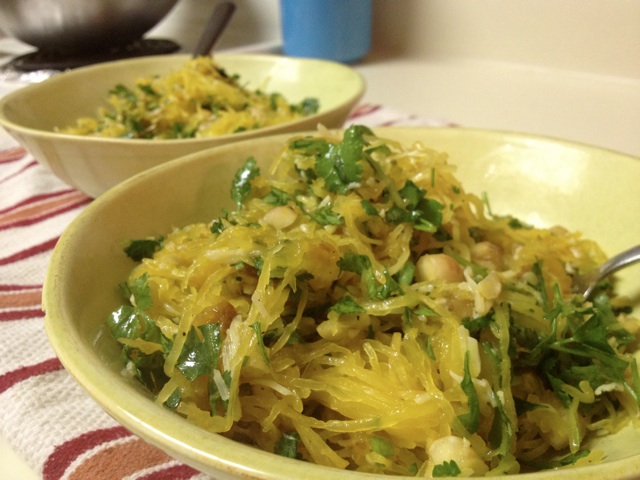 Serves 2
Prep time: 10 minutes
Cook time: 1 hour
Ingredients:
1 spaghetti squash
1 tbsp. extra virgin olive oil and extra for brushing
2 tbsp. brown sugar
salt and pepper
½ cup fresh parsley, chopped
½ cup fresh cilantro, chopped
½ cup shredded Parmesan cheese
¼ cup hazelnuts, blanched, toasted and chopped
Preheat oven to 400˚F.
Cut spaghetti squash in half lengthwise and remove seeds from inside. Brush cut-sides with olive oil and sprinkle with brown sugar, salt and pepper. Place cut-side down on baking sheet and place in oven for 45 minutes.
If you can find blanched hazelnuts somewhere, good for you. If not, you'll have to blanch them yourself, as I did, to remove the bitter-tasting skins. In order to do so, boil half a saucepan full of water and add hazelnuts and 1 tbsp. baking soda. Boil for about 5 minutes. Drain nuts and run under cold water for about a minute. Dump them onto paper towels and rub in between towels until all of the skins come off.
Chop hazelnuts and toast on the stove over medium heat for about 5 minutes, or until golden brown.
Remove squash from oven and let cool for about 10 minutes.
While squash cools, wash and chop parsley and cilantro.
Now comes the fun part — scrape the squash with a fork so that it comes apart looking like spaghetti. Put shredded squash into a large mixing bowl and toss with parsley, cilantro, hazelnuts, Parmesan, olive oil, salt and pepper. Make sure to season generously because spaghetti squash itself doesn't have a lot of flavor.
Dish into bowls and enjoy your delicious, low-carb, vegetarian entree.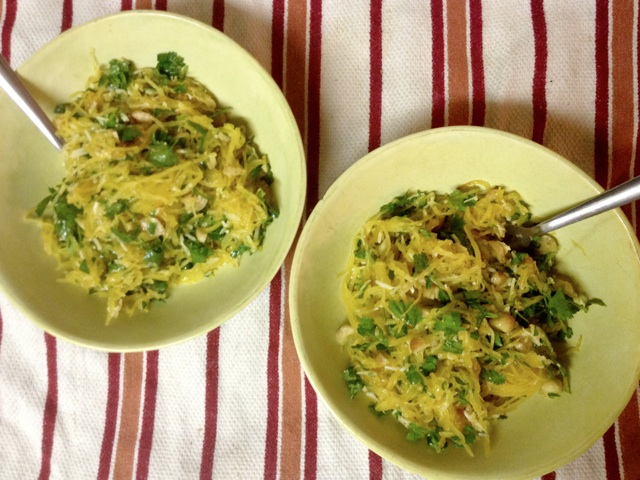 KATIE MORRIS looks forward to bringing you tasty, easy recipes every week that work with the typical college student's time and budget. Contact her at kemorris@ucdavis.edu.