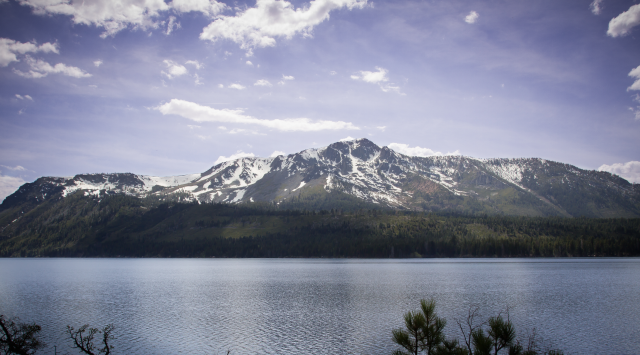 Tahoe's 2015 ski season so far has had more than twice as much snow as the 2013-14 season did by Jan. 8, according to a j2ski.com report. According to the National Water and Climate Center, 2013 recorded twice as much snow as 2014.
In 2013, Squaw Valley had the lowest snowfall in over eight years with only 128 inches of snow, and although 2014 had more snow, it was still far below the average of 460 inches of annual snowfall.  Although there was snow early this season, it does not promise anything for the rest of the year.
"Initially we were actually off to a pretty good start, at least with this winter season with those early December rain and snow events … but since we haven't really gotten any precipitation since then, that snowpack has obviously been melting a little bit overtime," said meteorologist for the National Weather Service Tom Dang.
In order to cope with the annual snowpack fluctuations, Squaw has invested in new snowmaking technology, allowing the resort to keep runs open without natural snowfall.
"We've been upgrading the snowmaking system to make it run better in general and because of those upgrades we're able to do more with the same amount of resources that we had in the past, we just have more efficient equipment," said Squaw snowmaking supervisor Greg Gleeson.
Squaw Valley reports December, January and March as the months with the most snowfall with an average of 123 inches, 74 inches and 91 inches, respectively.
"It's nice because we got more snow on the upper mountains, so there's stuff open up there that's all natural snow [and] which is nice for the busy season… Last year it just snowed a little here and a little there, but [this year] we got lucky with some good snow up top early to open up other things on the upper mountain,"  Gleeson said.
Many seasoned skiers are impacted by the change in snowpack including the Ski or Snowboard Club at UC Davis (SOS), which takes trips up to Squaw and Alpine.
"Last year it was kind of a struggle, we had a really dry year and it impacted [us] for the later trips. [For] the beginning year trips people were so excited — there's something up there, there's something to go down, and everybody loves it," said Jeff Venturino, a fourth-year political science major and SOS staff member.
Although SOS takes many trips to Squaw and Alpine during the season, the club participates in other activities throughout the year, such as hiking, allowing the club to continue organizing events in dry years. Amanda Robinson, a third-year biochemistry and molecular biology major and SOS staff member explained that club members appreciate seasons with larger snowpack, but are still able to enjoy their time on the mountain in dryer years.
"When there is more snowfall it's more crowded, but it doesn't detrimentally affect how many people we take up to cabins … There's definitely a lot more really excited people really early in the morning when there's great snow because everyone can't wait to get to the mountain, but it doesn't change the attitude of our overall trip. It doesn't keep our spirit down if there's low snow or anything like that," Robinson said.
According to Truckee local Madison Richey, a first-year chemical engineering major, changes in snowfall over the years impact daily life. She recalled that 2002 was the last year with a significant amount of snow.
"We had a week straight of snow days where all the schools were canceled in the whole district and that hasn't happened since then. In the past three years we had maybe one to two snow days where the snow was bad enough to close the schools," Richey said.
Although it is hard to predict this upcoming year's snowpack, the National Weather Service believes that 2015 will have a greater amount of precipitation compared to last season.
"At least for this winter, our outlook is still actually for above normal precipitation to fall through March or so," Dang said. "That doesn't necessarily mean that the snowpack will be above normal but we are still expecting above normal precipitation in the winter months."
Photo courtesy Creative Commons.