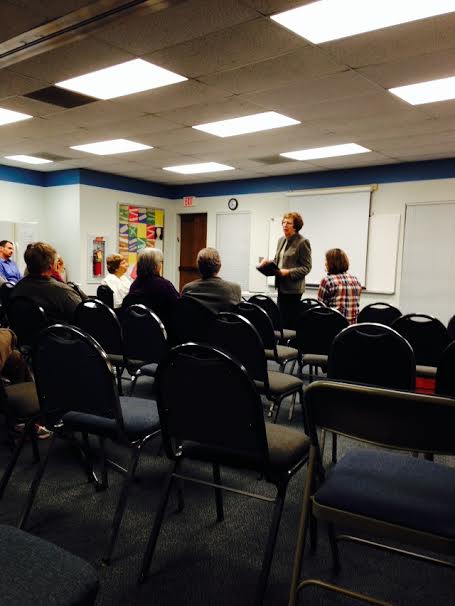 Support for end-of-life act from different perspectives
On Feb. 17 Congregation Bet Haverim hosted their second end-of-life forum at their North Classroom, located at 1715 Anderson Road. While the first end-of-life forum focused on a program called Five Wishes, this one focused on Senate Bill 128.
SB 128 introduced on Jan. 20 by Senator Lois Wolk (D) and Senator William W. Monning (D), allows California residents who are 18-years or older, are diagnosed with a terminal illness and are medically competent to qualify for the end-of-life option. As support for the SB 128 is increasing, more representatives are speaking out about making the end-of-life option available in California.
Forum participants discussed SB 128 in detail and provided personal reasons for support of the new legislation. Wolk attended the forum and expressed her reasons for coming.
"I read about the event and thought that I'd come by today. I also introduced the bill," Wolk said.
Dr. Michael Amster, an interventional pain specialist at Northbay Healthcare, states his reasons for hosting the event.
"I decided to host it because I believe in the end-of-life option act and I wanted to inform members of the community about the act," Amster said.
Rabbi Seth Castleman, a member of the Congregation B'nai Harim in Grass Valley, also explains his reasons for speaking at the forum.
"Having worked in the field of hospice for many years and before that and since then having been part of the end-of-life and dying of some relatives very close to me, I'd say it's a subject that is very near and dear to my heart. Also, as I said at the end of my talk, this is a subject that we should all be grappling with," Castleman said.
Castleman discusses how people should not just accept dogma but should question and grapple with end-of-life options.
When asked about the end-of-life act, Amster expressed his personal and professional reasons for supporting it.
"Personally I support it because I've witnessed death with close friends and family. Most of them have been quite easy and peaceful, but sometimes they don't go very well and one in particular that I witnessed was quite horrific….Professionally, I have witnessed a number of patients struggle greatly with the dying process…and there are times when every medication we have available does not work," Amster said.
Wolk emphasizes individual stories in reference to people who have  a personal need for the end-of-life option.
"What I discovered while doing this piece of legislation is that it is unlike any other….People have stories and they want to share it. At the end of each story, what each person says, each of the senators and other people that I have talked to, is it shouldn't be that hard, it shouldn't be that difficult. There must be a better way. And I feel that there is a better way… you all have a story," Wolk said.
Wolk further discussed the details of the bill and her support for it during the forum.
"It's an easy-to-read bill, it's not a complicated idea. It's long overdue in my view and it's about the humane response to pain at the end of life. It's not for everybody but it is for many people," Wolk said.
Photo by Christine Hwang.