Organizers hope validation of pilot program accrues more state funding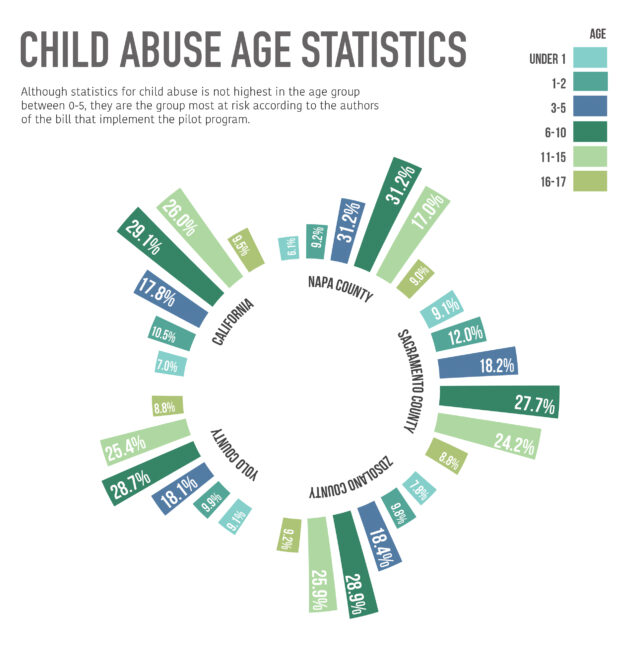 On Feb. 19 a bill that would implement a pilot program, measuring the effectiveness of the Yolo County and Sacramento County crisis nurseries in preventing child abuse for children aged zero to five-years-old, was introduced to the Senate Committee on Human Services.
Yolo Crisis Nursery serves as a care center for parents to leave their children during times of conflict in order to prevent child abuse. The center will also help parents remedy a conflict and help with stress coping strategies. Children can be placed at the crisis center for up to 30 days.
"Issues of abuse and neglect which begin at a very young age have lifelong impact, so it's really important to start early and to intervene before there is an abuse. That is why the crisis nursery is so important, it is in a sense a preventative program," said Senator Lois Wolk (D-Davis) who authored the bill.
The zero-five age group is the group most vulnerable to child abuse according to Wolk. The nursery aids in mitigating abuse for this demographic by providing respite for parents during times of stress. Children five and under can be placed by a parent in the crisis nursery for care for up to 30 days.
The last study that measured the effectiveness of the crisis nurseries was conducted in 2005.
"It is important to reexamine and look at the facts and get the evidence together so that more families can take advantage of this crisis nursery approach and thereby prevent child abuse," Wolk said.
One of the goals of examining the effectiveness of the crisis nurseries, according to Wolk, is to encourage more crisis nurseries to open throughout the state. Her hope is that this study won't go on a shelf, and that instead, it helps show the legislature that the crisis nurseries deserve funding from the state.
"Ultimately I believe we are doing the work of government, yet we receive little to no funding from the state. Once we have the data I would like to see the state of California invest in crisis nurseries statewide," said Heidy Kellison, president of the Friends of the Yolo County Crisis Nursery, a volunteer group committed to raising awareness and support on behalf of the nursery.
The Yolo County Crisis Nursery is currently funded through private donors, family contributions, community and church fundraising.
"By andin large we have to raise every single dollar," Kellison said.
The Yolo County Crisis Nursery, in addition to providing care and resources to families in crisis, has partnered with Yolo County Foster Care. Because of this partnership, Yolo County foster parents are able to accept emergency placement at a faster and higher rate than other counties.
"Imagine receiving a call at nine o'clock at night on a Saturday, and the question is can you accept this emergency placement. You'd like to as a foster parent, but you know on Monday morning you need to be at work and you don't have the time to arrange for child care," said Kellison. "Our foster families are able to say yes because they know they have the nursery."
For Yolo County foster families, the crisis nursery, serves as a respite and a resource for back up child-care, however Kellison said the foster families can never really be in crisis. For this reason they refer to the crisis nursery as simply, the nursery.
Cherie Schroeder, instructional specialist and program director for the Foster and Kinship Care Education program which serves Yolo County, said that the partnership between Yolo County Foster Care and the nursery has been critical in recruiting local families.
"Day-care was first and foremost the biggest prohibitive stumbling block for people to say that they would be foster parents," Schroeder said.
Schroeder said that she believes the crisis nursery helps in mitigating child abuse and would like to see more of them pop up across California if they were modeled after the Yolo County crisis nursery.
"Why I like this nursery is because it is a home-like setting. They don't have staff overturn, you go in to the same people, so little kids aren't passed to unfamiliar caregivers. It's really beautiful, I would be happy to leave my child there," Schroeder said.
Kellison, like Schroeder believes that opening more crisis nurseries in California would aid in reducing child abuse and have positive effects
"We believe that this movement needs to grow. Every child no matter where they live deserves access to emergency respite care, they deserve to stay with their families and they deserve the opportunity to be safe," Kellison said.
Graphic by CA Aggie Graphic Design Team