Website launch allows residents to provide feedback without attending city council meetings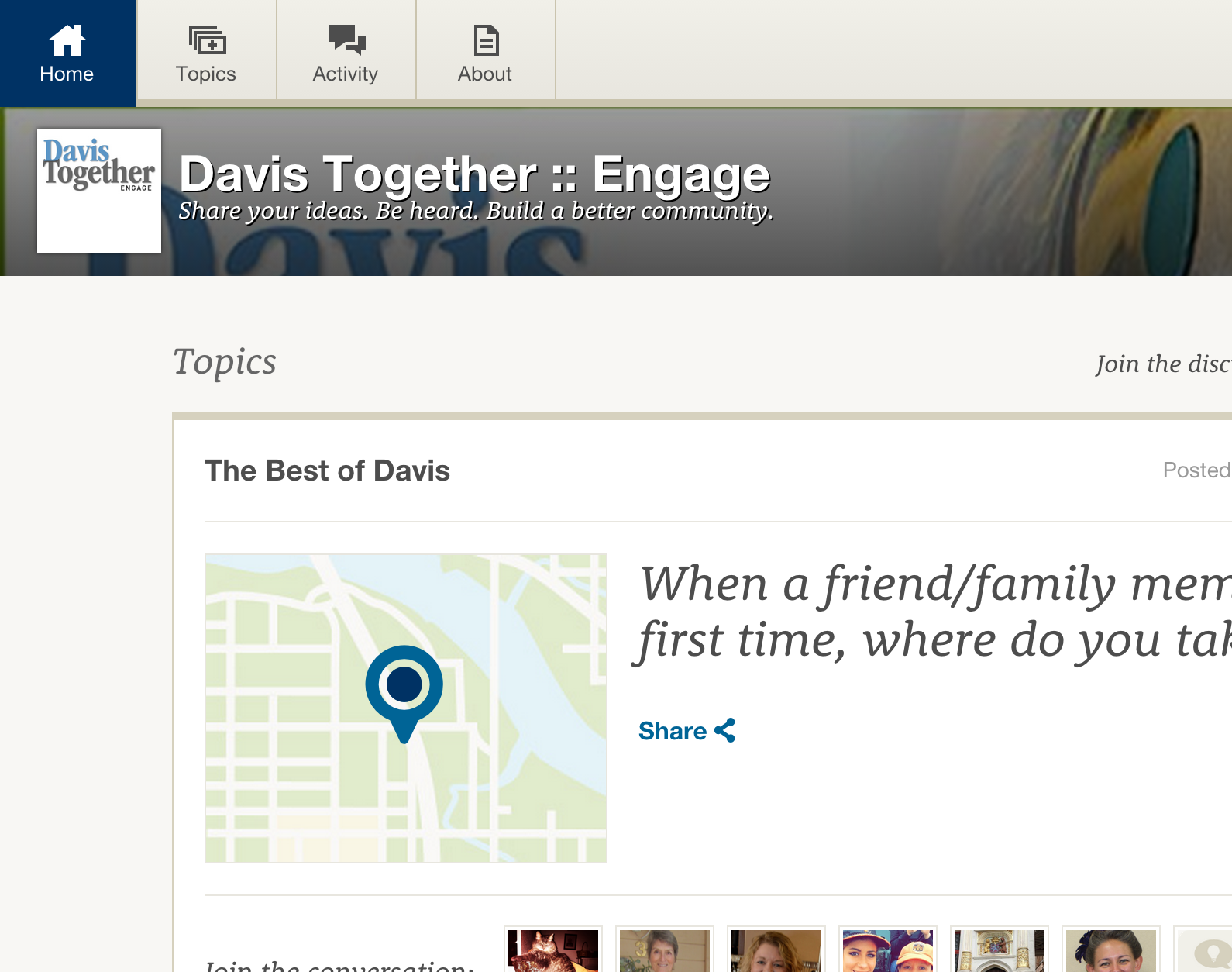 On Feb. 19, the City of Davis announced the launch of 'Davis Together::Engage' (DTE), a new website created through MindMixer, a company that inspires community collaboration through websites rather than community meetings.
DTE promotes community discussion on issues and topics relevant to Davis. Residents can conveniently provide input on questions that are posted without attending bimonthly city council meetings that take place on Tuesday nights. In addition to in-person meetings, the city council also holds "on call" nights that are on alternating Tuesdays with the in-person meetings. Now, with the launch of DTE, the 65,000 Davis residents have three outlets to contact the city council and provide input.
"Pretty much everything we do is rooted in the fundamental belief that communities are better when their citizens are involved," said Dana Greiner, MindMixer customer development executive for the City of Davis.
According to Greiner, one key for successful community interactions on MindMixer is having topics that are timely and relevant to residents. As an incentive to increase activity on the site, MindMixer awards participants points for each of their interactions, including commenting and rating the comments of others. In addition, the members with the most points are listed on a "top contributors" page.
One topic discussed on DTE is the best place to take first-time visitors in Davis. The topic is discussed in a forum where members can provide feedback on popular places in Davis and gain inspiration on new places to see based on other's responses.
The overwhelming consensus? Visiting the Arboretum, the farmers market downtown and beer tasting. Deputy Innovation Officer Sarah Worley, who posted in the forum for where to take first time visitors, explained that visitors love going downtown, so she tends to take them there first.
"[We] share other wonderful amenities in our area depending on our guest's interests — bike riding, wine tasting, movies, art, hiking, strolls on the arboretum, university events, etc." Worley posted in the forum.
Worley's post is one of 30 comments on in the forum for where to take first time visitors and has received 14 views, 26 stars and two comments.
Another topic currently being discussed on DTE is an organics program that would contribute to waste reduction goals in the city. The survey poses questions in such a way that residents gain knowledge about the program in addition to providing feedback.
One question reads, "When organics decompose in a landfill they produce methane, a greenhouse gas that is 72x more potent than carbon dioxide. Composting organics instead of sending it to the landfill reduces the gas emissions. Are you currently composting at home?"
Councilmember Lucas Frerichs explained that at a community meeting a few weeks ago the topic of green waste and the organics program was discussed and voted on. He stated that DTE has provided additional feedback and more collaboration on the topic.
"We are hopeful that it will reach a larger audience. I think people … have very busy schedules so they don't necessarily have time to come down to a city council meeting and comment or sometimes even to send an email to the city council. It really allows for folks across the spectrum to participate and be more active in their government," Frerichs said.
According to Stacey Winton, the media and communications officer for the City of Davis, DTE was implemented to contact a broad range of residents and hear their input on issues that would affect them. She added that the convenience of providing input without attending a meeting plays a large role in increasing participation.
"Davis has always been a very engaged community. A lot of the time, it's the same groups or residents that are typically the ones that are talking with the city and city council and we wanted to more broadly open up the discussion to everyone in Davis," Winton said.
Winton explained that so far the website has been a success, with 475 people signed up, 318 of which have taken the organics survey.
"I'm excited about the results so far. It seems like this is a platform that Davis residents want and are going to use now and in the future. I think this was just our kick-off topic, and as other things come up, whether they be serious topics or just fun topics about Davis, then I think people are really going to use it to engage and give us their opinion," Winton said.
Across the nation, online community forums are becoming popular. Greiner explained that MindMixer is currently active in a number of communities, including Kansas City and on college campuses.
"We worked with a university that had contemplated taking cable TV out of dorm rooms, [and] as you can imagine that was a pretty hot topic. They were able to, based on the feedback that they received directly from students, make the determination that this is a priority to our students to keep cable TV," Greiner said.
An NPR article explained the success of a similar community network and its influence in Richmond, Vermont. According to the article, residents are comforted by the notion that they have a connection with residents that they otherwise might not know. It added that those who connected through the online network were better prepared for natural disasters because they had connections to share supplies.
Despite the benefits of this new platform for community dialogue, the City of Davis plans to continue using traditional methods in addition to online interactions.
"It will never take the place of in-person dialogue. Davis is a very diverse community and we have a lot of communication needs that we need to meet," Winton said. "In-person contacts will still occur, paper contacts will still occur, [and] you know the traditional kind of press release information will still occur, but engaging in an electronic format is going to be expanded."
Graphic by Jennifer Wu.