A peek into some of Davis' co-operatives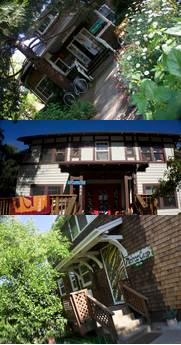 What is it that makes a family? Shared values? Shared space? Shared food? Shared understandings of the world, maybe? It is different for each home, but it is clear that sharing is essential. For many alternative students or members of the community, cooperative housing is the place to live in Davis. Although there are various styles of cooperatives, each tied together by different concepts and values, they generally operate by codes of open communication, community and, of course, cooperation.
If you have seen the "Project Compost" sign on campus, then you have unknowingly stumbled across the gardens of the Tri-Cooperatives. There are three houses: Agrarian Effort (Ag), Davis Student Co-op (DSC) and Pierce Cooperative. Each house holds between 12 and 13 people and is located right next to Sprocket Bikeway on campus.
Josh Wizman, a resident of Agrarian Effort, believes each of the individual houses seems to have its own unspoken theme. He adds that Agrarian Effort is one of the more politically active houses.
"Currently we are looking for queer person of color applicants [because] they are the most disenfranchised group," Wizman said.
Of the cooperatives interviewed (Ag, DSC, J Street, N Street and The Domes), the overarching consensus seemed to be sustainability, social justice or an intermingling of both.
Each of the co-ops have consistent group meetings where they talk about how best to approach events and dilemmas facing them. Most operate by consensus in an effort to build a conscious community and a true democracy. They also share food and take turns cooking group meals for each other.
Kathleen Miles, a graduate student in ecology and resident of DSC, says the key to harmonious living among so many diverse people is communication.
"[Luckily] the general culture around the co-ops is one of openness and learning. [But] with this many people, we need to have house meetings every week. Anywhere you live you need to communicate, but living in this situation emphasizes that need really quickly," Miles said.
Two rather famous odd ducklings within Davis' alternative living sphere are N Street Cohousing and The Domes. The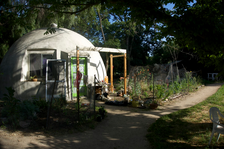 Domes are located near the Student Health and Wellness Center on campus and comprise of 13 dome-shaped houses that each house two students. They are considered a co-op because of their shared meal nights, work parties and the fact that they are an intentional community.
The N Street Cohousing has been slowly built since 1979 and now consists of about 20 houses on the N Street block. They've knocked down all the fences in the backyard and now share a haven of gardens with a tree fort, a fire pit, a greenhouse, a pizza oven, murals, chickens and flowers. Their community tends to be heavily composed of graduate students, families and long-time residents who act less like a neighborhood and more like a village.
Many residents noted that their favorite aspect about living in co-operative housing is the people that surround them.
Kevin Wolf, a long-time resident of the N Street cohousing, feels a strong connection to the people he lives with.
"We have a lot of fun together," Wolf said. "We do a lot of things for each other. We're generous with one another. We talk with each other. We see each other."
The residents of J Street, Ags and The Domes added that they host public dinners at 7 p.m. weekly.
Photos by Courtesy.