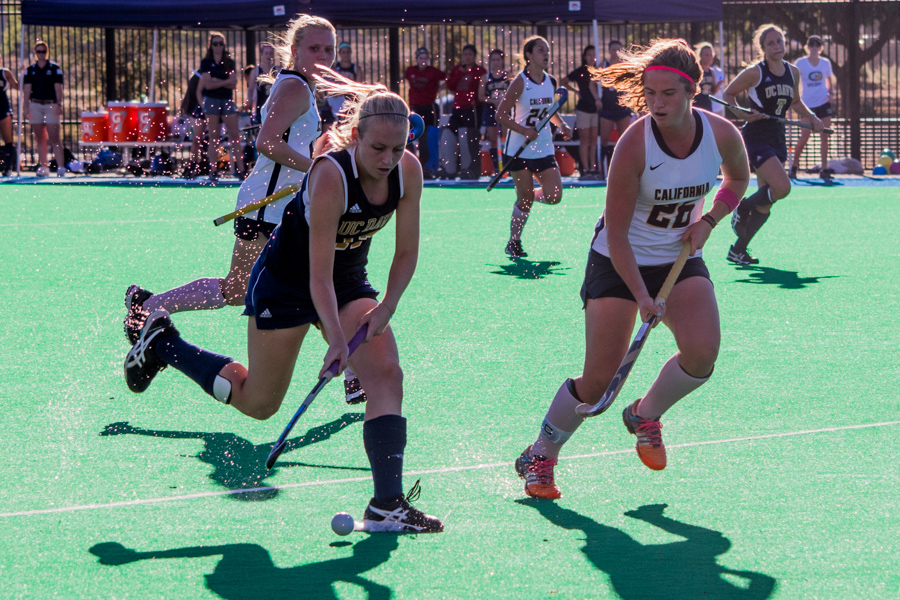 Aggies gallop by the Bears in final minutes of match
UC Davis field hockey battled neck and neck with the UC Berkeley Golden Bears on their senior night, resulting in a last minute Aggie win — literally — with 30 seconds left in the game.
The Bears put the first point on the board, despite the UC Davis defense's best efforts.
In an attempt to tie up the game, the Aggies took shots on goal that were inches off, leaving the crowd with an echoing moan. During the first half, UC Davis was primarily playing defense, with only few breakaway's to the other half of the field.
Junior forward Danielle Koehne put UC Davis on the board with a shot eight yards away, assisted from the arc by redshirt freshman forward Kelley Kramer.
UC Berkeley fought back by scoring two minutes later with a lucky sneak in shot by Melina Moore in a pass from Marie Lanckneaus. Moore was the sole point scorer for the Bears throughout the game.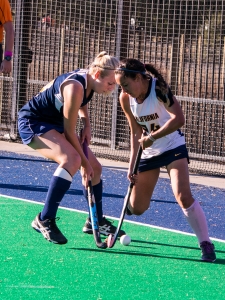 Sophomore forward Kat Jackson's intentions were unclear when leaving the ball for another player, and it resulted in an easy take away by the Bears. The Aggies kept the ball on the Bear's half and fought to recover. The play concluded with a UC Davis goal and a tie in the game, 2-2.
UC Davis came out more pumped than the first half, playing more offensively for the win. A brutal miscommunication between two defending Aggies put a pause in the game as they were escorted off the field after a hard collision.
"I think that we did definitely implement some of the things that we were trying to, attacking opportunities that we were trying to create," Head Coach Tiffany Huisman said. "I think that showed with just our attacking threat: we became the more dominant team in the second half against the very respectable Cal team."
The final Cal point was scored 47 minutes into the game.
The five penalty corners granted to UC Davis in the second half resulted in two goals during the final 20 minutes of the game. Senior midfielder Jamie Garcia scored the shots that both tied the game and won it, off of penalty corners for her eighth and ninth goals of the season.
"I would not be here if it weren't for my teammates, [and] I would not have had those chances to score if it weren't for my teammates," Garcia said.
Playoffs will begin on Nov. at the 2015 America East Field Hockey Championship.
"I think this was a much needed win. […] I hope it provides a confidence moving forward in the tournament," Huisman said.