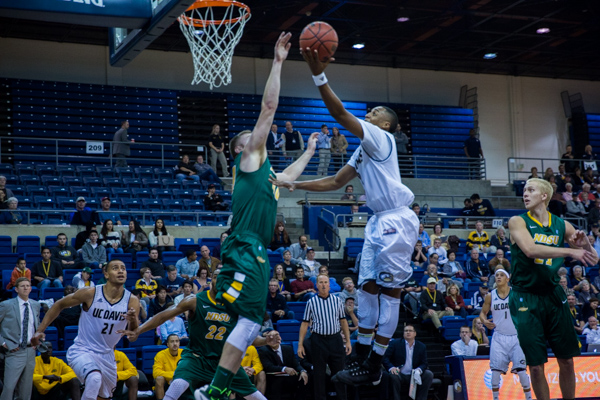 North Dakota breaks Aggies undefeated home streak
The Pavilion has fallen. I repeat, the Pavilion has fallen.
The UC Davis men's basketball team lost their opening game against North Dakota State, ending their 14-game-undefeated-at-home streak from the previous year.
"We just had some breakdowns at key times," Head Coach Jim Les said.
Junior guard Lawrence White opened up the 2015-2016 Aggie season with a large steal into a foul, sinking one of the free throws for the first point of the game and season.
However, North Dakota was able to turn this early Aggie offensive around and jumped up to a quick lead. Key stops by junior center Neal Monson and junior guard Darius Graham equalized the game with 11:43 still on the clock for the Aggies.
After sitting out last season following his transfer from Butler University, sophomore center Nolan Berry came into the game in a big way, sinking a three with ease. His on-the-court size and positional awareness contribute to Berry as a dynamic playmaker. Berry will be an important figure off the bench in the Aggie offence for the coming months.
Senior forward Josh Fox came alive the second period, sinking 10 points and a flurry of rebounds.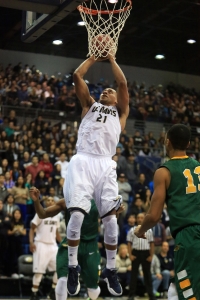 The Aggies' offense did not once lose their lead throughout the second period. With a score of 69-60 and two minutes left in play, UC Davis looked like it had the game locked up. However, the Bisons were able to equalize the score in the last three seconds of regulation play and force overtime.
The Aggies were unable to stop North Dakota's momentum, and the Bison went on to score 10 points before Monson could score two off of free throws.
The Aggies lost 71-79.
A key facet of the game was the Aggie's penalty conversion rate. Making 15 of their 31 free throw attempts, the Aggies only made 48 percent of their penalty scoring opportunities. Clearly, a single penalty shot would have spelled an entirely different outcome.
"We practice them every day," Les said. "We need to continue to practice them and try and work on ways to put pressure on the guys. I think it becomes a little bit of a mental game."
The UC Davis men's basketball team faced off against Portland on Nov. 15 and will compete against Fresno Pacific Nov. 18 at 7 p.m.
Written by Aaron Sellers – sports@theaggie.org