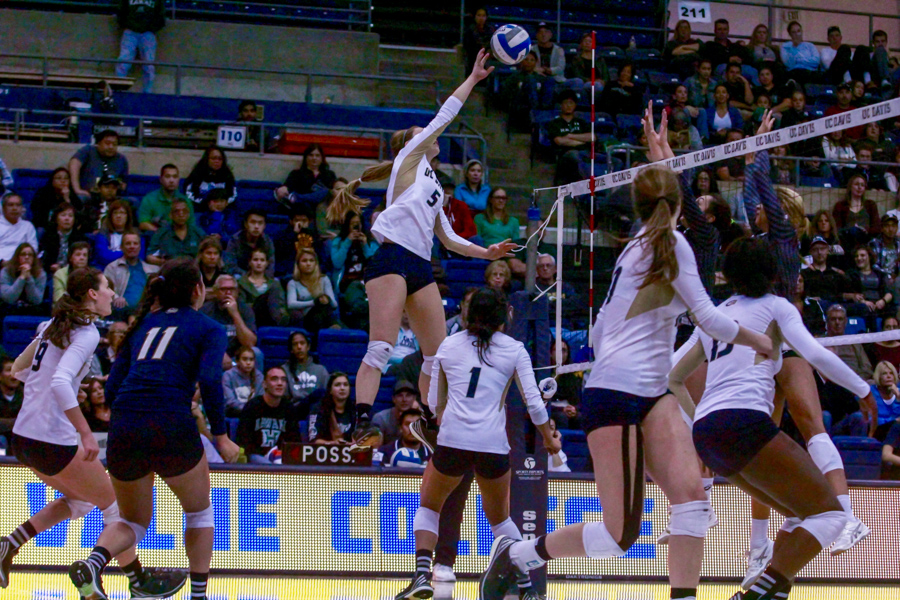 UC Davis volleyball loses out to Hawai'i after winning first set.
After performing a sweep down the coast of California with double wins at UC Santa Barbara and Cal Poly, the Aggies returned to home court to face the No. 7 team in the AVCA Coaches' Poll, Hawai'i, with hopes to replicate their win earlier this month against Fullerton. Despite winning the first set, the Aggies eventually fell to the Rainbow Wahine in a four-set battle of 23-25, 25-17, 25-22 and 25-17.
The first set began with the Aggies and Wahine going neck-and-neck in points. The Aggies were steadfast in face of the strong offensive tactics employed by the Wahine and managed to keep up the entire time. When the score was 23-23, junior outside hitter Allie Wegener served an ace for a point and sophomore middle blocker Aima Eichie made a kill to take the set.
The Wahine adjusted their strategy for the second set and became more successful in their kills. To counter this change, freshman libero Malia Bolko positioned herself to make digs on shots that slipped past the blockers. The Aggies closed the gap to 12-17, but the Wahine went ahead to win the set after a run of seven straight points.
Setting the tone with four points right off the bat, the Aggies pulled ahead with the lead at the start of the third set. Senior outside hitter Kaylin Squyres stole the show with 15 kills and eight digs, showing her versatility as both an offensive and defensive player. Once again, the game was neck-and-neck until the very end, when an Aggie service error led to a side-out and the Wahine made two consecutive kills to end the set.
The Aggies displayed their quickness in the fourth set as the Wahine began floating the ball over the net with greater regularity. Bolko was instrumental in setting up Squyres and freshman outside hitter Nicola Moore for the kill, as she posted a total of 23 digs. The Wahine overpowered the Aggies with the consistency of their kills, which amounted to 57, and the game ended at 3-1, a Wahine win.
"Winning the first game was good," Squyres said. "We just need to work on sustaining that [play] for a longer period of time."
Though the Aggies did not get the win they hoped for, many of them saw an improvement from their previous Oct. 16 face-off.
"I thought we were much more in the game than the last time we played Hawai'i," Bolko said.
The Aggies will have their final away match against UC Irvine on Nov. 21 and return home for the last game of the season against Cal Poly on Nov. 24.
Written by Julia Wu – sports@theaggie.org