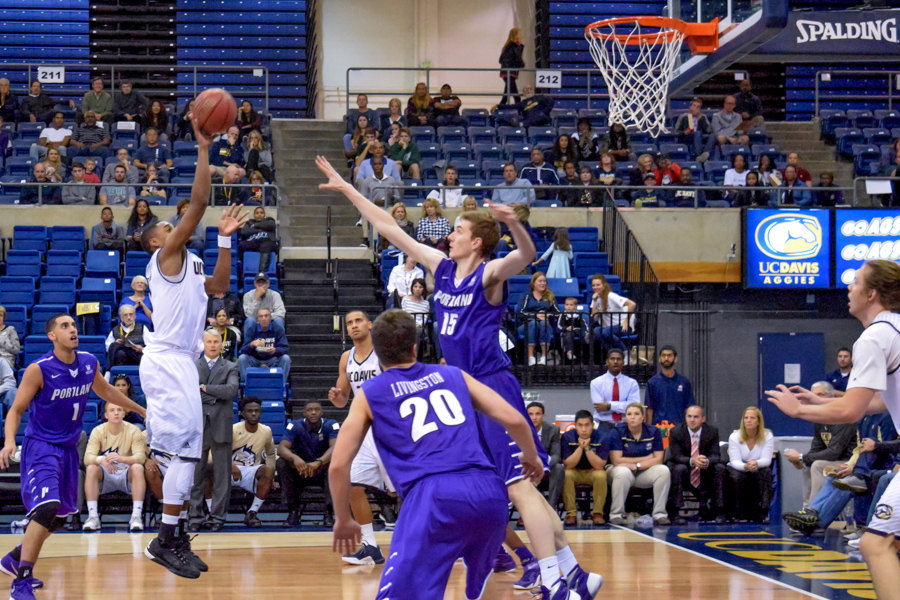 Men's basketball goes 79-66 in win against Portland Pilots
After Friday's loss that broke the 14-game winning streak of last years team, UC Davis men's basketball bounced back to get their first win of the season in the second of a three-game homestead on Nov. 15. The Portland Pilots were left in the dust as the Aggies maintained a lead throughout the game for a 79-66 win.
"I told the guys after the game, 'Sometimes you need to go through a little adversity to get better,'" Head Coach Jim Les said in an interview after Friday's performance.
After fighting through adversity against North Dakota State University on Friday, the team managed to get back on pace, playing more aggressively and creating open shots for the Aggies' leading scorer, junior guard Brynton Lemar, who managed to sink 18 points — only one point away from his career high.
The 18 points Lemar scored while constantly facing the elbow-throwing and jersey-pulling Pilot defense was a significant improvement from his six-point game against NDSU.
"On Friday, I felt like there was a lid on the rim," Lemar said. "I just got back in the gym, changed my mindset, and stayed with it."
The Aggies matched the Pilots in aggression, using their skills to open more shot opportunities.
"Getting to the rim more really created more of my shots. I feel like last game I kind of settled a little bit, so this game I was coming in thinking 'get to the basket,'" Lemar said.
The team focused on playing with an inside out strategy, with the goal of every player being an active threat to the opposing team whenever they run inside the lane. The purpose of the inside out approach is to cause the other team to guard the lane, leaving more opportunities for each member of the Aggie offense to score, no matter the position or record.
No longer the sixth man coming off the bench, senior forward Josh Fox was a starting player who managed to serve as a shield, playing more intrusively while also scoring 15 points and only just failing to earn his second double-double by two rebounds. Fox played primarily inside the key, embodying the "inside out" strategy the team is adopting.
"I think we are a really good team, we just look a lot different [from last season]," Fox said. "We are going to play a lot different; we have a different style this year."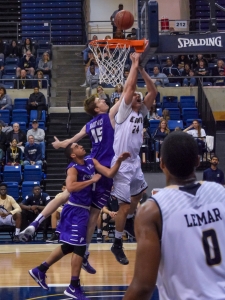 While there was a surplus in free throws, sophomore center Nolan Berry sank all four taken in the first half and only missed one in the second half. Berry, along with junior forward Darius Graham added 10 and 12 points respectively.
Graham exhibited great leadership through his communication skills and his ability to serve as an extra set of eyes for players searching where to send the ball. Graham's lack of tunnel vision had a ripple effect on the team. As a team, the Aggies appeared more confident in each shot taken. He, too, had a hard time putting up points since he appeared to be double — and even sometimes triple-teamed— with each attempt.
"Me and Coach have talked about that," Graham said about the extensive coverage. "[I need to] come off the ball [and] try to use my speed to get out of those situations real quick."
The Aggies have focused on working from the inside-out this season, with fresh faces to add to the banner, now displayed in the Pavilion.
Freshman guard Silar Schneider put up eight points, added four rebounds and saw a total of 20 minutes playing time.
"I feel like it's my job to help them out," Graham said, "I know being a freshman coming in, especially Silar [Schneider], Lawrence [White], and Rogers [Printup], those guys [who are] playing pretty good minutes, being in significant roles — there is a lot being thrown at them. For somebody like myself, who's been through those situations already, [I want to] try and help them out and shorten that learning curve a little bit."
The Aggies and the Pilots both hold a 1-1 record. UC Davis will play its third and final homestead non-conference game this Wednesday against Fresno Pacific.
Written by Veronica Vargo – sports@theaggie.org