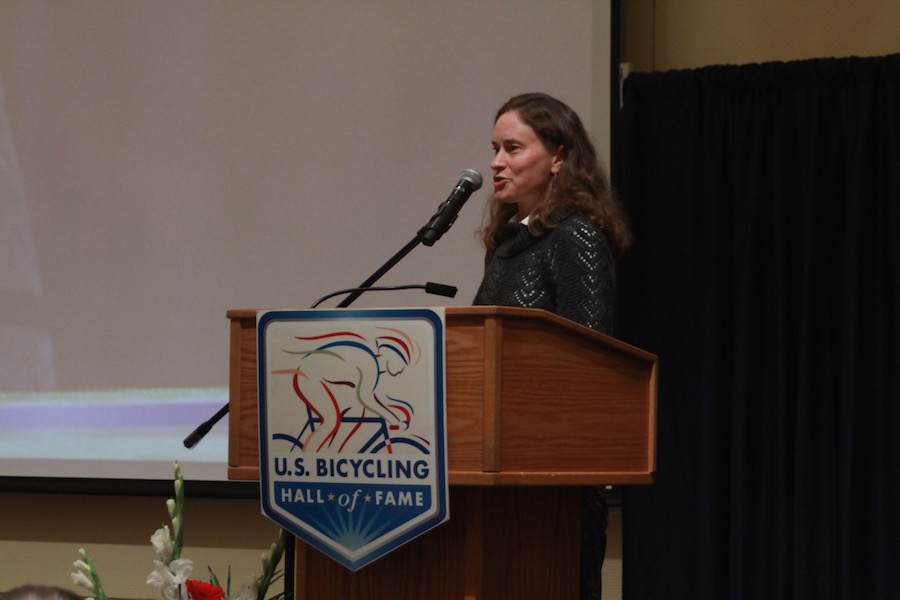 Four members recognized for contributions to cycling at 29th annual ceremony
On Nov. 7, the U.S. Bicycling Hall of Fame, located in Davis, held their 29th annual induction ceremony to honor the four new inductees. Al Crossley, Alison Dunlap, Janie Eickhoff and Andy Taus all contributed to the sport of cycling largely enough to be recognized by the national board.
"There are usually four inductees every year. Three of them are here tonight and one is deceased, Al Crossley," said Bob Bowen, current president of the U.S. Bicycling Hall of Fame.
Although this was the 29th induction for the U.S. Bicycling Hall of Fame, this was the eighth year the induction was held in Davis, where the ceremony was first hosted in 2008. The Bicycling Hall of Fame started in Somerville, New Jersey in 1985, but ran into financial issues in 2007.
"There was a competition, other cities applied, and in 2008 we did an induction in Davis on speculation," Bowen said. "[Hall of Fame representatives] came out in 2008, and they saw Davis people biking all the time, [that] we have the bike team, [and that] we have 100 plus miles of designated bikeways in the community."
In 2009, the Hall of Fame moved to Davis, and the current Hall of Fame building on 3rd and B St. opened on April 24, 2010. The City of Davis made the Central Park location available to the organization for $1 a year. According to Bowen, the whole operation runs on less than $50,000 a year.
Every year, the national board reviews people's submissions for induction nominees and looks at their accomplishments. According to Bowen, people can also be inducted for their influence on the sport, such as the Schwinn family who created the Schwinn bike company.
"People have put forward names in the bicycling world, whether they be classic racers going back to the six-day races, contributors to the sport such as officials or those who weren't riders but helped the sport of cycling, off-road riding such as mountain biking or cyclocross, and track," Bowen said.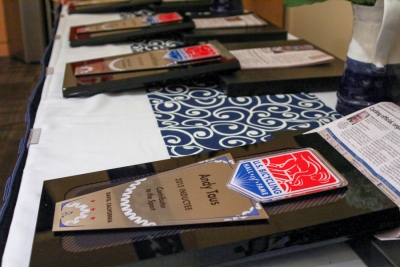 2015 inductee Albert Crossley was a professional six-day racer for 12 years starting at age 21 in 1929, and competing until 1940. Six-day racing entails two-man teams taking turns riding on the track so that at any given moment, one of them is riding for six days straight. The team that completes the most laps wins the race. Of the 89 six-day races that Crossley competed in, he had 10 wins, 15 second places, 17 third places and 16 fourth places.
Alison Dunlap, another inductee at the Nov. 7 ceremony, began road cycling during her first-year at Colorado College when she was cut from the soccer team. She became the women's national collegiate champion in road racing by her senior year of college. Dunlap saw even greater success after her transition into mountain biking. She went on to become a two-time Olympic team member, world champion in her new discipline and winner of a gold medal at the 1999 Pan American Games.
"To be a world class cyclist takes an unbelievable amount of dedication and discipline," Dunlap said. "To be the best, there is a level of commitment that goes beyond what is logical, almost into the absurd."
Following a career-ending knee injury in soccer, inductee Janie Eickhoff began cycling and became the national junior track champion in only two years. Eickhoff became a national champion and earned a bronze medal at the 1989 World Championships, the only member of the U.S. track cycling team to do so. She currently holds the U.S. women's record for the kilometer time trial standing start. Eickhoff won 10 national titles, six medals at world championship events, and two gold medals at the 1995 Pan American Games.
Although only racing from 1968 to 1974, inductee Andy Taus had a profound impact on the world of cycling starting when he received his Category 1 official's license in 1981. He went on to officiate at the national and international level while also helping organize and teach courses on officials training. He was a key member at events such as the World Track Championships, the Olympic Games and the Pan American Games for 41 years.
"When I watched my first race in 1968, I had no idea how it was going to affect the rest of my life," Taus said. "Today, being here with the rest of the inductees of the U.S. Bicycling Hall of Fame, and to now be included, is special. To be recognized by your peers is really truly special."
Bowen hopes that ceremony attendees, including junior racers who are in their first years of racing, are inspired by the inductees' speeches. He also hopes to reach out to younger crowds in Davis and believes the lifestyle of Davis is oriented towards bicycling.
"You see five-year-olds riding their bikes to school in Davis," Bowen said. "Maybe more towns in the U.S. can learn what we have learned over the years. Not only the health benefits, but also the infrastructure."
Written by: RIVA BALLIS – city@theaggie.org