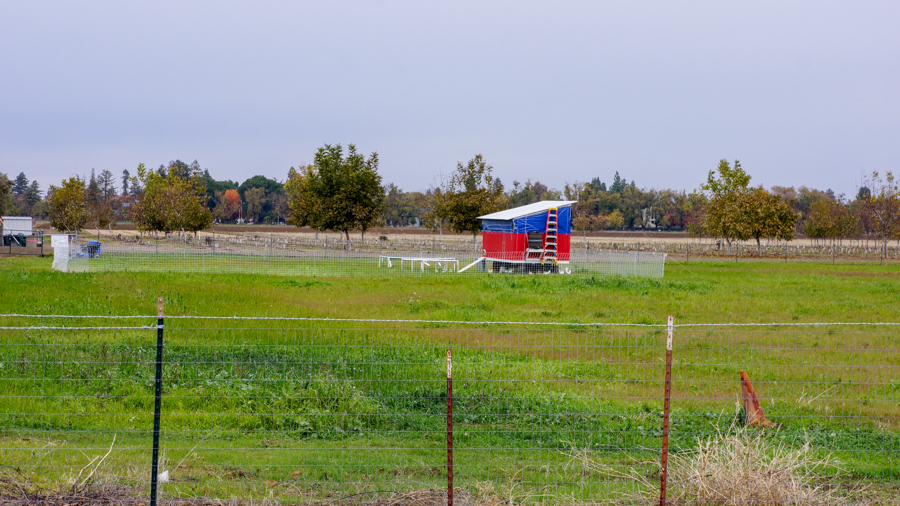 New farm houses 150 chickens, completely student-built 'Eggmobile'
On Nov. 19, UC Davis unveiled a new 4.5-acre pastured poultry farm that will act as a living laboratory for students and researchers to develop innovations for pasture-based poultry farms, integrative crop-and-poultry farms and backyard chicken flocks.
The pasture also contains overnight housing for the chickens with a student-built mobile chicken coop that has been appropriately dubbed "Eggmobile." For overnight protection, the farm also uses a portable electric fence to keep predators away from the chickens.
The research team hopes to eventually construct multiple Eggmobiles with different designs in order to optimize cost, ergonomics and sustainability. In time, the researchers are looking to expand the project to include broiler chickens, a subspecies of chickens raised specifically for meat production, as well as cropping systems that integrate poultry, in order to fully maximize the potential of land for food production.
The project was made possible by a $40,000 grant from UC Agriculture and Natural Resources, along with an additional $20,000 from several other stakeholder organizations.
The funding enabled the researchers to obtain 4.5 acres of farm land one mile west of the central UC Davis campus that will house 150 young chickens.
According to Maurice Pitesky, a veterinary medicine professor and the project's co-leader, allowing chickens to roam through existing farmland provides farmers with an opportunity to explore non-traditional methods of poultry farming. Pitesky believes that having chickens present on farmland with crops will allow the farmers to provide natural fertilizer to the land.
Pitesky stated his belief on how these different methods of poultry farming are important to explore.
"It's also a way for crop farmers to move into poultry production without expanding their land or adding nitrogen fertilizer to their farming system," Pitesky said.
Pitesky mentioned the wide array of solutions that may be found from this project and emphasized the variety of fields of research that will be positively affected.
"This is a unique innovation, research and outreach resource for the Western United States," Pitesky said. "The project includes faculty and students with expertise in veterinary medicine, husbandry, welfare, pasture management and engineering, which allows us to address issues related to predator control, welfare, food safety and food efficiency."
Participating students have been drawn from the School of Veterinary Medicine, College of Engineering and College of Agricultural and Environmental Sciences. The student and faculty research teams have been looking into the issues involving diseases and chicken health, predation by wildlife and occupational health for workers.
"It's an area of research that no one has really studied and no one is really sure about disease transition issues or what kind of worker occupation health hazards there are," said Naomi Dailey, a graduate student in the geography department.
Mitchell McCarthy, a fourth-year biological engineering student who helped design the mobile chicken coop, discussed his own contributions to the pasture as an example of how student-driven the project was.
"My focus on this project for the last couple years was one building the coop and designing a system for the pasture," McCarthy said.
The students involved with the project showed enthusiasm for what they have accomplished so far and look forward to learning more from having their own farm as time goes on.
"It's a great opportunity to learn what farmers are looking for on their own properties and try to grapple with them and fix them on our own farm," Dailey said.
Pitesky encourages community members to stop by the poultry farm and view the project.
"We really want this to be a local and regional demonstration project," Pitesky said.
Written by: Nick Griffen – campus@theaggie.org