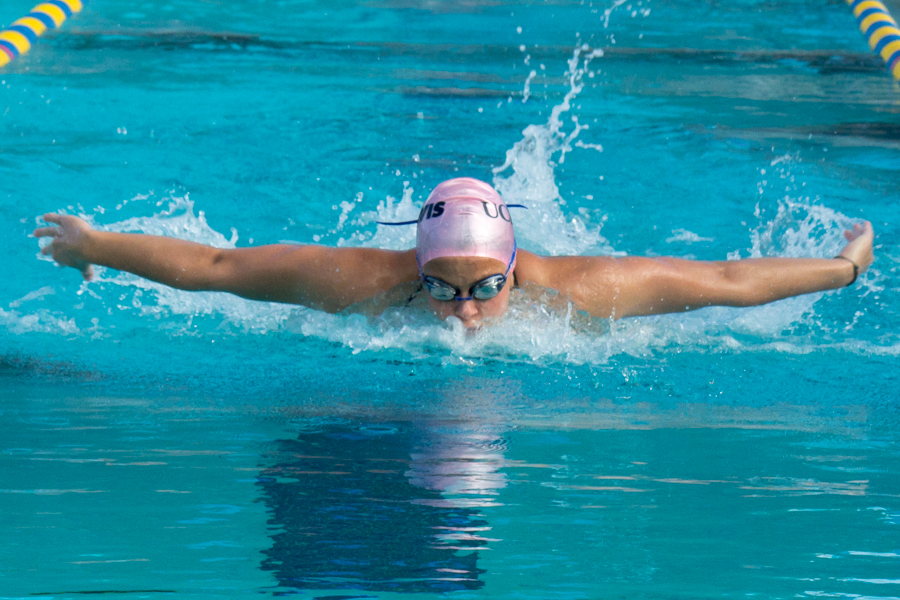 Freshman Solie Laughlin breaks six-year-old record
In their first meet of 2016, the UC Davis swimming and diving team members set out to show just how dominant of a force they are. Posting a victory of 160-132, the Aggies cruised past the Fresno State Bulldogs and advanced their dual meet record to 3-2 for this season.
"I look at dual meets as quizzes, and our championship meet is going to be the final," head coach Barbara Jahn said.
That being said, the Aggies still bring all they can to these quizzes.
"I told them to swim hard, race hard and we had some really good swims out of some people," Jahn said. "They stepped up."
On the road to victory, freshman Solie Laughlin broke the six-year-old 200-yard backstroke record by 2.08 seconds, with a new time of 2:00.04, edging out Fresno State's and Lithuanian National Team's Ugne Mazutaityte by .25 seconds.
Laughlin has been a force in the pool, surging past her competitors. Currently she is qualified for the 2016 Olympic trials, and fans should continue to expect big finishes from her.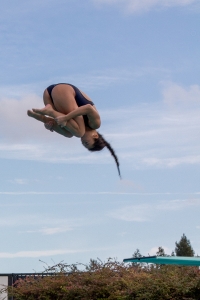 The Aggies also looked to one of their long-time success stories to lead them during the meet. Junior Hilvy Cheung lead a 1-2-3-4 Aggie sweep in the 200-yard butterfly, securing a time of 2:03.59 in the event.
Cheung went on to win the 100-yard butterfly by at least a second, with a time of 55.91.
Key swims by senior Lexy Troup, junior Kirsten Brand, senior Hailey Ferko, junior Elise Roberts and freshman Eva Chung secured the Aggies some event wins and many points.
The dive team will continue their season at the Bruin Diving Invitational in Los Angeles on Jan. 15 to 17. The swimmers will next hit the blocks on Jan. 23 when UC Davis hosts rival UC Santa Barbara at 11 a.m.
Event Best Times
50 Freestyle: Leah Hatayama, Fresno State, 23.53
100 Freestyle: Leah Hatayama, Fresno State, 51.87
200 Freestyle: Kirsten Brand, UC Davis, 1:52.83
500 Freestyle: Casey Kennenmann, Fresno State, 5:07.40
1000 Freestyle: Lexy Troup, UC Davis, 10:35.29
100 Butterfly: Hilvy Cheung, UC Davis, x55.91
200 Butterfly: Hilvy Cheung, UC Davis, 2:03.59
100 Backstroke: Solie Laughlin, UC Davis, 56.53
200 Backstroke: Solie Laughlin, UC Davis, 2:00.04
100 Breaststroke: Hailey Ferko, UC Davis, 1:05.55
200 Breaststroke: Hailee Baldwin, Fresno State, 2:22.75
200 IM: Elise Roberts, UC Davis, 2:06.78
400 Freestyle Relay: Courtney Schultz, Mia Facey, Brittany Rojo, Kristen Brand, UC Davis A, x3:32.56
200 Medley Relay: Solie Laughlin, Hailey Ferko, Hilvy Cheung, Courtney Schultz, UC Davis A, 1:44.60
1-Meter Diving: Lucy Lafranchise, UC Davis, 261.95
3-Meter Diving: Lacie Ruth, Fresno State, 249.15
*Note: An x before a time indicates that it was an exhibition swim and did not earn points.
Written by Aaron Sellers – sports@theaggie.org