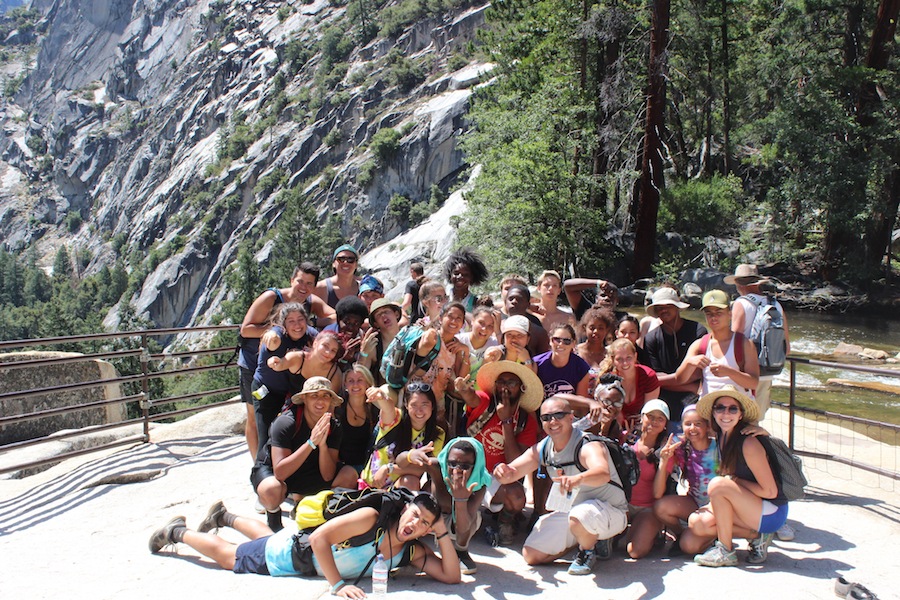 Camp allows underprivileged youth to experience a week-long getaway in the wilderness.
Each year, UC Davis students, alumni and underprivileged youth come together during the summer for two weeks for a camp getaway.
Founded in 1961, Cal Aggie Camp is one of two Associated Students of the University of California (ASUCD) philanthropic units at Davis. Its mission is to provide opportunities for undergraduates from UC Davis to gain work experience and develop interpersonal team-building skills at a camp that serves underprivileged kids in Davis and surrounding communities.
"It's pretty special because it's the only time these kids get to have stability," said fourth-year human development major and Cal Aggie Camp Director Seanne Louvet. "Because they're moving from house to house and group home to group home, and Cal Aggie Camp is there every summer and they look forward to it. It's a safe place for them."
For many of the children, this is the only vacation they get all year.
"We just want to have a week for them to get to be kids," said third-year communication and psychology double major and Camp Counselor and Fundraising Event Co-Coordinator Alexandra Rios. "A lot of them are young and go through things even you or I have not and will not go through. It's kind of rough for them and we're just trying to take care of the kids in our community."
The camp is split into two one-week sessions. The first week is for kids ages five to 12 and the second week is for kids between the ages of 13 to 16. To start off a typical day at camp, kids are woken up at 6:30 a.m. for an activity called the "Polar Bear Swim."
"We take them down to the pool and they jump in," Rios said. "It's a really good way to wake them up and they sing the 'Polar Bear Song.' If the kids do it every day for the week, they get a treat at the end of the week."
After the swim, campers return to their cabins to change and eat breakfast before completing a small chore. The camp offers kids many activities to choose from such as basketball, pool-time, dodgeball and arts and crafts. Each night, the counselors put on a different event ranging from a carnival to a camp-fire to a talent show.
One of the most meaningful events for both the counselors and the kids happens at the end of the week. During the event, called "Wish Logs," each cabin gets their own log for kids to write their wishes on. At the camp fire, each cabin takes a turn to bring their log to the middle and light them on fire, sending their wish off into the sky.
"It's pretty sentimental, especially for the older kids who have been coming to camp year after year," Louvet said. "Sixteen is their last year at camp so it's pretty sentimental for them after coming to camp for so many years."
In Rios' opinion, one of the most rewarding aspects is the relationships that are created between the kids and counselors, and between the kids themselves
"Some of the kids know each other and they come back from year to year. They come back to camp and are like, 'Hi, I haven't seen you in a whole year' and they're so excited." Rios said. "[Kids] will find their favorite counselors and be like, 'Oh my God, I missed you so much!' For the counselors […] it's the best group of friends. We all [get] pretty close pretty fast."
Cal Aggie Camp receives partial funding from ASUCD and student fees, receiving the rest of their money from fundraisers. However, due to a drastic budget cut last year, Cal Aggie Camp is working harder to reach out to donors and organizations, and holding more fundraisers to make up for the deficit.
Last quarter, the camp held a benefit show called CAChella that featured various acapella groups. Along with a booth at the Whole Earth Festival in May, the camp is planning to hold a gala sometime this quarter.
With less funding and more restrictions from the school, it is getting harder to hold a camp that supports the 200 kids and 40 to 50 counselors.
"To run a camp that we do […] it's remarkable what it means to the kids," said UC Davis alumni and Cal Aggie Camp Counselor Phillip Roliz. "I know some people look at it as numbers. They say, 'it's costing us this much and we need to take away this much from them.' But how do you measure it? You can't measure in dollars and signs when you're talking about watching a six year-old going to camp for 11 years [who] wants to come back to work as a lifeguard."
Roliz stressed that any child's success at Cal Aggie Camp is immeasurable.
"You can't measure their experience other than hearing their voices, other than being there, other than knowing that it's worked for 60 years," Roliz said.
Roliz first joined Cal Aggie Camp as a counselor back in 2000 but graduated from UC Davis in 2003. For the past fifteen years, he has been a counselor for the camp every summer. Over the course of these fifteen years, he said he has seen the camp grow immensely.
"Cal Aggie Camp is a little more dynamic for me just because being there throughout the last fifteen years, I've learned to approach it from a different way," Roliz said. "It's always about the kids and making sure that the wellbeing of kids is intact. I see a lot of growth in the returning counselors that come back and learn at camp."
Besides focusing on fundraisers, Cal Aggie Camp is currently focusing on increasing their presence at UC Davis and getting more of the student community involved.
"Getting our name out there and having people recognize the importance of Cal Aggie Camp [is important]," Louvet said. "Not that many people are super aware of it."
According to Rios, the camp's organizers would like to include more college prep for the older kids.
"When the younger kids are doing arts and crafts and things like that, we want to do more things [for the older kids] like college prep, or how to make a resume, how to do interviews — more real-life preparation," Rios said.
Although at first glance the camp seems mostly for the kids, counselors said they gain just as much as those who attend.
"It's really rewarding," Louvet said. "It's cool becoming a family with everyone, not just the kids but with the counselors too. And we have alumni that come back year after year that have been doing camp for 15 to 20 years. Obviously they care about camp and it's impacted them and they impact the kids' lives so much that they want to keep doing it."
Those involved with the camp agree that although the it lasts for only two weeks, the experiences and relationships created at Cal Aggie Camp will last a lifetime.
"It's cool to have that two weeks where nothing matters except us, the kids, and the camp," Louvet said. "It's pretty special — one of a kind thing."
Written by: Jacqueline Chu – features@theaggie.org