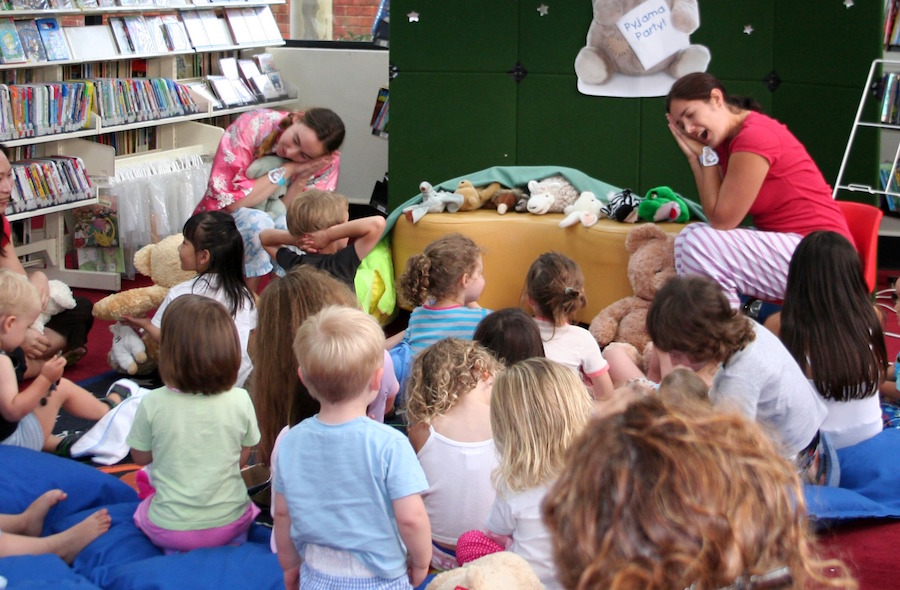 Tuesday, Jan. 26
Pajama Storytime, 6:30 to 7 p.m., Yolo County Library, Davis Branch, 315 E. 14th St.
Free
For those of us already stressed about winter quarter midterms, storytime will take place at the Davis library, with stories, songs and activities before bedtime! Teddy bears and blankets welcome. (This may or may not be for children. Turn up at your own peril.)
Salsa Tuesday, 9:30 p.m., The Graduate, 805 Russell Blvd.
$6
This week features DJ Miguel, and dance lessons at 9:30p.m. with Cori from Barbara's Dancing Tonight. 18+. Dance yourself silly and make some groovy friends!
Wednesday, Jan. 27
Improv Jam, 6 p.m., Olson Hall, UC Davis Campus
Free
Birdstrike Theatre improv jams are open to anyone who wants to learn more about or do more improv in general. Jams are led by some Birdstrike regulars and take place in a casual, low-pressure environment, every Wednesday at 6 p.m. in Olson 6. Try something different and unleash your inner improv!
Open Mic Night by ASUCD, 6 to 8 p.m., CoHo near Swirlz
Free
This event is open only to students, but will be a fun night of talented and diverse performers! If you're interested in performing, you can email ucdavisec@gmail.com with a sample of your work, a blurb about yourself and a photo of yourself.
https://www.facebook.com/events/151820301859323/
Thursday, Jan. 28
Brian Rice & Berkeley Choro Ensemble, Noon to 1 p.m., Mondavi Center, UC Davis Campus
Free
Brian Rice is a highly acclaimed performer and one of the most versatile percussionists in the Bay Area. The Berkeley Choro Ensemble celebrates the music, culture and history of Brazil. Together their performances will rock the Mondavi!
Black Trans* & GNC Awareness Day ft. Joshua Allen, 6 to 8 p.m., ARC Ballroom
Free
This is a workshop aimed at educating people on the intersection of Black Lives Matter & Gender Justice, with an emphasis on "Ending the Genocide against Black Trans and Gender Non-conforming Women, Femmes and Girls". The workshop will share tactics and strategies to engage in the movement. Joshua Allen is an "organizer, abolitionist and freedom fighter" who seeks to redress the imbalance against Black Trans Femmes and other marginalised groups.
https://www.facebook.com/events/155551501467098/
Davis Hacknights, 8 p.m., Davis Roots, 604 2nd St.
Free
Hacknights is a creative community that provides collaborative workshops giving students an inclusive space to create on their coding side-projects, chat with industry professionals and network with other technology-enthused students. They provide food and an awesome environment to hack in. Newbies are welcome and knowledge sharing in endemic and encouraged!
https://www.facebook.com/events/1495333094103139/
Friday, Jan. 29
Davis High Jazz Ensemble, 5 p.m., Sudwerk Dock Store, 2001 2nd St.
Free
Live music at the Dock with some smooth jazz tunes. Sip some of the best craft beers in town and listen to your local high school band.
Boca do Rio, 9 p.m., The Root of Happiness kava bar,
$5
Boca de Rio's deep grooves and The Root of Happiness' sweet kava will make an excellent start to the weekend. Immerse yourself in Brazilian Space Funk! 18+.
https://www.facebook.com/events/554112134756736/
Saturday, Jan. 30
"The Producers", 8 p.m., Davis Musical Theatre Company, 607 Pena Dr.
$18/$16
This Mel Brooks musical tells the story of a down-on-his-luck Broadway producer, Max Bialystock, and a nerdy, young accountant, Leo Bloom, who concoct a scheme to raise thousands of dollars from backers and then put on a flop of a show. With all the money that will be leftover, the pair will be rich! Only one thing goes wrong: the show is a gigantic hit! Recommended for theater goers age 13+. Also Friday/ Sunday.
"I Gelosi", 2 to 4:30 p.m., Veterans Memorial Theatre, 203 East 14th St.
$8-$15
Acme Theatre Presents. "I Gelosi", or The Jealous Ones, telling the story of Italy's first great traveling theatre troupe.
acme.brownpapertickets.com
Sunday, Jan. 31
Winter Wonderland and black light themed blues & fusion dance, 7 p.m., Move Studio, 600 Broadway, Sacramento
$10
Sunday blues & fusion! 7 p.m. lesson, 8 p.m. dance until 12:30 a.m., wear white and learn some wonderful new moves!
https://www.facebook.com/events/726537554150465/
Storytime Through the Seasons, 1 to 3 p.m., Wyatt Deck, UC Davis Arboretum
Free
Under the Ginkgo Tree: Celebrate the Chinese New Year in the Arboretum is a way to experience Asian culture through stories and activities, and see it in a whole new light. All ages welcome. (Rain location: 146 Env. Hort.).