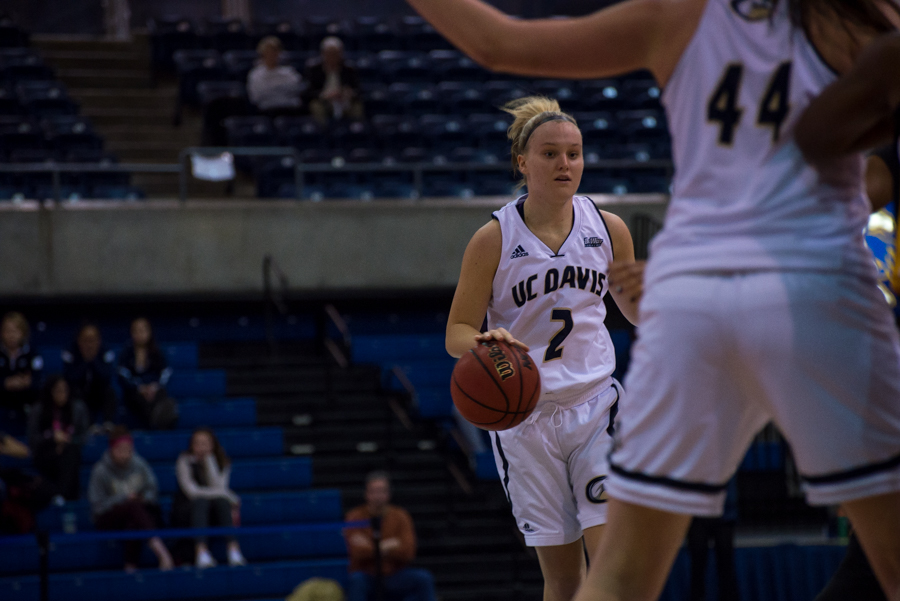 Fiery first half leaves UC Santa Barbara in Aggies' rear-view
The last time the UC Davis women's basketball team faced off against UC Santa Barbara, the Gauchos were able to control the pace and come out with an 11-point victory. This time, the Aggies didn't allow the Gauchos to have the satisfaction of beating them on their home turf, and destroyed them 80-51. Limiting the Gauchos to a 28.9 percent shooting conversion proved to be exactly what the doctor ordered.
"We knew that the last time we played them, we didn't play as well as we could have," said sophomore forward Pele Gianotti. "We really wanted to show UCSB, but especially ourselves, that we were the better team."
Gianotti opened up the game with a pair of treys that put the Aggies in a quick 6-3 lead and they never surrendered for the rest of the game. Backed up by a defense firing on all cylinders, the Aggies held the Gauchos to eight points for the first period and scored a massive 14-point lead.
In the first period, a press defense by the Aggies stifled the Gauchos offense. Just after halfway through the period, the Aggies were able to hold the Gauchos to the back-court, forcing a turnover.
The shots kept on flowing for the Aggies into the second period, with key scoring opportunities from senior forward Celia Marfone and redshirt freshman forward Morgan Bertsch. The Aggies closed out the half, shooting 70 percent both from the field and from outside the paint – their best shooting for half of the season.
Not giving up, UCSB went on a 14-4 run that cut into the Aggie lead. However, Marfone was able to rally the Aggies with a dagger from far outside, leading to an unanswered 11-point run.
The key to their Saturday success had to be defense, which the Aggies will look forward to using to open the door against the undefeated UC Riverside.
"If we can limit them on offense, then we're the better team I believe," Marfone said. "I think it's going to be a defensive battle."
The Aggies will be away and facing off against UC Riverside Feb. 4 at 7 p.m.
Written by: Aaron Sellers – sports@theaggie.org