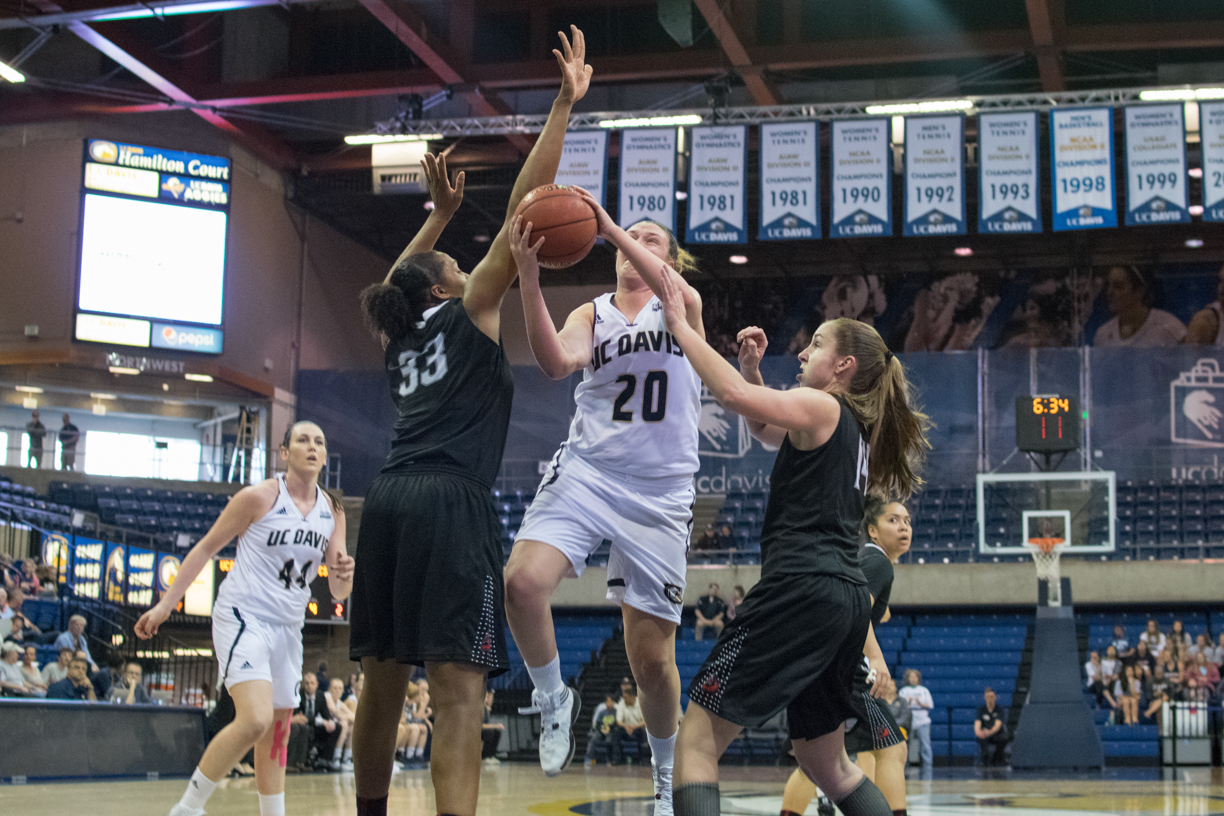 The Aggies win 57-50 against CSUN
Coming off of their loss against UC Riverside on Feb. 20, the UC Davis women's basketball team played a hard game against CSU Northridge that paid off with a close 57-50 win.
During the first quarter, the Aggies quickly fell behind, playing somewhat sluggishly against an aggressive CSUN, who led 11-3 at the first timeout. By the end of the first quarter, the Aggies had improved, though they still trailed 14-9.
There were a lot of personal fouls against the Aggies during the second quarter, but that did not deter them from playing hard and making the most of the last few minutes. Freshman guard Kourtney Eaton ran clear across the court to contribute a shot in the last minute of the quarter, and then sophomore guard Dani Nafekh made a three pointer in the last thirty seconds.
The Aggies continued the offensive, and it paid off, resulting in a visible shift of momentum in favor of UC Davis during the end of the second and beginning of the third quarter. Sophomore forward Pele Gianotti and Eaton worked together to decrease the gap from 40-35 CSUN at the end of the third quarter to 43-40, UC Davis.
Eaton, already performing extremely well throughout the game, made a three pointer with four and a half minutes left, and senior forward Alyson Doherty also made a shot in the last few minutes of the game, helping push the Aggies closer to victory. Doherty contributed 20 points for the afternoon, and freshman forward Morgan Bertsch added 15 more. Senior forward Celia Marfone made a three pointer in the last two minutes of the game to finish with 11 rebounds, securing the win with a final score of 57-50.
The Aggies will cruise over to Long Beach on March 3 for another conference event, and currently hold a 9-5 record in the Big West Conference.
Written by Iman Farahani- sports@theaggie.org