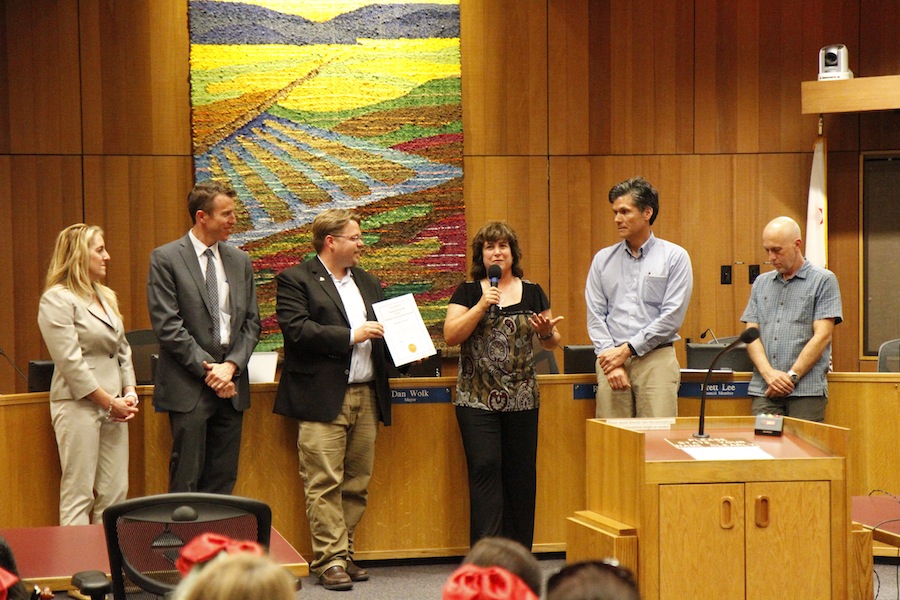 Annual Thong Hy Huynh Awards honor five recipients who demonstrate admirable traits
The Davis City Council and the Human Relations Commission recognized winners of the annual Thong Hy Huynh Awards at a city council meeting on May 3. Recipients were nominated by the public and awarded for their achievements in four categories: Lifetime Achievement, Civil Rights Advocacy, Excellence in Community Involvement and Young Humanitarian. The winners were added to the list of past recipients on the City's Perpetual Plaque, which is hung in the Community Chambers building.
Thong Hy Huynh was a Davis High School student who was stabbed to death on May 4, 1983 as a result of racist motivations. The City of Davis decided to dedicate these awards to him in order to bring awareness to his death and to civil rights and social justice issues.
"I think all the recipients are quite humbled and touched because I think that they truly believe that they're doing this great work not for an award but because it's what they truly believe in, in terms of giving back to the community and fighting for social justice and equal rights. I do think that our community greatly benefits from bringing awareness to the folks in our community that are doing this great work," said Carrie Dyer, who works with the City Manager's Office in Community Engagement and Cultural Services.
This year, the recipients were Jennifer Terra, Sean Raycraft, Mariachi Puente, Bud and Judy Wolf and the Gay Straight Alliance of Davis High School. They range in age and advocate for different causes, but all aspire to improve the state of the community and the world.
Bud and Judy Wolf work with the Rotary Club of Davis and focus on child abuse prevention. They developed a program that spreads awareness and educates the public on child abuse in Davis.
"We have about 75 members and our purpose is service to communities, local, regional and international. We wanted to get in front of the child abuse rather than putting band aids on the wounds. And it was unanimously endorsed by our Rotary Club and we've been working this program ever since," Bud Wolf said.
As well as working hard to prevent child abuse, Judy Wolf has been extremely involved in African countries, where she speaks mainly about opportunistic diseases. Her work has included teaching people how to wash their hands and the dangers of casual sex. She is also developing a cervical cancer screening, treatment and prevention program in Africa through the Rotary Club.
"I have an enormous passion to try to make a difference in the lives of children in our community, and the world for that matter. If you save the women, you save the children. In developing countries, women are often widowed or abandoned. They are left with children and preventing cervical cancer for these women in Africa saves kids," said Judy Wolf.
The Wolfs' generous contributions are seemingly endless. They also host an annual fundraiser, Big Night, which typically raises around $35,000 every year. All the profits go toward local nonprofit organizations in Davis that focus on child abuse prevention.
This event, as well as all their contributions to the Davis community, qualified the Wolfs for the Excellence in Community Involvement award. Judy expresses her gratitude and excitement for the award.
"We feel incredibly honored to be chosen for the [Thong Hy Huynh] award and we have a deep sympathy for the family and what happened to this young man," said Judy Wolf. "We have great respect for the name and the young man associated with this memorial."
Written By: HADYA AMIN- city@theaggie.org