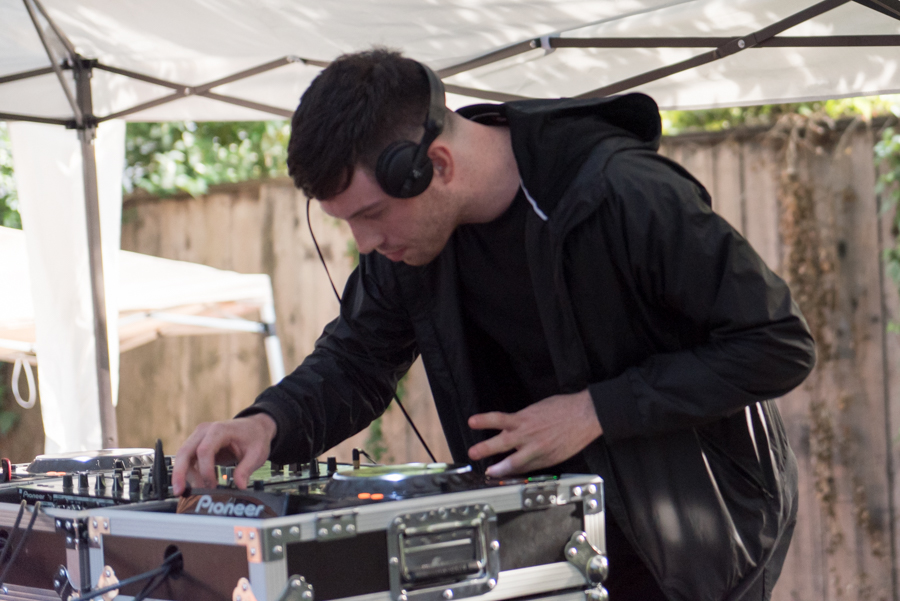 Despite the weather, the show must go on
This past Saturday was Alpha Chi Omega's philanthropy event, a benefit concert featuring Sleepy Tom, held in the backyard of the Alpha Epsilon Pi house. Unfortunately, it was pouring rain so not that many people showed up for the concert, although all tickets were sold before the event. All of tickets sold the week prior to the event went towards their cause of supporting and assisting victims of domestic violence and abuse.
When I arrived, there was no line to get in and there was a group of around 40 people close to the stage. There was plenty of room in the backyard to enjoy the concert, exactly what I like at a concert, no one pushing or shoving to get to the front. For someone of my whopping 5-feet 2, it was a pleasant surprise to be able to see the stage with no hassle.
The rain was touch and go for a while. When I first arrived it was cold but not raining but after a few minutes it started to pour. I ran inside to take cover, but the rest of the crowd just danced in the rain and enjoyed the atmosphere. While I was inside I perused the booths set up to spread awareness about the philanthropy topic for this year. There were booths from the UC Davis sexual violence prevention and response (CCRT), Let's Talk About Consent, Empower YOLO and Promoting Awareness Victim Empowerment.
The sobriety of this event was emphasized many times, particularly in the number of police officers surrounding the inside and outside of the concert. The crowd was eclectic to say the least. There were an overwhelming amount of sorority girls, mixed in with groups of people who just seemed to be there to see Sleepy Tom and who had no affiliation with either the sorority or fraternity.
The openers were Pi Beta Phi's Bianna Nikdel, who played the guitar/sang and DJ Dylan "FINCH"!. People were dancing to both performers and looked to be having a great time, despite the cold weather. However, when Sleepy Tom finally performed at 5:30 pm there was no announcement that it was him, and none of us knew it was him performing until his second song when one of my friends realised. Besides not knowing what he looks like, he is an incredible DJ and put on an excellent concert. Congrats to AXO for raising all the money they needed, for spreading awareness and for having a unique philanthropy event.
Written by: CaraJoy Kleinrock – arts@theaggie.org