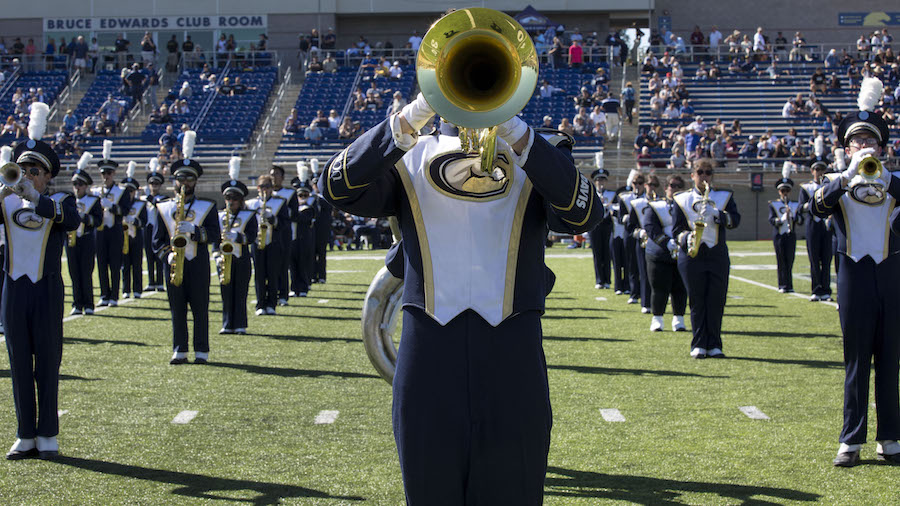 Being apart of the Band-uh! family
UC Davis alumnus Reece Mathiesen still remembers the first time he watched the UC Davis Cal Aggie Marching Band-uh!, clad in blue and gold uniforms, march through campus on the first day of retreat five years ago. As an experienced musician, he instantly felt the welcoming atmosphere brought about by the band's unique energy.
Being a newcomer to a large university is a daunting prospect. It's often the first time that students are away from home for an extended period of time. Luckily, Mathiesen found his home away from home in the Band-uh!, a group which fostered his passion for music and helped him form valuable bonds with his fellow students.
Mathiesen graduated from UC Davis in the spring of 2016, with degrees in chemistry and Japanese. He had been a member of the Cal Aggie Marching Band-uh! since his freshman year. Mathiesen played the mellophone — "the marching version of a French horn, [which] is a little bit bigger than a trumpet," he explained. Mellophones are mainly used to play the countermelody and can also be used for rhythmic backup. According to Mathiesen, mellophones are also suitable for playing solos.
"The fun part about mellophone specifically in Band-uh! is that we get a lot of the solos as well," Mathiesen said.
The mellophone section is a medium-sized group in the band that usually consists of eight or nine players. Mathiesen was the section leader in his junior year. He described the job as being the "parent" of the section: "making sure gigs are covered, all the food for the mellos gets out for football games, and planning events within the section as well as with other sections."
Despite the intense practice and performance schedule, playing with the Band-uh! was an indispensable part of Mathiesen's college experience.
"Every Monday, I would really look forward to rehearsals because I knew we were all going to the [dining commons] afterward to socialize, tell funny stories and bond," Mathiesen said. "The support from people in Band-uh! really helped me as a shy freshman who was slightly homesick and didn't know too many people."
Looking back, Mathiesen is confident that Band-uh! changed his college life for the better. He is now looking forward to his next great adventure as he takes part in the Cal Aggie Alumni Band-uh!

Written by: Betty Wu – arts@theaggie.org