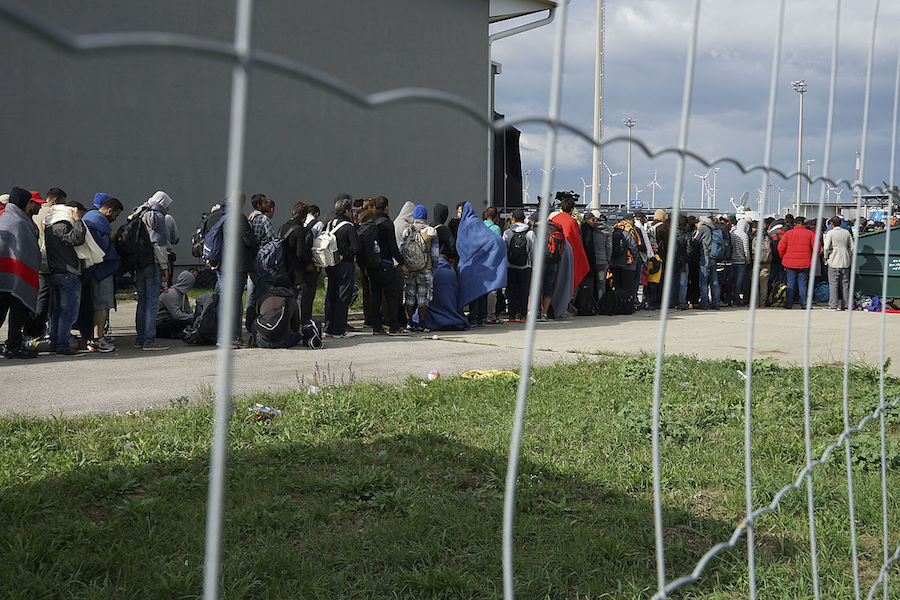 Speak with refugees before jumping to conclusions about their place in America
Omar Daqneesh. Yusra Mardini. Their names and origins might sound familiar. Both Syrians, witnesses to the devastating civil war. Both media icons: the first a symbol of the devastation in Aleppo, the other of swimming glory at the Rio Olympics. Both faces of a generation that now knows what it means to lose a homeland.
Sadly, not all who wish to get out are able. A few, like Mardini, can. Others, like Omar Daqneesh, are stuck. But of the ones who do make it out, the true test is just beginning. Some island-hop across the Mediterranean toward the heart of Europe. Others are lucky enough to be admitted to the United States. Of these, a few are hosted by the International Rescue Committee, a non-profit refugee resettlement agency.
I was hired as cultural intern at the IRC last summer, and I assisted my supervisor with tasks ranging from helping refugees of many nations learn the bus system to developing their English and job skills in a classroom. I picked up refugees from their homes and drove them around my city — our city — of Tucson. Sometimes we talked about the city. Often we were silent. Even so, I connected with the refugees on a level few could dream of. My stories reflect the power of their humanity, humility and hospitality.
On my second day of work, a man from Central Africa hailed me as I waited on a family outside their apartment. He said he was a friend, a former refugee himself, and was helping the mother and children settle in. While we waited, he told me his story. How, because he was educated, he had to flee his own home or risk facing the government's guns. How he never saw his family again after escaping his country almost half a century ago. The man told me he recently became a U.S. citizen and was quite proud — his smile blossomed as he recalled the long process of naturalization. I wondered, in turn, how I could have coped with a similar situation. Would I have been as strong as this man in spirit and soul?
During a bus training segment, I joked with a small boy over soccer video games outside his bus stop. His mother was a benevolent shadow in the background. There were only a few intelligible words between us: soccer, America, Syria. Our communication lapse was nullified by our mutual passion for "the beautiful game." The joy and persistence he displayed in showing me the results of his latest hand-held match helped me consider my own methods of bliss. It's comforting to know that even a simulated soccer game can create optimism when none seems warranted.  
One man knew only a few English words when we first met for class. One, two, three, four, five. But he practiced. His motivation was unparalleled by anything I'd seen in high school or university. By the end of the week, he could say and understand all of the basic greetings. By the end of the month, he could hold a basic conversation. When we split ways his words were, "Thank you, sir." That's the last time I ever saw him. Those are the words I cherish most.
Families welcomed me into their homes with open arms and drinks. One couple gave me Arabian coffee, hand-packed from Jordan and the most delicious blend I have ever tasted. With the coffee came the photos of a past life — a good life. I saw a large home and a happy family. Everything was peaceful. Trees, perhaps symbolizing what might have been, adorned the background. But now the home stands empty. There are hardly any trees left. The planes and bombs took them away.
Another couple invited me into their home and offered me the last remnants of juice from the fridge. Food is a precious commodity in these families. But the couple didn't care about what they had or didn't have. What mattered to them was the codex of hospitality, that extra sliver of warmth and kindness that bonds people of different cultures like nothing else can. With a comical role reversal, the couple taught me Arabic numerals as we sipped our drinks, water and juice. In the end we toasted to a new beginning.
The refugees came from all over, from Syria and Burma, Congo and Sudan, Afghanistan and Iraq. Each had a story to share. Some stories were told only through closed lips and tired eyes. Often the tales were more open and the trust more evident. But the effects on my perspective were the same. Never should we try to bar those fleeing death and persecution. Never will we as a nation have a better chance to make things right again.
Written by: Nick Irvin – opinion@theaggie.org