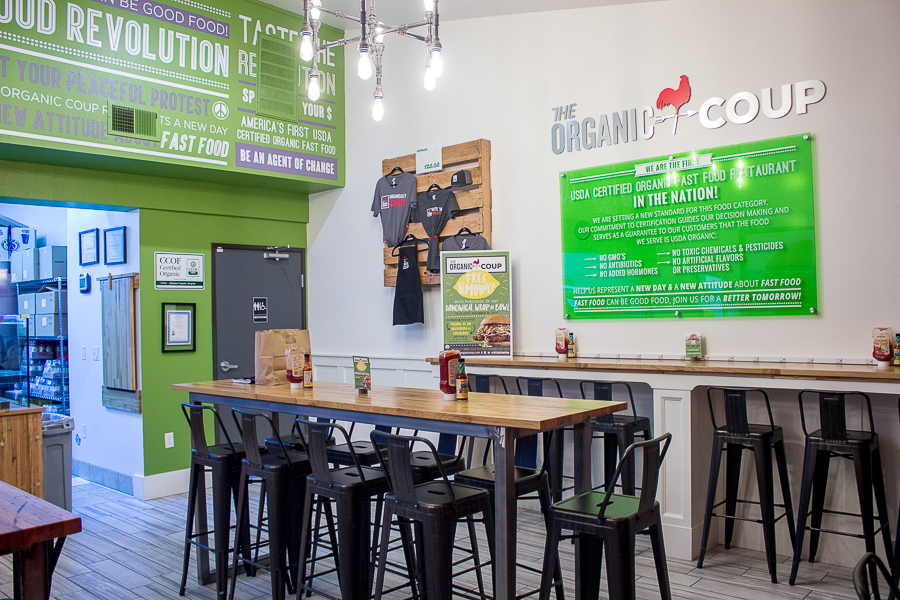 The Organic Coup offers healthy chicken sandwiches
Davis recently opened up its first organic fast-food store, The Organic Coup, located in the old G Street location of Vampire Penguin and Bon Mange.
The interior, however, has been extensively renovated and looks nothing like the interior of the previous stores. The store has a farm-like style, with some of its walls painted red to replicate a barn. It also has a modern ambience, and orders are taken through tablets instead of a typical cash register.
Although small, this shop offers a plethora of seating and its interior is relatively spacious. Additionally, it offers a lot of table space for one's meal.
The Organic Coup's mission is to provide healthy yet fast food. All of the ingredients used are organic, and the only type of meat that served is poultry along with unique sauces, such as sesame ginger. Aside from main entrees, tater tots and organic lemonade are also offered. The shop also offers a habanero hot sauce for an extra kick.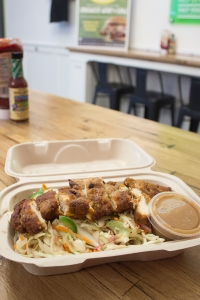 When I came here, I tried the chicken salad while my friend tried the chicken sandwich. The workers are friendly and helpful, and because it is fast food our meals came out within minutes. However, the salad that I ordered was mediocre.
The chicken was on the drier side and I thought that the some of the vegetables in the salad were somewhat bitter. Although the salad is advertised as having "spicy" vegetables, I did not expect the bitter taste and found it to be unpleasant.
I also tried the sesame ginger sauce with my salad. Although the sauce was good, it didn't complement my salad too well and I would've suggested trying a different type of sauce, such as the spicy chipotle ranch.
My friend's chicken sandwich was simple to a fault.
It came with a sauce of your choosing, some salad and a chicken patty. I was disappointed in the lack of ingredients and thought that the sandwich would have tomatoes or other vegetables to enhance its flavor. Although this chain is healthier than other fast food joints, I felt that the food generally lacked flavor and was not as substantial as I would have liked.
Despite not fully enjoying my meal, I think The Organic Coup is worth a try, particularly if you enjoy organic food. It is located in a convenient area and it is affordable enough to try at least once.
The Organic Coup is open from 11 a.m. to 7:30 p.m. Sunday through Thursday and from 11 a.m. to 9 p.m. Fridays and Saturdays. For more information, please visit their website.
Written by: Jennifer Duong – arts@theaggie.org